2022 Thanksgiving Wine Picks and Festive Holiday Events
I absolutely love Thanksgiving, it is possibly my favorite holiday meal of the year, follow me for tips on cooking the best Turkey ever!
I absolutely love Thanksgiving, it is possibly my favorite holiday meal of the year. From the silky mashed potatoes, rich gravy, tangy herby stuffing, to cranberry sauce I just cherish them all. However, there's one thing I absolutely cannot stand and that's a dry bird. This aversion perhaps led to me becoming a bit of a turkey snob.
My husband and friends can tell you that I am hard-pressed to go anywhere other than my own kitchen on Thanksgiving. My apple cider brined roast turkey is the juiciest and most flavorful turkey ever, as rated by friends and family, and is second only to my sourdough sausage stuffing. I would say the "critics" were just being polite if it wasn't for their overwhelming requests for me to make "LOTS" of stuffing so they can take home plenty of leftovers. I've even caught my sister on more than one occasion noshing on a bowlful of stuffing piled high for breakfast the next day.
I've definitely roast my share of turkeys having roast my very first turkey when I was just 7 years old. Over the years I have tried many different preparation techniques and I have found it is well worth the time to brine the bird. Needless to say, I have more than a little experience when it comes to Thanksgiving dinner.
There's no need to "wing" it when it comes to your holiday meal wine selections. Years of preparing Thanksgiving dinner has also provided me with the opportunity to try a variety of wine pairings along the way. All that "research" has led me to discover pairings that are, well let's just say rather interesting (eh hem) and others that were just short of celestial. For traditional Thanksgiving menus there are a few superstars that will elevate your holiday experience.
Personally, I believe that every special meal should begin with Champagne or sparkling wine. Not only does the sound of cork popping evoke feelings of excitement and puts your guests into a celebratory mood instantly, but a glass of bubbly also has been known to incite copious clinking of glasses inspiring heartfelt toasts. Oh, and bubbly just happens to pair fabulously with appetizers. Be sure to stock several bottles to keep glasses filled from welcome cocktails to dessert.
For the main event, even if you are not going as far to pair each course with a specific wine, you will want to offer at least a red and a white wine for guests to choose from. Please refrain from plucking a cabernet from the cellar such a big bold wine is best suited for other decadent holiday meals that will be here soon enough. Roast turkey and the wonderful side dishes that go with it tend to favor medium to light bodied reds.
Varietals to consider are Grenache, Nebbiolo, Tempranillo, and Rioja. These are all fantastic options; however, an overwhelming Thanksgiving fan favorite is Pinot Noir. This medium bodied wine with its delightful balance of earthy notes, baking spice, and a tease of bright berry or even cherry is an ideal choice for your Thanksgiving meal.
When it comes to the white wine selection, Chardonnay is a tried-and-true staple. You can play it safe or go for the WOW factor by pouring a dry to off-dry Riesling. The acidity and very subtle sweetness of Riesling will balance the richness of buttery mashed potatoes while enhancing cranberry sauce and sweet potatoes.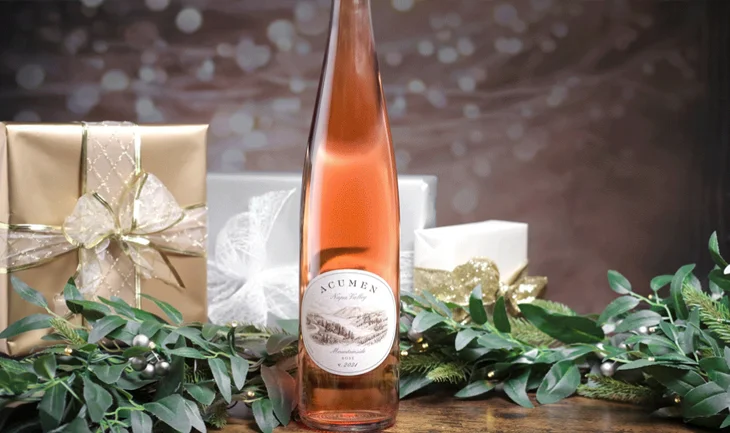 2021 Acumen Mountainside Rosé
I would remiss if I did not talk about rosé. This is hands down one of my favorite Thanksgiving wine pairings. Yes, I am talking about the same rose that you guzzled all summer long. Come mid-fall this blushing beauty is an absolute showstopper for your Thanksgiving meal. Honestly, if you could only pick one wine for your holiday celebration, then rosé would be it. From baked brie appetizers to pumpkin pie this wine loves them all. My go-to Rose is Acumen Wine's 2021 Mountainside Rosé which sells out fast.
No matter which wines you choose for your holiday celebration, remember nothing will be better than the ones you share with friends, family and loved ones. Through all the hustle and bustle take time to count your blessings and let your heart be filled with gratitude as you savor the precious time with your loved ones this holiday season.
Happy Thanksgiving!
From The Vineyard Vixen
2022 Thanksgiving Wine Picks
Visit Our Featured Tasting Rooms
Festive Holiday Events
Subscribe to our Newsletter
Join our mailing list and be one of the first to know about upcoming local events.