The Perfect Day Touring & Tasting Through Historic Amador County
Traveling about Amador Wine Country you'll quickly find that you are in a very special part of California. Follow our travels through this picturesque region and read how you can make it the perfect day trip destination for wine tasting, shopping and culinary delights.
There's something about Amador County wine country that is hard to explain. To give you a little perspective on me, I've had the great fortune of spending much of my young-adult life in Napa Valley. I've witnessed the Napa area go from a rustic, sleepy wine country to what is now become the premiere wine country in the world. But as I get older, like many of us, we reminisce to once was. We grasp for those childhood days of riding our BMX bikes around Vintage 1870 when we were just 8,9,10 years old- back in the days when Buttercream Bakery used to reside in the space that is now Michael Chiarello's Ottimo restaurant in Yountville.
So, when the rush of those childhood feelings takeover, we venture out of Napa Valley and point our GPS towards one of those easy-going wine countries. And this weekend, we ventured deep into Amador wine country. An easy 2-hour drive from our St. Helena home to the center of it all, Plymouth, California. And since this isn't an official CellarPass trip, I'm going to cover our entire day, from the moment we woke up on a Saturday morning, to the moment we jump on Highway 16 and our calling it a night at our boutique hotel.
And yes, you are reading that correctly… we are departing Napa Valley to go wine tasting in another wine country. It's an odd statement, but being in the travel industry like we are, we take these kinds of trips all the time. It's a tough job seeking out those hidden gems and explore untapped wine regions to share with you all! And one of those emerging wine regions that you'll want to keep an eye out on no doubt is the Sierra Foothills region. Filled to the top with legendary California history, this region was one of the early pioneers in the wine industry because of the California gold rush in the mid-1800's. Back then, grapes grown here and in the surrounding Central Valley are where early pioneers planted vineyards so that they could keep the bars stocked with liquor.
6:30AM Wake Up Call
We start the day a little tired as we hosted a "surf & turf" dinner for some friends of ours at our home in St. Helena the evening before. The evening got away from us as we sat around the fire well past midnight, but that's a different blog post... With the alarm blaring and our eyes opening up, we jump out of bed, get dressed and head out the door. In fact, we hit the road a little too fast as both my wife and I realize that neither of us made coffee. Good thing in Napa Valley, there's plenty of places to pick up coffee along our way. Ten minutes down Highway 29, sits the famous Oakville Grocery which is fitting since this store dates back to the late 1800's.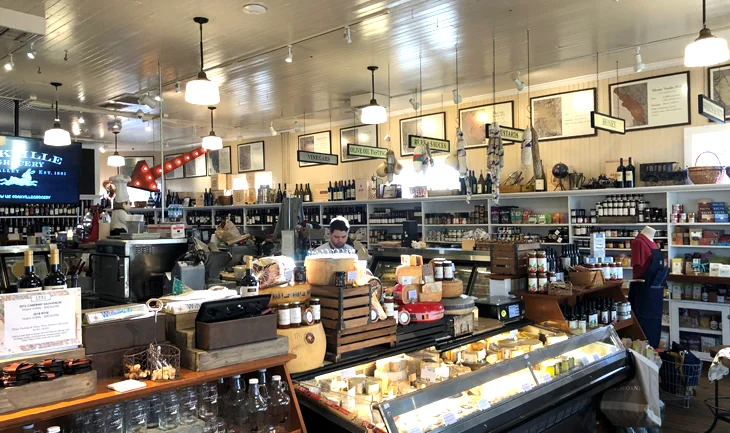 Oakville Grocery in Napa Valley
Upon our arrival, we're pleased to see it is already open and plenty of hustle and bustle going on as the staff prepares gourmet cheese plates and picnic baskets to be delivered to the local wineries throughout Napa Valley. We veer towards the coffee bar off to the left and place our espresso drink order, still trying to peel our eyes open- almost there. The smell of fresh-brewed coffee, fresh-baked bread and local artisan cheeses is intoxicating, even this early in the morning. And good thing for us, while we wait for our drink order, we get to peruse the store checking out all the logo'd merchandise (cute bunny logo), sample some of the baked goods. We flash our 2020 Passport to Napa Valley passports which give us 10% off our purchase- bonus!
Now with several shots of espresso consumed, (thank you Oakville Grocery), we head for the door to continue our road trip to Amador Wine Country.
Getting to Amador Wine Country
What's great about traveling to Amador Wine Country, no matter where you are in California, you'll find it really easy to get to. From the northern parts of the San Francisco Bay Area, you'll most likely hop on Interstate 80 and head east. For those in the East and South Bays, you'll probably head out east on Interstate 580 through another historic wine country, Livermore. Getting an early start has its rewards because the sunrise with the Sierra mountains in the background makes for one majestic view one after another. In no time, we feel rejuvenated as the sun fills your cheeks, we pop on our sunglasses and our hearts are pumping for a trip to wine country!
As we travelled along I-80 past Sacramento and out towards Rancho Cordova, we picked up Highway 16 a few miles from the Howe exit. Turning onto Highway 16, you'll find yourself traveling along a 2-lane road, cutting across the California Central Valley. As the miles roll by, we notice that we're seeing our views open up to thousands of acres of farmland, oak trees and one farm stand after another. If you need fresh produce, especially strawberries, be sure to add some extra time for some stops as it cannot get any more fresh than here. You'll also find as you get closer to Amador, this is serious horse country as there's one equestrian center after another.
Another 45 minutes and we're now starting to see the snow-capped Sierra Mountains get more clear and we're now in the rolling hills (Sierra foothills that is)- oh, there's the Amador County line sign- yeah, we're almost here! We continue down Highway 16 a few more miles, gain some more altitude through the rolling foothills and we come into the outskirts of Plymouth, California. This quaint little town was originally settled as Pokerville in 1852. In fact, the local market still bears the Pokerville name.
We travel another mile or two and look at each other and realize we both have huge big smiles on our faces because we're turning off to one of our local guilty pleasures, Marlene & Glen's Diner.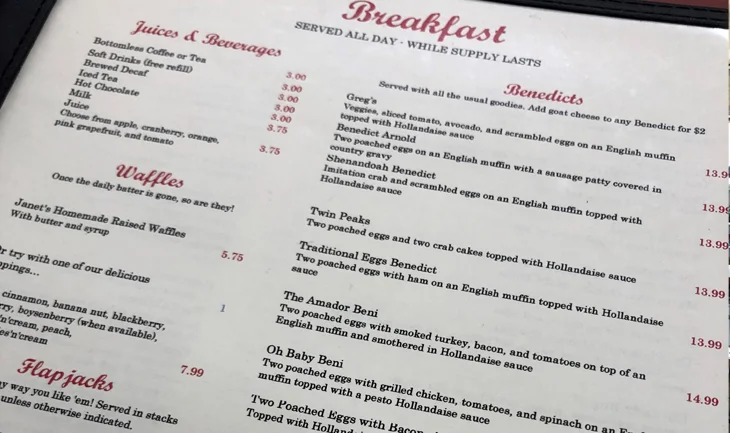 Marlene & Glen's Diner
Time for Breakfast
After being on the road and our caffeine high running out, we looked for the local breakfast joint which happens to be right at the turning point for the Shenandoah Valley in Amador wine country. This is one of the greasy-spoon diners that your parents would have taken you to back in the day before fast-food restaurants were on every corner. This is Americana at its finest! The who's who of the area is no doubt here because there's not a table available in the place. So we shuffle on over to the counter and grab the last two seats in the place. Everyone behind the counter says "good morning"- this place is awesome! Genuine hometown hospitality that you just don't run into anymore. It's why we love these small towns, it makes us feel like we're right back at home.
With menus in hand, it's an easy choice. We're both Eggs Benedict fans, and it's after all Saturday morning. I order the Traditional Benedict and my wife orders The Amador Beni which includes two poached eggs, smoked Turkey, bacon and tomatoes on an English muffin- yum! There's six different Eggs Benedict to choose from; Triple Beni, Oh Baby Beni, New Steak Beni and Twin Peaks allowing you to do have a different style just about every day of the week. And no skimping on the sauce- the ham is not a slice, it's like a half-an-inch thick!
With more coffee consumed, our meal now settled, the road calls our name- it's time to go explore some wineries! We walk towards the car and celebrate that the touch of fog has burned off, the sun is bright, the air is fresh and clean- there's not a cloud in the sky- this is Amador wine country at its finest. We realize we at so fast that we have some time to kill before our first tasting at 11AM. So we decide to stop by our hotel, The Grand Reserve Inn to check it out and drop off our bags- so we have plenty of room to for cases of wine! This place is amazing, from the moment you turn off Shenandoah School Road, then as you meander through the vineyards, to the moment you hop out of the car, this is an amazing destination. With just 5 casitas to reserve, it sells out fast, so be sure to plan ahead.
As we make small talk with one of the staff members who greets us out front, we make our way to one of our favorite spots out back. We make our way past the dining area and get greetings from the staff and feel like we're already home! I can feel the stress fall off my back as the view opens up to acre-after-acre of the manicured vineyards that completely surround us, wow, this is so amazing! About 30 feet to the left and right are two sets of fire pits and rocking chairs, yep one of those is so mine right now! We make our way to chairs and the caretaker greets us with a big smile and asks us if we need anything, I aptly reply with "I'll take the whole thing, please!" I could so just sit there all day, with a bottle of wine of course, but we do have quite the day planned to experience so many vistas- and people to meet! With some relaxing time staring off into the vineyards, it's about that time we hop in the car towards our first wine tasting at Scott Harvey Wines, just a 4-minute drive up Shenandoah Road.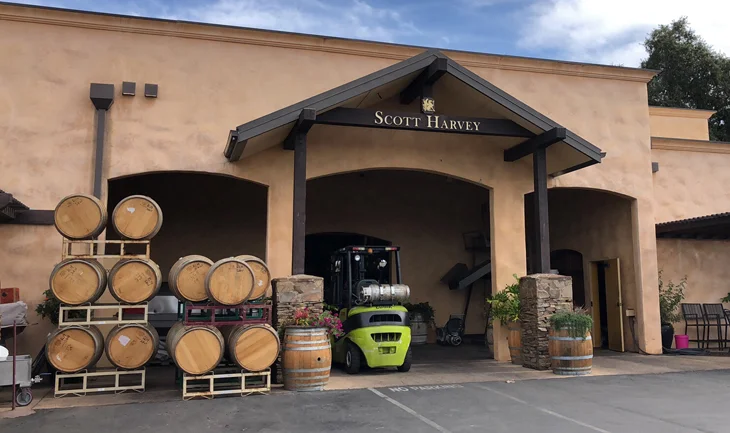 Scott Harvey Wines
Tour & Taste Like a Local
As we pull into Scott Harvey Wines in Plymouth which is where all the magic happens. Being at the winery, we know we're in for a treat. Scott is a legendary winemaker; you've probably had one of his wines and just didn't know it. The tasting room is small, but that's fitting since Scott doesn't produce a whole lot of wine. We open the door and are greeted by the staff, one of those is Jana Harvey, Scott's wife- this is epic! We look around and realize that there's really only room for about 20 people at a time- and this is the way we like it.
We sit down and Jana pours through the wines, 10-15 minutes later, low and behold, Scott joins us for a few minutes as he takes a break from all the harvest excitement happening in the cellar just next door. We chat with the two for a while about how Scott has spent time making wines in Germany, Napa Valley (we've known Scott since his days living in St. Helena) and now in Amador County.
Scott grew up here, in fact his winery just about a mile from his boyhood home and you can tell how proud he is to be making his wines here- he's a true farmer at heart and really enjoys the rustic charm of the region. We conclude our tasting, thank everyone and buy a few bottles of Scott's Barbera wines as they are amazing- and you cannot return from this region without one of these signature varietals to fill your cellar. Next stop Helwig Vineyards & Winery.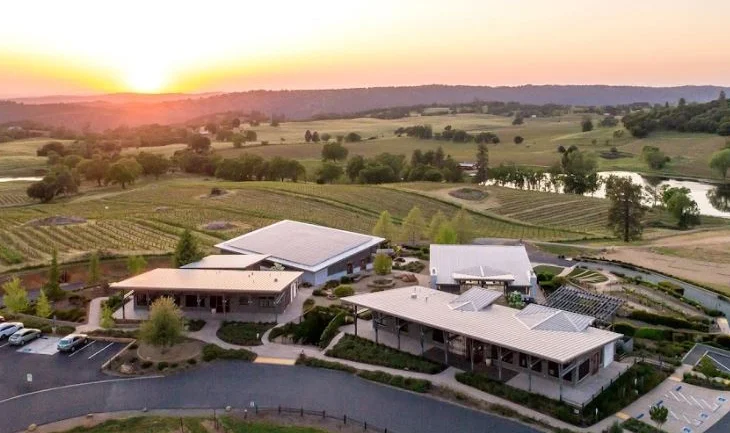 Helwig Winery
Turning left off Shenandoah Road, you immediately see the Helwig winery at the top of the knoll in all its glory, it too surrounded by estate vineyards. Helwig is a much bigger property, but since we made reservations in advance, we opted for the private food & wine pairing experience. The online description had us fooled- we knew it was going to be something special. We meander up the driveway that cuts through the vineyard and find a spot in the parking lot. Unlike anywhere else, we are greeted near the front door by our host and wine educator, Jack who greets us with a big smile and handshake- boom there's that Amador hospitality!
And instead of heading towards the tasting room, Jack begins to lead us to the left and down dozens of steps, through two super-heavy steel doors and into their wine cave- oh wow this is going to be a special experience! We're greeted as we land onto the main floor of their wine cave with Sparkling Rosé wine, what a reception! Over a glass, perhaps two, Jack gave us the background on the Helwig family, how he made the huge decision to leave Wall Street for Amador County to the simple life. A few steps away, Jack led us to 4-top table and sits down across from us. On the table are four glasses filled, a long rectangular plate with four specially prepared small bites to be paired, the perfect amount since we had a huge breakfast.
We sampled their Tempranillo which was paired with a Parmesan cheese taco, the Barbera, their Zinfandel and the Port which was paired with one of the best chocolate truffles I've ever had. The private tasting space in the cave was magical, the perfect setting for an experience like this. We felt extra special, but you too can book this experience. We jotted down our favorite wines and placed our order, one of mine is the Old Driller. If you love big Zinfandels, you will, too. We thanked Jack for hosting us, met Seth the tasting room manager who shared with us some of his favorite places to eat in Sutter Creek and made our way up the stairs with our wine in tow.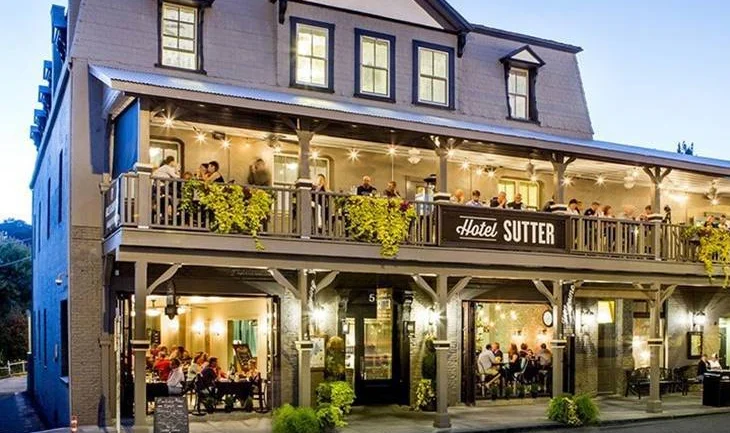 Historic Downtown Sutter Creek, California
Shop Like a Local
We both had been to the Amador region many times before, mainly to research all the wineries and tasting rooms, leaving not much time to check out what else the region had to offer; from culinary delights, to shopping, to other activities such as mountain biking, hiking, fishing- and so much more! The choices are endless here to fill up your getaway weekend. So on this trip, our goal was to spend equal time at the wineries as we would in the quaint towns that pepper the region. With my wife recalling her 5th grade field trip to Sutter Creek a few weeks back, it was going to be where we spent the better part of the afternoon. I had driven through it a few months back, but didn't get to fully enjoy some time walking the sidewalks, so I'm in!
With the town of Sutter Creek just about a 13-mile drive from Helwig, the journey takes you along historic Highway 49 which is beautiful any time of the year. The drive has you meandering through oak trees, rolling hills, river crossings and serious California gold rush history. These are the towns that were once filled with miners trading in gold for provisions in the local shops. And today, the storefronts have kept much of their original architecture which makes Sutter Creek so special. It almost feels like a movie set it's so authentic- oh this is going to be so much fun! We quickly parked the car at the beginning of town- it felt good to stretch the legs after sitting the better part of the day.
This town has it all; from small wine tasting bars, to small, funky boutique shops, a small theater and plenty of dining spots. We were not quite hungry yet, so we decided to peruse the shops on one side of the street, then figure out what kind of food we were going to be hankering as we loop back on the other side.
Along the west side of the main street, we enjoyed the Fine Eye Gallery that features al sorts of different types of artwork from local artists, we popped bubbles at Simply Bubbles (look for the bubbles floating across the main street- it will bring the kid out of you) and checked out the tons of winter gear at Sierra Mountain Outdoors. They have serious hiking and kayaking gear there, check them out. We then found what had to be the best hidden gems in Sutter Creek, E. Peterson & Company, which is the perfect gift store located on the south end of town. This is where we crossed the street because the building caught our eye and called our name.
Since my Dad is impossible to shop for, OMG this place gave me plenty of gift ideas for his upcoming birthday. We met the owner and chatted for a while. He also owns a screen printing and sign company. His team designs many of the interiors of the local restaurants and stores. You can tell he has an eye for detail as the interior of his store is a showcase of his work. You'll have to stop by and check it out for yourself as it's hard to explain. The attention to detail is phenomenal. Need funny t-shirts, mugs, socks and the like? This is your place and we couldn't leave without stocking a few bags worth of gifts to bring home.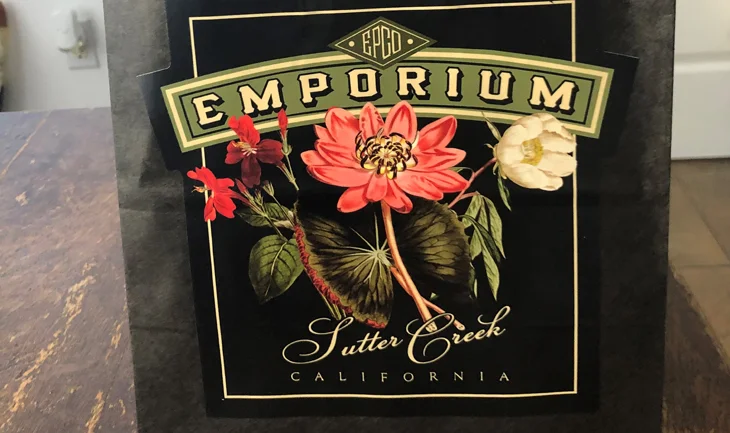 Emporium in Sutter Creek, California
Eat Like a Local
We then proceeded to walk back towards the other side of town, stopped by the cute little public library (look for the oversized telephone booth) where books can be exchanged which sits on the sidewalk in front of the stunning Methodist church which is one of those iconic western-town churches. Bright white, tall and majestic, I'm sure plenty of people have taken their picture here- it's hard to resist. A few more blocks pass by and we both agree it's time for an afternoon espresso. We peruse a couple of more stores and boom, another hidden gem discovered- Choco-O-Latte. If you grew up in the SF Bay Area like I did, this is the closest thing to feeling like you are sitting at a Swensen's Ice Cream Shop, minus the ice cream.
I actually felt like I was back in the late 1800's. They served up the best iced mocha I've had in a long time- that was a huge bonus for me. The wife and I put our feet up and enjoyed people watching for a while, something that we do when we're zoning out and feeling relaxed. The décor was warm and comfortable and helped you feel like you were invited into someone's home. Be sure to stop by and check it out. Alright after a good an-hour long walk checking out the stores and meeting some of the local shop owners, it was time to for us to choose a dining destination. We're always known for taking a late lunch to beat the crowds and we were on the border of missing out.
Seth, the tasting room manager at Helwig recommended that we check out Cavana's Pub & Grub and so glad he did. We enjoyed the Pub Wings as our starter (a guilty pleasure of ours), I opted for the Pub Burger which offered cheddar, bacon, tomato, red onion, arugula and garlic aioli on a toasted fresh-made milk bun. My wife went with the Pioneer Chicken which has Pepper Jack cheese, avocado, arugula, tomato, bacon, red onion, ranch dressing on a toasted Ciabatta bun. Absolute delight was on our faces, the atmosphere rounded out our western-themed Saturday in Amador Wine Country.
We checked out some more of the shops, my wife fell in love with a dress that was in the window of Clothes Mine. I enjoyed sitting outside, soaking in the sun as it began to get lower and lower- wow is the day really going by that fast? Anyways, smart move having chairs out front for us husbands to chillax while our wives' paw through the clothes racks, it was another highlight of the day as I checked in on our son back home. I gave him a glimpse of the town and he was now totally regretting not coming with us.
As the sun continued to drop, we figured one last wine tasting would be a great way to cap the day. We had heard some great things from the local shop owners that 1850 Wine Cellars Tasting Room is the kind of tasting room we're looking for. Plus, from where we were standing, it was just a short block off Old Route 49 on Randolph Street near the middle of town. We walked in and the two ladies greeted us, wow, the hospitality is still flowing! Since I was driving, my wife went through the flight of wines- we chatted about our discoveries for the day- so many!
We had been taking pictures to share with friends on social media and were checking out all the comments they had left. The most common was "where is Sutter Creek- it looks amazing!". Well, I guess the cat is out of the bag now, but we're happy to share what we had discovered with our friends back in Napa. We purchased a couple of bottles of the 1850 Wines' Grenache (yum!), thanked the ladies and no doubt want to come back to this spot. They offer trivia nights, live music and other fun game nights, wish our tasting rooms in St. Helena did this!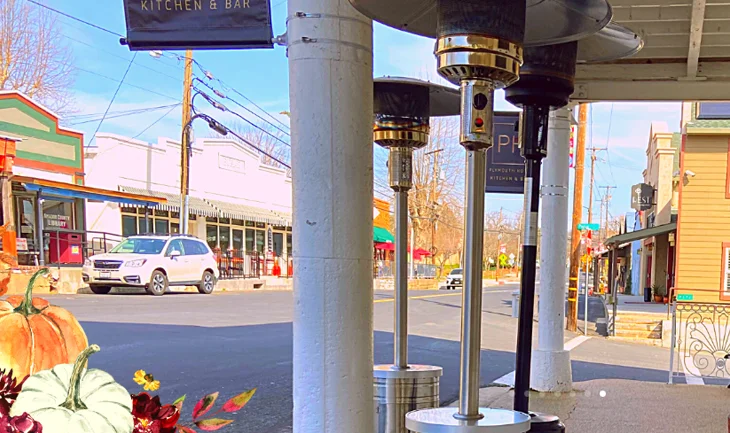 Downtown Plymouth, California
Pure Delight is found in Plymouth We found the car and proceeded to travel back towards Plymouth, but instead of leaving the same way we came in, we went through town and back out on the highway to the south. With the sun getting barely over the hills, the beams of light were casting brilliant shadows through the oak trees.
I can see why so many locals love it here. About 25 minutes later, we find ourselves back at the Grand Reserve to kick up our feet, shower, change and prepare ourselves for culinary delight. Located in the super-small town of Plymouth, you'll find the Taste restaurant. Being so relaxed by this point, it took a lot of rallying to get us to leave the Grand Reserve but we also had heard so many great things about Taste, we couldn't pass up on the opportunity. And, boy are we glad we did. Taste delivers! I enjoyed the Creekstone Farms Filet Mignon paired with purple fingerling potatoes, sautéed spinach with caramelized onions (my favorite) while my wife fell in love with the seared Salmon that was paired with baby Bok Choy, dragon farms mushrooms (never heard of this, but really enjoyed the texture), ginger rice cake, braised leeks with a brown rice mushroom broth.
We shared nibbles from each other's plates- tough call which one was better. What a value and amazing culinary experience all around. We enjoyed one of the bottles of Old Driller we bought from Helwig earlier in the day, it was a nice way to see the day in full circle. With our Passport to Amador County, the corkage fee was waived at Taste. Boy membership has its privileges!
And as we capped the evening, we were blessed that our warm and comfy bed at the Grand Reserve which luckily was just a few miles away. We were spent and so relaxed from our day, we like butter on toast. We covered a lot of ground that day, met some wonderful people and now where falling in love all over again as we sit in our rocking chairs set beside the intimate fire pits overlooking the vineyards.
This was actually the moment I was really looking towards, one-on-one time with my wife sitting by the fire in our rocking chairs. And with a clear, full-moon lit night, this is wine country living at its finest! Long story short, it doesn't matter where you live there's always plenty of other destinations to explore and fall in love with.
And we are so lucky to be able to discover, explore and share magical destinations like Amador County with you through our blog. And you should point your browser on over and check out our latest travels because you never know what special places in wine country you are missing out on until you do!
Local Insider's Tip
Temperatures throughout the year can vary drastically on the Sierra Foothills and despite cool mornings and nights, it can get quite hot throughout the day in the spring to fall months. So plan accordingly and be sure to dress in layers so you can adjust as the temps rise.
Planning transportation can be tricky, but ride sharing apps are available and reliable as long as you are visiting properties with adequate cell service. We would recommend hiring a local driver such as Destination Drivers over driving yourself as they can be sure you go to the trendy tasting rooms, dining spots and of course some of the history goldmining lore to boot.
Make sure to try out the local dining faire in downtown Plymouth and Sutter Creek as well.
Popular Amador County Wineries
Other Sierra Foothill Wineries
About The Silver Fox
For those that don't know me, I've had several careers over the years before starting CellarPass with my wife Sarah. No my LinkedIn profile is not updated because half the jobs I've had, no one will believe me. Many family members swear I work for the CIA, which I would love to admit, but can't for tax purposes.
I hope you enjoy my stories about my interesting journeys through wine country just as much as I have enjoyed living it.
Subscribe to our Newsletter
Join our mailing list and be one of the first to know about upcoming local events.
Buy Tickets to Trending Special Events
Amador County Special Events
Helwig Winery
Oct 27, 2023 - Oct 29, 2023