Top 6 Ghost Wineries and Haunted Tasting Rooms in Wine Country
Ghost Wineries are a very special group of wineries with a spooky name, but each has a history as vibrant, rich and enchanting as the wines they produce today.
What makes a winery a Ghost winery? In general they are California based non-functioning or restored wineries that were built and originally operated in the 1800's. Prior to Prohibition (1920 - 1933) there were around 700 wineries operating in California – many of them dating to the mid-to-late 1800's.
By the time the 18th Amendment was repealed in 1933, the Great Depression was taking its toll on thousands of businesses. When the dust settled, roughly only 40 wineries had managed to survive. Many barely scraping along finding loopholes to avoid shuttering such as producing sacramental wines, while others bootlegged their way through underground channels risking it all at the chance of distributing their wines out on the black market.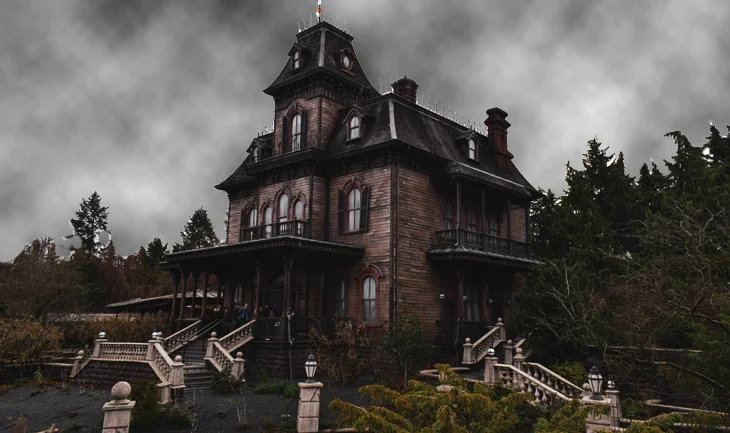 Spooky Haunted Houses
Today, several of these noble properties remain, although some were abandoned and sadly perished from neglect, many have been saved by the next generation of vintners meticulously preserving the memory and stories of their predecessors. These good stewards carry on winemaking legacy and celebrate the pure engineering magnificence of the hand crafted stone cellars that continue to house vintage after vintage naturally maintaining a perfect 55 degrees.
Show some backbone and make this weekend a spooktacular one by visiting a few of the featured ghost wineries . Ready, set, boo-ook!
Top Ghost Wineries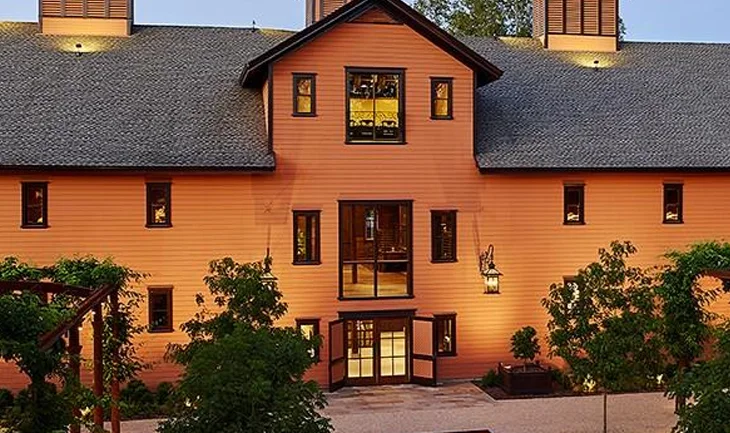 Trefethen Family Vineyards in Napa
Trefethen Family Vineyards
Little did the Trefethen family know when they purchased the winery in 1986 that it was home to some ghostly inhabitants. This historic winery built in 1886 by the Goodman Brothers, has been rumored to have been a bootleg operation during Prohibition. More ghostly than most, one illustrious story depicts a young man who snuck into the old winery to steal him some "hooch" but was caught by the bootleggers who according to legend lynched the trespasser from the ceiling beams of the winery.
Winery staff have rumored that a human-like shadow has been seen swinging overhead, others have reported having experienced an eerie sensation while in the building. However, a few have reportedly seen visions of the gruesome event playout.
Book a tasting experience at this historic Napa Valley winery.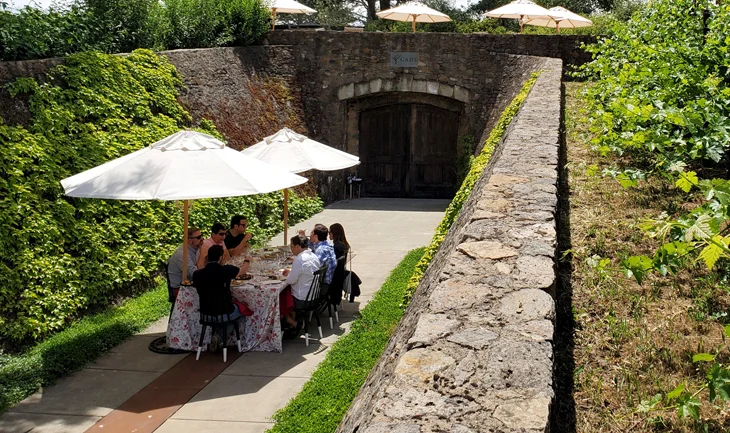 13th Vineyard by CADE
13th Vineyard by CADE
Located just about a half mile (as the raven flies) from the modern CADE estate is a stunning stone winery perched proudly on a hill. The three-story gravity fed winery was built in 1886 by visionaries, Jean Brun and Jean V. Chaix was a true marvel of its time. Blending past with present, the property's name was inspired by its roots as the lucky thirteenth bonded winery in California. Today, this hidden gem is a very special place for wine enthusiasts to experience a collection of CADE library wines as well as the exclusive 13th Vineyard Estate Cabernet Sauvignon.
Conjure up a tasting of vintages past and book your experience now.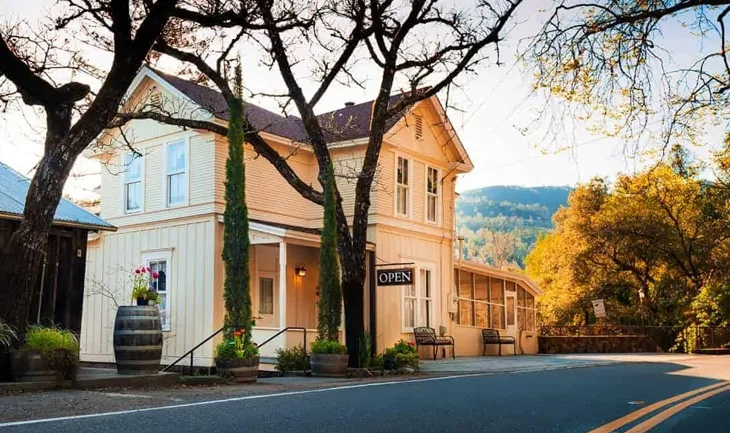 Nichelini Winery
Nichelini Winery
Nichelini is the REAL DEAL being the oldest continuously family-owned and operated winery in Napa County. The winery is located in the restored homestead cabin nestled in Chiles Valley just a few minutes outside of St. Helena. Built by Anton Nichelini in the late 1800's, the original Roman wine press and house still stand today and have remained in the family for five generations. At Nichelini, their wines are a legacy of love that you can taste at first sip. The dedication to family traditions and fine craftsmanship is radiated through their exquisite world-class wines.
Book your tasting today and experience one of the most warm and welcoming tasting rooms in Napa Valley.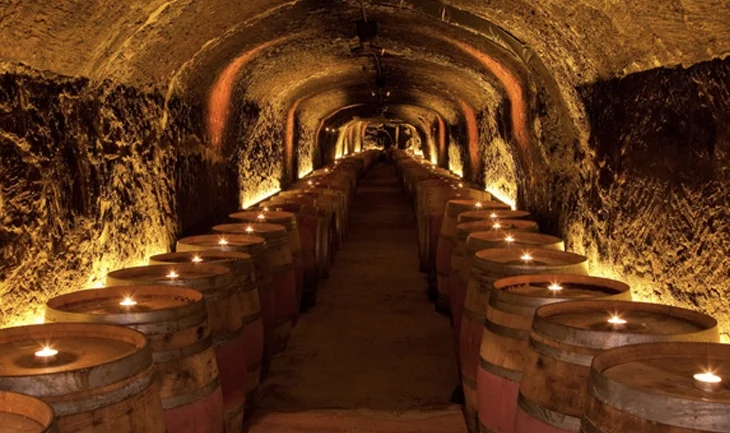 Del Dotto Historic Napa Caves
Del Dotto Historic Napa Winery
Restored in the '90s by the Del Dotto family, the historic winery built in 1885 boasts one of very few hand-dug wine caves in Napa County. Take a stroll through history as you wind through the caves in subterranean wonder and sample incredible Del Dotto wines straight from the barrel.
Treat yourself to this legendary cave experience, book now.
Insider's Travel Tip
When visiting Napa Valley's Ghost Wineries in October, be sure to make a side trip to Stanley Lane Pumpkin Patch. This family owned and operated destination is an annual favorite beloved by locals. Stroll the endless rows of pumpkins of all shapes and sizes where you may find a ghoulish gourd to take home. Lose yourself in the haystack pyramid, which makes for an ideal Instagram background and is complete with a tunnel slide. And, if you're hungry there is the onsite Smokehouse Deli which serves up mouth watering smoked meats - a perfect stop for lunch!
More Spooky Destinations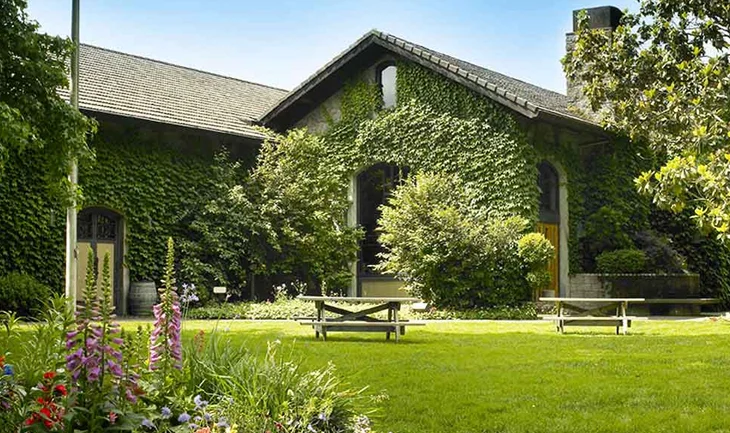 Dry Creek Vineyard Tasting Room in Healdsburg
Dry Creek Vineyard
A very spirited tasting room! This property sits on part of what once was Pomo Indian Reservation. The area in general was home to the Pomo Indian tribe that occupied a vast majority of what is now Sonoma County, stretching from valley to coast. Many artifacts and arrowheads have been discovered on the Dry Creek Vineyards property as is common all over this region. While the atmosphere is always lively and jovial, it is reported that the property is haunted. Perhaps by previous occupants? The paranormal activity has gained enough notoriety to have been documented by The Wine Institute. While the staff have shared stories of strange and unexplained happenings such as lights turning on and off, doors being mysteriously unlocked and swung open.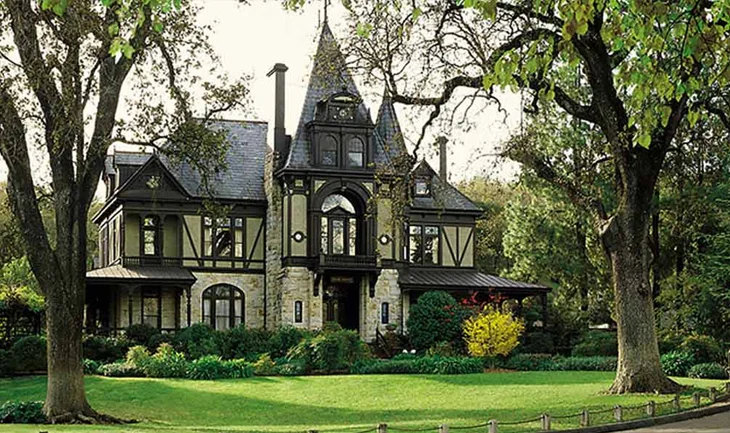 The Rhine House at Beringer Vineyards
Beringer Vineyards
One of the most recognizable wine brands in the United States, Beringer is home to the Rhine House, built in 1884 by architect Albert Schroepfer, Frederick Beringer's former residence has undergone extensive restoration to preserve this historic landmark and is the crown jewel of the majestic estate. Spooky stories… There are rumors of hauntings at the Rhine House, most commonly in Frederik Beringer's room where objects have been supposedly thrown by an unknown entity. Additionally, apparitions have been reportedly seen walking the upstairs halls of the Rhine House.
Explore The Rhine House at Beringer Vineyards.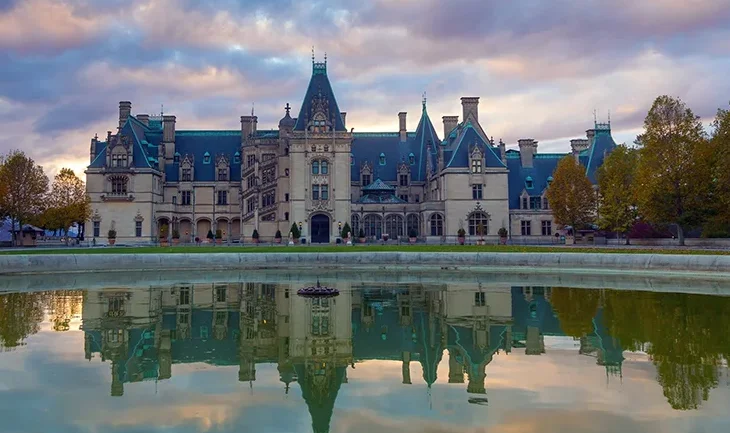 Biltmore Estate Mansion
Biltmore Estate
Built by one of the world's most famous families and nestled at the base of the Blue Ridge Mountains, the 8,000 acre Biltmore Estate is one of America's most visited attractions and remains family-owned to this day. Is this historic destination home to ghostly residents? Certainly, there must be a reason this renown property is one of the top 10 haunted places in Ashville, NC.
There are certainly plenty of spine-tingling places for you to get spooked at the majestic house and gardens. Over the years, visitors and staff alike have reported numerous sightings and unexplained activity at various locations all over the vast estate and grounds.
The Mansion proper, what is it about grand old estates that immediately have visions of ghosts dancing through our heads? Maybe it's the estate's slightly gothic architecture or is it perhaps something else? There have been rumors of people hearing sounds of footsteps when no one else is around. Others have said they got chill from mysterious cold spots. And of course, there is the occasional light flickering and door opening all on its own.
Are these the actions of resident's past or maybe from the lingering spirits of those buried in one of the many cemeteries located on property? Who really knows? One thing is for sure, this is an absolute bucket-list destination that you should experience at least once in a lifetime.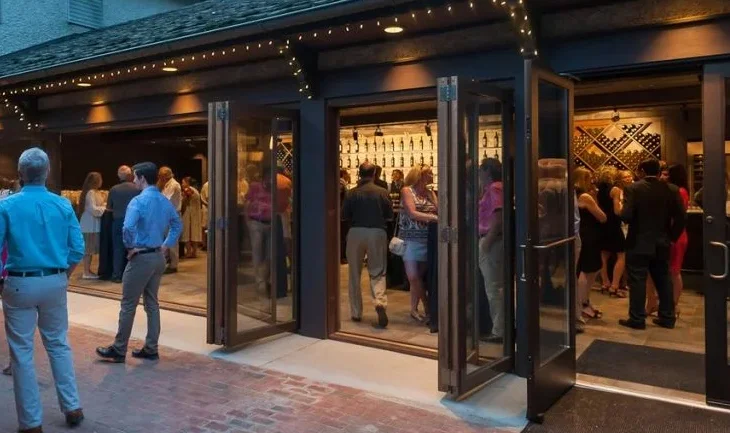 Biltmore Estate Tasting Room
After you have completed a day of ghost hunting and exploring this enchanting property, find your way to the Biltmore Winery to enjoy a glass of handcrafted wine and nosh on charcuterie while you swap bone-chilling ghost stories with your friends and fellow visitors. Wine tasting is complimentary, however, access is limited to those with a day ticket, annual pass, or for those staying at one of the estate's splendid overnight properties.
Plan ahead check for seasonal happenings and special events and be sure to get your single day ticket or annual pass in advance to visit this iconic attraction and tasting room.
Fun & Spooky Things to Do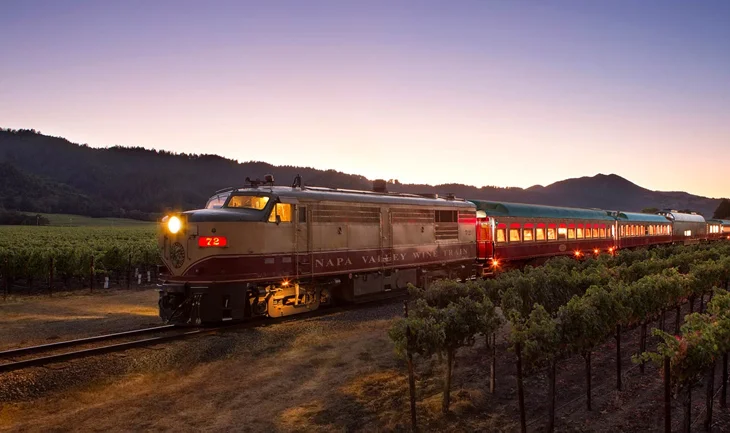 Napa Valley Wine Train
The Wine Train Murder Mystery Dinner
What could make world-class dining while taking in the views of Napa Valley from magnificently restored vintage rail cars even better? Try adding immersive live theatre where you're at the center of an action-packed murder mystery.
Get into the spirit and dress up for the theme. You'll rock and sway your way along the rails past vineyard lined country roads as a night of intrigue and suspense unfolds. Will you help find the killer? Or will you be hiding your devious identity from fellow dinner guests?
Of course the onboard dinner will still be the star of the show. The Napa Valley Wine Train's award-winning chefs create seasonal menus made with fresh local ingredients. You'll enjoy a spectacular three-course dinner with a side of murder, mystery and mayhem. We hear it pairs sinfully well with a decadent Cabernet Sauvignon.
Tickets will be gone in a spell, so book now.
Messina Hof Grapevine Winery
Friday, October 28, 2022, 7:00 PM
Subscribe to our Newsletter
Join our mailing list and be one of the first to know about upcoming local events.
Categories