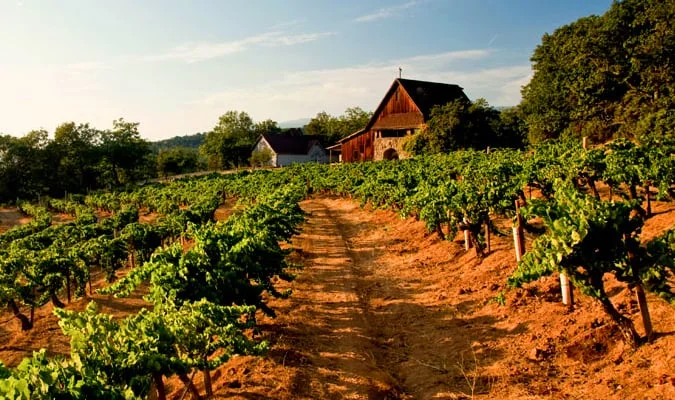 Best 10 Sonoma Wineries To Visit
The absolute best "hidden gem" wineries in Sonoma are revealed. Discover wineries and tasting rooms in Sonoma wine country to swirl, sip and savor like a true local.
With over 1 million acres and 450+ wineries to cover in Sonoma County, so many visitors to Sonoma Wine Country think you can spend one day and see it all. Some in fact try and visit both Napa Valley and Sonoma on a single weekend. Coming from a local, that's a crazy idea and you'll miss so much! My local's recommendation to you is spend your weekend to the less-travelled parts of Sonoma and focus on those that will break the mold of the typical, belly-up-to-the-bar tasting experience that we've all outgrown.
And finding these "hidden gems" is easier than you think as I'm to share with you some of the most cherished wineries in Sonoma, from a local, insider's perspective. With the help of my local friends and my own recent visits throughout Sonoma County, we've got the go-to list of wineries and tasting rooms to visit in Sonoma County. To boot, if you are visiting the area, your stories will make everyone back home jealous (your friends will be throwing FOMO fits) as you post your fabulous experiences on Instagram. If you are a local, you'll be sure to smile with pride and probably keep these to yourselves.
10. Repris Wines is anything but ordinary. Tucked away in the elevated terraces of Moon Mountain, you will discover a setting what you'd think would only be seen in films. You will know you have arrived because you will see an unusual structure with a towering turret. As you park your car, one of the wine educators will come out to greet you with a chilled glass of white wine. And as the experience unfolds, you will be whisked away on an ATV tour of the estate vineyards, tunnel through the caves and see where it all comes together on the winery's "crush pad". For locals, this is called a "G2G" or "grape to glass tour". Huh? A grape-to-glass tour takes you through the vineyard where you'll learn about their growing practices, then take you through the cellar where you can learn about how they ferment and age, you'll get a tour of the caves (if the winery has them- a few percentage of wineries have caves) and a winetasting. The wine tasting itself will dazzle you with extraordinary estate wines only offered at the winery. Yep, you will not find these anywhere else. Repris WWines is definitely off the beaten path, but well worth the journey and is a must-see winery. Every time I visit Repris, I leave feeling in love with life and some fantastic new wine to boot. $75 per person. 90 -120 minutes. Reservations are required.
9. Reeve Wines is a tiny winery that I stumbled upon through a recommendation of a winemaker friend. As I drove up, I wasn't sure what to expect, but quickly realized I had discovered a total hidden gem. The artwork and décor that adorn the historical stone structure is inviting and creative. The husband and wife duo, Noah and Kelly Dorrance, are a match made to last. The intentionally elegant-yet-casual setting and spectacular wines provoke an instant state of bliss that is sure to last long after you leave. There isn't a tour or any hype, just honest good wine and fantastic down-to-earth hospitality. The Wayfare tasting is $35 and the Kismet Tasting is $50. They have a fantastic Villa that you can stay in that is absolutely gorgeous! 90 minutes. Reservations are required.
6. Scribe Winery is a place I found, long before it became popular. I fell in love instantly with the casual setting, upbeat vibe and outstanding wines. This at first may feel like a "no frills" property, but your opinon will quickly be changed. Close to the Carneros AVA in Napa County, Scribe is easy to find and conveniently located- surprise how many people don't even know it's there. The original tasting room sits on top of a knoll (now reserved for club members) and looks out across the vast southeastern part of Sonoma farmland. Recently, the Hacienda has been carefully renovated and is where all tastings for the general public take place. Andrew and Adam Mariani (brothers) believe that the best wines are a result of a healthy relationship between man and nature, and that a vineyard managed in harmony with the greater ecosystem results in more site-specific wines that represent a sense of time and place. Lots of philosophy and intelligence goes into everything that is Scribe. Be sure to make your reservation well in advance as space is very limited and demand is high. $60 per person (garden snack included). 90 minutes. Reservations are required.
5. William Selyem is well known for its vast selection of Sonoma County cult Pinot Noirs. If I am not mistaken, Williams Selyem has over 30 Pinot Noirs to choose from and generally speaking, the only way to get a bottle of the coveted wine is at the winery. Williams Selyem is perhaps as famous a U.S. wine brand with pinot lovers as is Opus One to cab fanciers. At this time tours and tastings are not open to the public. If you want to try the wines, you will have to first get on "the List" and then wait for your membership to be activated (this can take a few months to a year!). However, if you have a friend who is a member, hold them close and see if they can take you along next time they go to the winery. Its insane how difficult it is to taste the wines, but once you do, I promise you will be glad you did. 90 minutes. Reservations are required and very difficult to come by. Call them and beg for mercy.
4. B Wise Vineyards came into my life by accident. I was at an old wine tasting group in Sonoma one night and the winemaker, Massimo Monticelli (formerly with Silver Oak in Napa Valley) brought a bottle. Not really an old wine drinker myself, I gravitated towards the newer bottle of B Wise wine and fell in love. Since then, I've learned that I am not the only person who thinks B Wise is one of the best wines around. Part of the winemaking dream team at B Wise, Julian Fayard (Covert Wines) and Mark Herold (Merus) bring it all together in the best kind of way. You can taste in the small tasting room in Kenwood ($20 per person) or at the winery and caves ($65 per person). If you go to the winery, you will also get a tour and some insight into their winemaking and production. The views at the winery are stunning and I am sure you will be smitten, just like me! If you don't try B wise wines, you will surely be missing a real treat. 90 minutes. Reservations are required. On weekdays you have a better chance of getting in last minute.
3. Kosta Browne Winery is a place where genius is bred and world-class wines prevail. With a meticulous precision the dynamic team at Kosta Browne create an elixir for the gods. Once in a while, simple humans like you and I are lucky enough to get our hands on and taste. Kosta Browne is one of the biggest names in California Pinot Noir, an iconic brand with a long waitlist for allocations. Much to the relief of locals and cult followers all over the world (30,000 to be exact), Kosta Browne opened a tasting room at the Barlow in Sebastopol. The new Gallery Tasting experience costs $75 for active members and $125 for anyone who wants to sign up for the mailing list on the website. It is free to sign up, however, there is still a one to two year wait period for new members to become active members, with the ability to actually buy wine. At the tasting room you will sit on the second floor and overlook the modern and swanky concrete tanks and fermentation barrels. Yes, tanks and barrels can be swanky! $75 dollars per person. 60 minutes. Reservations are required.
8. The Donum Estate Mei and Allan Warburg who share a passion for wine and art own The Donum Estate. Donum means "gift of the land" and they produce only single-vineyard, estate wines from vineyards in Carneros, Russian River Valley and Anderson Valley. As you are let in through the gates, you will begin to see massive art structures that are beautifully integrated with the rolling landscape. Every piece is carefully chosen to fit in with the spacious grounds that are The Donum Estate. After walking the grounds, I was thoroughly inspired and truly impressed with the amount of thought and care put into the estate. No expense has been spared to develop the land and tasting room. Rising above the rest, Donum Estate brings every force of nature together to create top-notch Pinot Noir and Chardonnay.
On the experience front, guests can choose the Discover Experience ($95 per person) or the Explore Experience ($150 per person). Both taste through the current release wines, paired with small bites. The only difference is that the Explore Experience includes an ATV tour of the contemporary sculptural garden. The tour features works by world-renowned artists Zhan Wang, Pascale Marthine Tayou, Richard Hudson, Subodh Gupta, Louise Bourgeois and many more. While on the Discover Experience, the tour is a walking one, so be sure to wear comfortable shoes! 120 minutes. Reservations are required.
7. Bedrock Wine Co is all about the wine. In their own words, "the winery is dedicated to taking advantage of the diverse terroirs of California and their capacity to make an enormous range of styles, be it delicate and perfumed rosé, barrel-fermented whites, or violet and pepper-tinged Syrah. We are always exploring—from the heart of Oakville in Napa to the northern reaches of Mendocino and gold hills of Amador, the vastness of Lodi and the beaches of Contra Costa to every corner of Sonoma." Each year, if we are lucky, we find something quirky and new like Bedrock Wine Co. Throughout all the wines, though, is a dedication to making wines that maintain poise while being infused with California sun. And, most importantly, that are delicious to please any discerning palette.
Words can't begin to describe how refreshing it is to encounter folks who mean it when they say they care about the land and the process of making honest wine. Located in a tasting room on the Sonoma Plaza is currently the only place you can imbibe. I know its not the typical winery experience, but everyone else is doing that. Try something new (you will be happy you did) and let the wine shine. The tasting room is minimalist- love the red chairs, but the wines are the shining star. Tastings are $30 per person, but complimentary for longstanding members of their mailing list. Open Wednesday thru Sunday. Reservations are required. 60 minutes.
2. Hanzell Vineyards is perched above the southern toe of the Mayacamas mountain range overlooking the southwestern end of Sonoma Valley and San Pablo Bay. Since 1975, Hanzell has been solely owned by the de Brye family, who is dedicated to the preservation of tradition with a progressive and holistic approach, which will ensure the sustainability for generations to come. As the iron gates part and you drive up the quaint road to the winery, you will eventually see a beautifully restored wooden barn. Park your car and mosey on in! Pontiac, the vineyard cat, is usually there to greet you and will sit on the hood of your car to welcome you to the Hanzell pack. The friendly wine educators will greet you with a glass of Sauvignon Blanc to brighten your day, introduce you to the land and soon you will be whisked away in a Range Rover to see the farm. Upon your return, you will get a tour of the caves and production and then taste in the barn with one of the best views in Sonoma to be had. From start to finish, Hanzell Vineyards is a seamless experience with exceptional wines. The Hanzell Farm Tour & Tasting is $65 and the Heritage Winery Tasting (without the tour) is $45. 90 minutes. Reservations are required.
1. Hamel Family Wines may not be able to say that they come from generations of winemakers, but they don't need to. In my book (and many share my love for Hamel) Hamel checks all the boxes for what you want in a winery. Farming fully organic and biodynamic, Hamel Family Wines is truly a responsible steward of the land, today and generations to come. Grateful to be doing what they love (and doing it well) the family is humble and generous with their staff and guests. In everything they strive for, the Hamel Family do this with integrity, gratitude and passion. The result is a brilliant wine that rises above most in quality and balance, a loyal team and a huge family of followers (Badger Clan Club). At the winery you can enjoy one of three experiences - the Estate Experience ($60 per person), the Reserve Experience ($125 per person), the Collectors' Experience ($100 per person). Hamel even have a "dry tasting," for non-drinkers who are enjoying the Experience with others. The winery is modern, sleek and comfortable. Expect to spend at least 90 minutes to 120 minutes for your visit, don't worry you'll want to stay longer! Once you connect with Hamel, you will wonder why you waited so long. Hamel is my number one pick because it's the whole package. I have no doubt that you will fall in love too. 90 to 120 minutes. Reservations are required.

If you don't' know it yet, wine has a soul. And the generous people of Sonoma know how to nurture the soul of wine in such a way that it can be shared with beauty and delight. In the wise words of the legendary local Sonoma viticulturist, Joe Swan, "There are few more civilized pleasures in life than good company, good food, and good wine." May your visit to Sonoma wine country be cherished and regarded always, as one of the best times in your life. And as your adventure through Sonoma sets in, you, too will notice that the people serving you are deeply invested in making sure you really enjoy each-and-every visit. So, be sure to raise a glass and say "thanks" for making your visit extra special.
Subscribe to our Newsletter
Join our mailing list and be one of the first to know about upcoming local events.