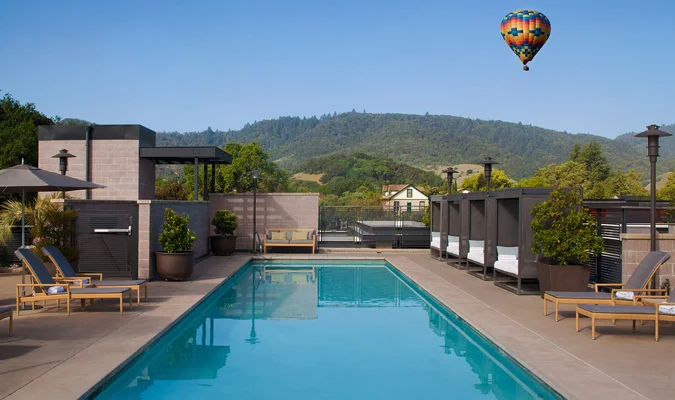 Best Places To Stay In Napa Valley
Are you wondering where to stay in Napa Valley? Find out the best places to make your new home this summer in Napa's iconic wine country.
Summer is here- and we're excited to share with you our best places to stay in Napa Valley for 2020. The weather is perfect and the days are filled with hours of sunlight. 2020 has been a unique year and if you are looking for a fabulous place to get away from home, look no further! Napa Valley is calling your name and has lots to offer. Only 54 miles (ca. 87 km) from sleepy San Francisco, Napa is easy to access and worlds apart from wherever you call home. Napa Valley has some of California's best resorts and hotels. Its easy to wonder which one to choose, so we have selected a few of our favorites.
You can expect triple-digit afternoons in wine country, so be sure to bring summer attire and a bathing suit. Wherever you decide to stay, you will definitely want to spend some time cooling off in the shade or poolside. Most of the hotels on our list have open outdoor pools and spas, but due to limited space and high season, it's always a good idea to see if you can secure some lounge chairs in your favorite spot and of course spa appointments.
Napa Valley is a rectangular-shaped valley that stretches from South to North. Napa proper is the first town in the most southern part of the valley. Travelling North, you will find Yountville, Rutherford, St. Helena and Calistoga. As Napa proper is closest to the water, you will experience the coolest temperatures there. As you move up valley, you can expect the thermostat to jump at least 15 degrees for each town. Calistoga, being the furthest up valley, will see the warmest weather. It's good to keep this in mind as you select the ideal place for your stay.
In Calistoga, there are several great places to explore. If budget isn't an issue, try
Solage
. Solage is an Auberge du Soleil Resort and has some of the highest standards (as well as prices) in the valley. However, your money is well spent as nothing is ever left to chance at Solage. You will enjoy incredible swimming pools, luxurious rooms, a delicious restaurant (SolBar), perfect service and access to cute bicycles to ride around town on. As a local, I enjoy the grounds at Solage as often as I can. Solage never disappoints and always over delivers.
Indian Springs Resort
(Calistoga), won't break the piggy bank and offers sprawling mineral pools and an ideal location right in town. Growing up in San Francisco, we used to come up to Calistoga on the weekends and always stayed at Indian Springs Resort. The olympic size mineral pool has been around since 1901 and the entire resort (although recently renovated) is considered a historical place. The vibe at Indian Springs is relaxed and approachable, while still maintaining elegance and charm. There is a restaurant on site (Sam's Supper Club) and many restaurants and shops (in walking distance) to explore. Encompassing 17 acres in its entirety, don't be surprised if you decide to never leave! There is something unique and special about Indian Springs. You will have to try it and see for yourself. I'm sure you will enjoy every second of your stay and return again and again.
Heading South from Calistoga, you will find an adorable town called St. Helena. Everything about St. Helena is elevated yet, warm and welcoming, at the same time. St. Helena is a thriving farming community (some of the most expensive farms in the world), with many resources that you may need while vacationing. While there are no strip malls or big chains, Main street has cute shops, restaurants, essential stores, a post office, fire station and charming green spaces. If wine tasting is on the agenda, you may want to consider staying in St. Helena as most of the best wineries are close by this centrally located, small town.
Most people have heard of
Meadowood Napa Valley
(St. Helena). This is definitely where you will want to stay if money doesn't matter. Meadowood is gated, exclusive, has many amenities (pools, croquet, golf and restaurants) and is everything you would want out of a high-end resort. Be sure to bring proper country club attire, if staying at Meadowood. You will feel underdressed in a t-shirt and jeans. You will be living in the lap of luxury to be sure. Meadowood is the place where celebrities like to stay, so be sure to have your sharpie ready, in case you bump into someone famous. Alternatively, we love Harvest Inn (St. Helena). Offering understated and elegant rooms
Harvest Inn
has the best of both worlds. Not lacking in style or comfort, you will enjoy the outdoor gardens, pools and onsite restaurant. Just minutes from town, Harvest Inn has town-car service and is pet friendly to boot! With ample parking and space to relax and unwind, Harvest Inn is a top pick for us. We hope you will enjoy it too!
Just north of Napa and south of St. Helena, is a hip and vibrant town, called Yountville. Yountville is a great place to stay for many reasons. It's walkable. It's close to everything. No doubt, the world has recognized Yountville as being a culinary epicenter as it has the best restaurants in the Napa Valley! Should you decide to stay in Yountville, you will surely be pleased as you'll probably catch a glimpse of a famous chef or celebrity during the summer months. If you like to golf, there is even a public, 9-hole course at your fingertips! Vintner's Golf Course is an absolute gem.
In Yountville, hotel and resort accommodations abound. All of them are fantastic, so it's not easy to single out one or two. You honestly can't go wrong in Yountville. Having said that, we have chosen a couple on the spectrum.
Bardessono
is on the super luxury end of the rainbow. Each room cost one million dollars to create and every single detail has been addressed with the most detailed care. In fact, the rooms can double as in-room spas! With a dynamite restaurant and bar on site and spectacular outdoor pools, you will love this slice of heaven. Bardessono truly is a place for creature comfort, pampering and a taste of extraordinary. Staff will address you by name, make you feel that Bardessono is your forever and cater to your every need. Did I mention that the entire property is LED? Yeah, it is!
Vintage House at the Estate Yountville
is a delightful 22-acre compound that offers almost everything you could ever want for the perfect weekend getaway. Recently renovated in a sleek, crisp style, the grounds and rooms are hand crafted with every comfort in mind. The concierge can easily create a magical itinerary for you to include wine tasting, culinary adventures at Michelin-starred restaurants and healthful activities. If you need a ride around town, the valets can transport you in minutes to your destination. Often, local wineries will provide wine tasting on the patio, by the pool or in the open air lobby. When it's time to go to sleep, the rooms welcome you with cozy comforts and gentle tones. Ask about the special packages as they are ever-changing and may offer unique "packaged" experiences at a great value. Vintage House is an opportunity to explore all that Yountville has to offer with ease and assurance that your experiences will be flawless and unforgettable.
By now you should have a pretty good idea of places to stay within Napa Valley. We purposefully did not include and accommodation options in Napa proper as that is an article in and of itself. Look for Best Places To Stay In Napa to find out our picks for Napa proper.
Until next time, we are so happy that you are planning your visit to Napa Valley. Life is short and it's time to make Napa Valley your own. See you around town!
Subscribe to our Newsletter
Join our mailing list and be one of the first to know about upcoming local events.