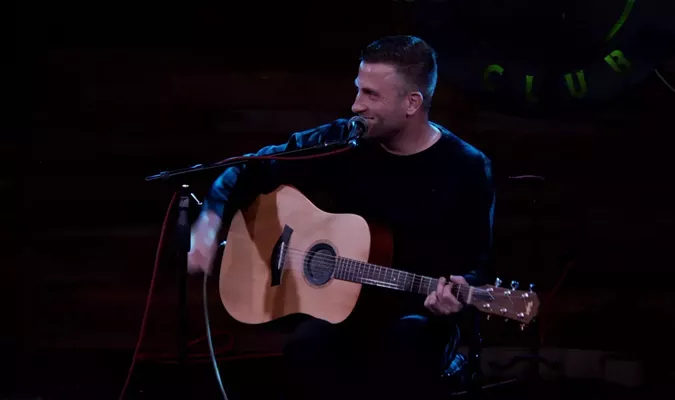 CellarPass Presents a Night to Remember: Patrick Walsh Live on August 12th at Acumen Wines in Downtown Napa
Don't miss the enchanting fusion of soulful melodies and fine wines as Patrick Walsh performs live at Acumen Wines on August 12th!
Mark your calendars for August 12th, as the renowned singer-songwriter, Patrick Walsh, is set to grace the CellarPass Harvest Singer-Songwriter stage with his mesmerizing performance. Prepare to be swept away by an evening of wine, music, and memories at Acumen Wines in downtown Napa as Patrick Walsh showcases his exceptional talent in an event that promises to be unforgettable.

Meet Patrick Walsh: A Musical Journey
Patrick Walsh, a gifted artist hailing from a small town, has a profound passion for music that has blossomed into an extraordinary career. Walsh's unique blend of folk, indie, and soul elements has won the hearts of music lovers across the globe. With heartfelt lyrics and a soul-stirring voice, Walsh weaves stories that resonate deeply with listeners, drawing them into his world with every note.

Having honed his craft through years of dedication and exploration, Walsh has earned acclaim for his authentic storytelling and emotional performances. He has graced numerous stages, captivating audiences at iconic music venues, and leaving a trail of mesmerized fans in his wake. Now, it's time for the patrons of Acumen Wines to experience the magic of Patrick Walsh up close and personal.

The Enchanting Setting: Acumen Wines
Nestled in the picturesque Napa Valley, Acumen Wines stands tall as a testament to the art of winemaking. Known for its commitment to producing world-class wines, Acumen boasts a breathtaking vineyard landscape that complements its exceptional products.

On August 12th, the founders of CellarPass invite you to join us at Acumen Wines to savoring their finest wines while enjoying the musical brilliance of Patrick Walsh. The concert promises to be a harmonious blend of soulful melodies, heartfelt lyrics, and the rich flavors of Acumen's finest wines.

Guests will have the opportunity to relish an exclusive wine-tasting experience, with Acumen's hosts guiding them through a selection of handcrafted wines, each sip enhancing the musical journey of the evening. The elegant and serene ambiance will complement Walsh's captivating performance, creating an atmosphere that celebrates the fusion of art and nature.

An Evening to Remember
CellarPass' event featuring Patrick Walsh is more than just a concert; it's a celebration of life's simple pleasures - music, wine, and the joy of being surrounded by beauty. Whether you're a devoted fan of Patrick Walsh or an enthusiast of exquisite wines, this event promises to be an enchanting experience that will leave a lasting impression.

Make sure to book your tickets early as this event is likely to be in high demand. Acumen Wines and Patrick Walsh cordially invite you to come together and celebrate life, love, and the magic of music on August 12th. Don't miss this extraordinary evening under the stars, as we raise our glasses and hearts to the harmony of wine and song.

Join us on August 12th, 7PM at Acumen Wines, where the splendor of music and the majesty of winemaking will collide in a night of pure enchantment. Patrick Walsh's soulful melodies and Acumen's delightful wines will create a symphony that will resonate in your heart for years to come. Unite with fellow music and wine aficionados for an experience that promises to be magical, memorable, and utterly mesmerizing. Let the beauty of Acumen's wines and the brilliance of Patrick Walsh's music transport you to a realm of joy and harmony. Get ready for a evening to remember!
Subscribe to our Newsletter
Join our mailing list and be one of the first to know about upcoming local events.