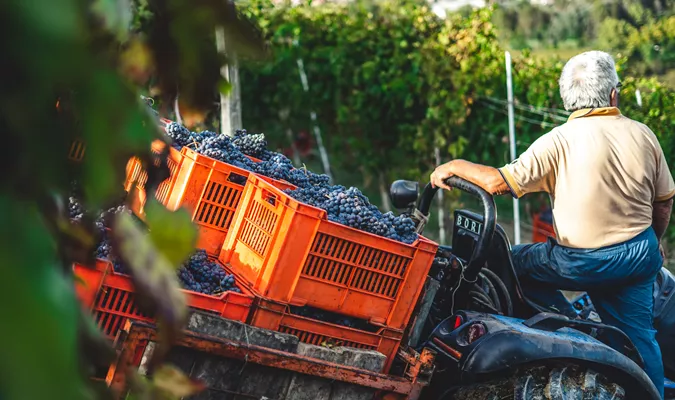 Taste of Harvest: Cheers to the 2023 Vintage!
For all the vineyard works and the winemakers, this is the critical time to produce one of their best harvests to date. Come check out all the 2023 harvest action by booking a getaway on CellarPass.
As the vineyards bask in the golden sun, their lush green canopies protect the precious grape clusters as they spend the final days getting ready for harvest. Vineyard and winemaking teams pluck and test berries daily ensuring their grapes will be harvested at exactly the right time.
The abundant rains and cooler temperatures through June slowed the growing season slightly this year, but the sights of freshly cleaned harvesting bins stacked high over the past couple of weeks were a clear indication that the first grapes would be brought in soon. This week vineyard crews have been working carefully and quickly in the early hours of the morning bringing in the first grapes of this year's vintage. We raise our glasses to welcome the arrival of the 2023 Wine Vintage – a masterpiece of nature and craftsmanship.
Each vintage tells a story, it is a tale spun by the vines, soil, and weather, a unique narrative that leaves its imprint on every bottle. It is a testament to the relentless passion of the winegrowers and winemakers, who labor tirelessly to capture the essence of each season.
In a world that constantly rushes by, let us pause and savor the finer moments – the clink of glasses, the laughter of friends, and the exquisite taste of a well-aged wine. Let us relish the simple pleasure of slowing down and enjoying the fruits of life.
Cheers to a vintage that's as exceptional as the company we keep!
Best Tasting Rooms for Harvest Action
Local Insider's Tip
Our wine country locals share their tips on creating an exception harvest experience.
Vineyard Tours & Barrel Tastings
When booking your tasting experiences look for vineyard tours and barrel tastings. Both these types of experiences will get you up close to harvest action. Vineyard tours will take you into the vineyards where you will learn about the varietals the winery produces, growing process, and possibly even catch vineyard crews harvesting grapes.
Barrel tastings are typically conducted in the cellar, which happens to be the perfect place to be if you want to see "crush" (local terminology for harvest) firsthand. Winemaking teams will be hard at work ushering grapes through sorters, presses and into tanks. As the season progresses you may get to watch winemakers performing punch downs, cleaning tanks, and filling barrels.
Wineries with Crush Pads
Seek out smaller wineries that have onsite production facilities aka "crush pads" where you can get a glimpse of harvest action from the tasting room or patio. Larger winery estates often have their production tucked away from the glorious tasting rooms or in some cases production is done completely offsite. If in doubt, call the winery.
Slow Down
This is a busy time of year in wine country. Roads are congested with tractors and trucks hauling precious vinous cargo along with other fellow wine enthusiasts eager to celebrate harvest. Allow more time to get from place to place and between tastings. Be patient with farm equipment and grape hauling trucks. Remember they cannot stop as quickly as you and no one wants to see a winery's entire vintage spilled across the road.
Harvest Events and More...

Subscribe to our Newsletter
Join our mailing list and be one of the first to know about upcoming local events.