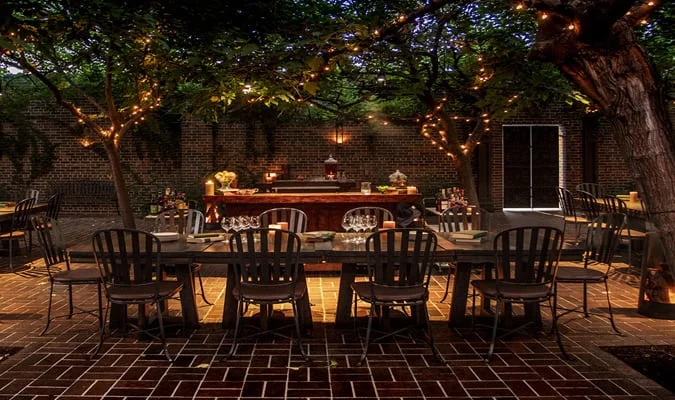 Local Foodies Share Their Favorite Napa Valley Restaurants
Local foodies reveal their favorite Napa Valley restaurants. Find out where to eat, drink and be merry in wine country.
Home to the Culinary Institute of America, the Napa Valley educates the next generation of conscientious young chefs who will take their lessons all over the country. As Anthony Bourdain said, "Food is everything we are. It's an extension of nationalist feeling, ethnic feeling, your personal history, your province, your region, your tribe, and your grandma."
While you are in one of the most acclaimed food and wine regions in the country, remember how much dedication and work that has gone into what our chefs are putting on the table for you. In the Napa Valley, we are blessed to have a wealth of local, sustainable food sources that define the term, farm-to-table. Unlike any other area in the world, the Napa Valley has some of the best food you will ever taste, covering all types of cuisines.
St. Helena
Cook St. Helena is a cozy (and I mean tiny) little restaurant with food that is bigger than life. Chef Jude Wilmoth is the best kind of chef – grounded and brilliant. In his comfort zone of the kitchen, Chef Wilmoth puts out some of the tastiest food in Napa Valley. When you source locally and have blessed hands, the simplest of ingredients come together like the holy trinity. Wilmoth would never describe himself this way, as he is a down to earth, easy-going family guy. Chef Wilmouth refers to himself as a craftsman and cook, rather than a culinary demi-god. It's refreshing to eat honest food without the ego. Sit at the marble counter (if you can find a seat. They have tables too) and order the chopped salad, the daily risotto special and the Mundae for dessert. Everything on the menu is imaginative and delicious – kind of like poetry on a plate. Closed Sunday & Monday. Reservations recommended.
The Charter Oak is one of the newer restaurants in St. Helena and is located in the former Tra Vigne space. I wasn't sure at first if locals would gather here, but my worries quickly faded away. Charter Oak is a local hangout for sure! Walking in through the charming entry way is an experience in itself. As you go through the doors, eyes fall on the wood burning oven straight ahead and then pan through the lively (and well appointed) bar area and dining room. Stay with me, I haven't even gotten to the food or service yet! Both are extraordinary. To start, the bread and butter are nothing short of magic. Freshly made in house, you will become spoiled the moment that you take your first bite. I'm not a vegetarian, but the dip served with the fresh vegetable credo was something I could have eaten by the spoonful. By the way, the vegetables come straight from their local farm. There is a difference folks, between produce from the garden and those shipped in on Sysco trucks – it's called flavor! After the bread, butter and vegetable credo, order whatever you want! I promise it will be excellent as nothing I've had to date has fallen below my high foodie expectations. The servers are almost too attentive, so if you should need help, they will be there to fulfill your every need. Open seven days a week for lunch and dinner with brunch on Sundays (instead of lunch).
Brasswood is a favorite haunt for locals and visitors alike. On any given day, you can find a local winemaker sitting at the bar, having lunch or dinner and chatting with whomever is sitting there too. You'll probably spot them sharing their latest release among friends- most likely wines that haven't even hit the store shelves yet. Almost always packed to the gills, one wonders upon walking in, how they find space to seat you, but they do. The property is impeccably run by Marcus Marquez, who formerly ran, Tra Vigne and Goose & Gander. The menu is elevated comfort food, seasonally composed by Chef David Nuno, sourcing ingredients from local purveyors. The cocktails, draft beer and wine list are dangerously delightful. Service is flawless and every time I go in, I feel like I am at home. The burger is probably my all-time favorite, with fresh-ground sirloin, Brie cheese, toasted brioche bun and savory truffle fries. Also popular are the house-made Burrata, Herb Crusted Lamb Chop and Duck Bolognese. For the perfect ambiance and a quintessential wine country meal, go to Brasswood and eat your heart out. Open seven days a week. Reservations recommended.
Rutherford Grill stands alone for ambiance, service and soul-reviving food. Wildly popular, I am certain to run into a handful of people I know, on any given day. It's a strange anomaly that a corporately owned (Hillstone Restaurant Group) restaurant would resonate with literally everyone who steps foot or lives, in the Napa Valley. Locals come from all directions to eat the delicious and reliably-consistent, comfort food. I love the Chicken Kale Salad, French Dip, Burger, Ribs, and Grilled Salmon with Broccolini and the ever-popular Potatoes Colcannon- yum! Everything, I mean everything on the menu is perfect. I am embarrassed to say that I probably dine at Rutherford Grill at least two times a week! You can also get great take out. We love the in-house Roasted Chicken, epic cornbread and artichoke dip, which is perfect for Summer Bocce league nights to share with friends. Sit outside by the fire and enjoy a glass of local wine or a top shelf cocktail, while you wait for your table. Personally, I almost always sit at the sprawling bar and never have trouble finding a place to sit. Open seven days a week for lunch and dinner.
Goose & Gander is tucked away on one of the St. Helena side streets and is worth the trouble finding it, especially for dinner. The space feels like a hunting club, but is edgy and vibrant with all the big town intelligence. Known for their creative cocktails (usually prepared by a hipster bartender) and rustic vibe, Goose & Gander is a great option for lunch or dinner. Locals rave about the grass-fed beef burger with, Gruyere, bacon, remoulade, and a Manhattan pickle. It comes with a side of duck fat fries. The burger is one of the most incredible I've ever had -- the flavors are wonderful together and the burger is so juicy! Once you're done, they event provide you a hot towel and a lemon to wipe up the juices. Sit in the main dining room upstairs, the basement bar (my fave) or the patio with live music on Summer Sundays. Also fun is Tiki Thursdays and Whiskey Wednesdays. Open seven days a week with brunch on Sundays. Reservations recommended.
Press Restaurant, designed by the famed Howard Backen, defines the term quintessential wine country. With its expansive beamed ceilings and VIP lounge like décor, you can't help but sink into the way life is meant to be in Napa Valley. The menu is perfectly curated to suit the season, all sourced by local purveyors and the highest quality of vendors. The service is spot on and the wine list is like an encyclopedia of local wines, many of which you can't find anywhere else. I'm not joking, the wine list is like two inches thick. Be sure to ask about the secret wine list (behind the bar), which has a few imported Champagnes and other ever-changing selections from out of town. This list is very hush hush, so please don't tell them I told you. As for food, you are in the very best of hands- everything represents a passion for the culinary arts and a profound love for the Napa Valley. Open for dinner every day except Tuesday. Reservations recommended.
Farmstead (at Long Meadow Ranch) is a well-loved local hangout. Whether it's a summer concert on the back lawn, lunch, dinner, brunch or drinks, local peeps are always lurking around. Most of us prefer to sit on the patio for drinks and food at the ever-popular Happy Hour. All ingredients are from the farm (including the meat) and taste just like they should – delicious and fresh. More times than I can count, I've ordered everything on the appetizer list (with friends of course) and every bite was filled with all that is good in this world. When wine country evenings get cool (and they do), someone always lights the fire, which roars and warms the body as well as the soul. Dog friendly on the patio. Open seven days a week. Reservations recommended if you want to sit inside.
Yountville
La Calenda is the new kid on the block from the Thomas Keller Restaurant Group. No one ever questioned that this new arm of the restaurant family would fit right in and be instantly loved. Designed by one the most passionate chefs I know, Chef Ross Melling, every detail from décor, to lighting and is well thought and designed to be a family friendly, every day kind of place. La Calenda works with several Mexican artisans to source its crockery. While Chef Kaelin is from Oaxaca, the traditional Mexican cuisine casts a glance across a range of regions, including the Baja Peninsula, the Nayarit coast, and Veracruz. The kitchen nixtamalizes Mexican-grown corn for its fresh tortillas, and imports a variety of other specialty, artesian products. The food is prepared with soul and authenticity. Open later than most places in town, the bar scene is lively with a wall of TV's, perfect for watching sports events or just winding down after a big day of winetasting. The margarita's are killer and there is a wide range of high quality sipping tequila, as well as Mezcal. With the house-made chips, salsa and guacamole, you will never want to leave. Open seven days a week. Reservations recommended (not needed for the bar).
Coqueta Napa Valley recently opened summer of 2019. While the concept is new to Napa Valley, it's not new to Chef Michael Chiarello. Chef Chiarello has a thriving San Francisco Coqueta as well, so the dishes are tied and true. The menu in Napa Valley is almost a carbon copy. The only difference is that you are in adorable Yountville and won't be shrouded in fog (unless you drink too much house sangria). If you aren't in the know about the menu, it's all about small, flirtatious plates and of course, Spanish inspired. It's nice to have diversity arrive to Napa Valley and we are all watching and waiting to see how Coqueta Napa Valley evolves. I find the food very tasty and love eating small plates that transport me through their complexity and flavor, to a culture of cuisine, unlike my own.
Restoration Hardware Napa Valley recently opened in 2018 and was an instant hit for locals and out-of-towners. I've been there several times with girlfriends and love the shabby chic décor, which includes a glass roof, fabulous chandeliers and live Heritage olive trees. Yep, you'll be dining inside under olive trees! While a little pricey for my taste, I love the vibe at the restaurant at Restoration Hardware. Every time I go, I am in good company and have an unforgettable time. The food is perfect, the service is excellent and you can tell that the restaurant is well managed. The only downside is that they don't have a bar. Within the compound, though they do have a very cool tasting room that pours rare and cult wines. Open seven days a week. Reservations recommended.
Bistro Jeanty is a classic French Bistro, 20 years strong, where locals take visiting relatives and close friends. Another hidden gem you've probably driven by, but never stepped in-you've been missing out! Quaint and bursting with joie de vivre, Bistro Jeanty never disappoints because they are consistently good! Every dish instantly transports you to the French countryside. The service is attentive and the servers are well versed with the menu. Time will stand still, as you sip on beautiful wines, slowly taste through your courses and soak in the essence of Napa Valley meets France. Be sure to visit Bistro Jeanty for lunch or dinner while you are in town as it will be sure to meet even the highest of expectations. Open seven days a week. Reservations recommended.
Mustard's Grill is one of those establishments that go hand-in-hand with the Napa Valley. If you visit the area and don't go to Mustard's, you will have left off a major foodie icon of the valley. Celebrated Chef, Cindy Pawlcyn has given her intelligent and conscious vision of sourcing sustainably-farmed ingredients, infused with a passion for food in all of her dishes. A concept, well before its time, Mustards has endured 30+ years of growth and change in the heart of Napa Valley and is still full of humility and sophistication. Cherished by all, Mustards is a MUST go, as it's a source of vitality for anyone who dines there. I wouldn't dare steer you food-wise, as the journey to your meal, is part of the experience. Open seven days a week. Reservations recommended.
Bouchon Bistro, part of the Thomas Keller Restaurant Group, is a bright light in Yountville that everyone is drawn to. I must admit, I can be seen at Bouchon several times a month. Locals in the industry flock to the bar after hours, as Bouchon is one of the only places in town that serves a full menu until midnight (the other one is also a Keller restaurant, called La Calenda). With daily specials and carefully-executed dishes, anything you order is going to be divine! I love Champagne, fresh, locally-harvested oysters and house-made Duck Liver Paté to start. After that, I usually go for the Duck Confit. The charming Parisian ambiance stays with you long after the evening has ended. No matter how many times you go to Bouchon, it always feels like a treat. Open seven days a week for lunch and dinner, with brunch specials on Saturdays & Sundays. Reservations recommended (not needed at the bar).
Around Napa

Bistro Don Giovanni is a Napa Valley Italian institution. Owner Giovanni Scala is usually at the door, greeting guests as they check-in. With a big smile, he makes everyone who walks through the door feel like they are part of the family. Shrouded in European elegance, the expansive dining rooms fill up quickly and it can be almost impossible to get a reservation at peak times. I have been very lucky finding seats at the bar. There is always a lively crowd, composed of families, tourists and locals. Seating is available inside as well as outside, with a fantastic fountain for guests to enjoy, while they wait to be seated. Chef and partner, Scott Warner, brilliantly combines local ingredients together with heart and soul. The food is consistently prepared and never disappoints. I love the Frito Misto (with calamari, shrimp, fennel, onion and lemon) paired with a specialty cocktail called the Pear-tini. Everything on the menu will deliver exactly what you expect and send you home feeling satisfied every single time. Say hello to Gio for me!
Il Posto Trattoria is a beloved part of the food and wine scene in Napa Valley. Don't let the outside fool you as this restaurant is going to blow your mind. The founder, Justin Graffigna is one of those rare individuals who make the world a better place through their dishes. An honest, hard-working, family man who brings his entire life passion for culinary delight to the table in more ways than one. Graffigna has a cult-like following of locals and visitors who faithfully dine at Il Posto, day after day. The food is impeccably done with finesse and generations of secret family recipes. I think Justin says it best in his own words, "As far back as I can remember, family, food and wine have been a meaningful part of my life. I love to reminisce about the family meals we shared together. The massive platters of food, bottles of wine that glistened the dinner table, the laughing, the singing, the crying and the dancing are all memories that I will carry with me. Since I was twelve years old, I dreamed of having a restaurant to share with my friends and family. Today I invite you with open arms to my home. I can only hope you will create the same memories that I live with every day of my life." Open seven days a week. Reservations recommended.
Downtown Napa
Angèle Restaurant & Bar is a classic French Bistro that, since 2002 has been serving up a seasonal and consistently delightful menu of Northern California bounty, meets French Country cuisine. Since opening, Angèle restaurant has consistently received high accolades from local customers, tourists and most notably, the press. Owner, Bettina Rouas, and her team have created a space that is comfortable and exudes old-world charm. The finest local purveyors source every ingredient in the dishes at Angèle. The menu changes seasonally and folks line up to eat the latest creations. However, two of my favorite items (always on the menu) are the Classic French Omelette (with Parisian ham, Gruyére cheese, garden salad) and the Angèle Hamburger. Situated along the Napa River, it's the perfect destination to take a stroll through downtown Napa after lunch or dinner. Open seven days a week. Reservations recommended (not at the bar).
Tarla Mediterranean Bar & Grill is a casual, yet elegant, local Mediterranean favorite. Yusuf and Brianna Topal bring their worldly travels to imbibe a zest for life in every aspect of the restaurant. The menu is exciting and authentic, blending Yusuf's Turkish Heritage with Mediterranean and Northern Californian flair. At Tarla, there is something perfect for every taste, with flavors that no one else in Napa Valley can create. When I first moved to the Napa Valley in 2007, the Topal Family were just getting ready to open the restaurant. Since then, Tarla has grown to be a Napa Valley favorite for its incredible food, service, old world hospitality and dedication to the community. Tarla Mediterranean Grill is here to stay because we won't ever let it go!
Morimoto Napa stands out as one of the most creative menus and well-designed space to dine in Napa Valley. When Master Chef Morimoto fell in love with Napa as a destination, we were all thrilled and ready to embrace his innovative and original recipes. Since he opened in 2010, the restaurant has been a magnet for travelers and locals alike. Whether you sit at the sushi bar, in the exquisite dining room or the swanky sake bar, your senses will be pushed to the limit in texture and contemporary whimsy. The menu is constantly changing to offer Chef Morimoto's newest creations. However, the quality never diminishes and we are most fortunate to be home to such an iconic foodie treasure. I've had many things to eat at Morimoto that weren't on the menu, so I can't tell you exactly what to order. Just go in and you will figure it out and then go home with a huge smile on your face. The restaurant and Sake Bar stay open later than anyone in town. Open seven days a week. Reservations recommended.
Cole's Chop House is a family style, traditional American steak house that consistently delivers quality comfort dishes. Locals love Cole's Chop House as the dining space is inviting, the food is always good and the bar is a bustling beehive of the who's who in Napa Valley. Whether you go with friends or go alone, you will feel as though you are in the right place and part of the local scene. The menu features 21–day dry–aged U.S.D.A. certified prime steaks, Midwestern corn–fed Black Angus beef, formula-fed veal, New Zealand lamb, and of course a fine selection of fresh seafood. The Bourbon Bar is nationally acclaimed, offering over 175 hand-selected Bourbons to feed your need for a nightcap. Cole's Chop House is Napa Valley's favorite steak house. Open seven days a week (for dinner only). Reservations recommended.


Subscribe to our Newsletter
Join our mailing list and be one of the first to know about upcoming local events.