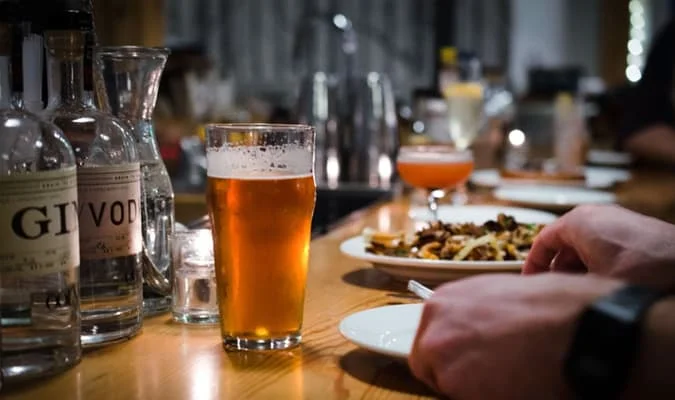 Local's Guide to the Best Places to Eat in Woodinville Wine Country (2019 Edition)
Have you heard? Woodinville, Washington owns the latest (and loudest) culinary buzz in the Pacific Northwest. Make a point to get there now and check out a community that welcomes diversity.
People who love to eat are always the best people (Julia Child). The world-renowned American Chef, Julia Child had some choice quotes. She has inspired me on a journey of my own to explore food, wherever I go. She was an incredible pioneer in the culinary world, moving the needle for female chefs of all ages. Born and raised in the restaurant haven of San Francisco, I have been exposed to many cultures and cuisines. It is no small surprise that I have landed in the great Napa Valley, home to the Culinary Institute of America and many Michelin Star establishments.
Believe it or not, living in Napa Valley, I get bored of dishes created by Thomas Keller, Michael Chiarello, Cindy Paulsen and Richard Reddington. While these iconic Chefs set the standard for my palate, I'm almost always looking for the next new creation. When I hear the buzzing of a culinary hot spot (anywhere on the globe), the Julia Child in me takes over and I start planning a trip. This time, I had to check out Woodinville Wine Country which is located about 30 minutes east of Seattle, Washington. Woodinville is a budding winery and tasting room mecca that has garnered a lot of national accolades and has my attention. In fact, many popular wineries located in Yakima and Walla Walla now have opened new tasting rooms in Woodinville.
Tucked away in a majestic renovated dairy barn from the roaring 20's, Russell's Restaurant & Loft offers an unparalleled experience in fine dining. Using seasonal, fresh and local ingredients, Chef Russell conjures up food for the body, soul and mind on every plate. Everything on the menu is last supper worthy. We ordered the seared scallops, Carpaccio, seasonal foraged mushrooms and crab cakes to start. Every bite was bursting with perfectly balanced flavor. Going a bit heavy on the apps, we decided to share the Filet Mignon with House-made Whole Grain Mustard Demi Glace, Mushroom Risotto & Seasonal Vegetables. I did say last supper worthy right? Russell's may very well be where I want to eat my last meal in life. For lighter fare, there is a Garden Café on site as well. Here you can get Brunch or Lunch every day except Saturday and Sunday. Do not walk, run to Russell's and savor the flavor in every delicious bite. Open for Lunch Monday thru Friday and Dinner Tuesday thru Sunday.
The Commons is located in the heart of the "Hollywood District" and is my favorite spot for breakfast, brunch or lunch (they serve dinner too). I love the French toast; it's possibly the best I have ever had. As you walk in to the open space, you feel a sense of community. The Commons buzzes like a beehive and is a wonderful concept. I wish more towns in California had spaces like The Commons. A handful of my Washington friends love the Commons so much that they rarely go anywhere else while in town. Stop by and you will surely see what I'm talking about. Casual. Open 7 days a week. They also have a killer list of signature cocktails.
Heritage Restaurant & Bar is a local eatery offering modern American food and drink at moderate prices, Heritage Restaurant & Bar will make you feel right at home. Chef Breanna Beike is a chef's chef, the type of accomplished professional culinarian that other chefs flock to in search of an exceptional meal in their off hours. Heritage Restaurant & Bar is their final destination for dishes prepared to perfection. My favorite is the Reuben, but anything here is divine. Don't worry, there is plenty of room for us non-chefs and professional eaters. Open 7 days a week for Brunch, Lunch & Dinner.
The Twisted Cuban Café & Bar is a breath of fresh Caribbean air. Having spent some time in Cuba myself, I was delighted to find this authentic Cuban eatery. No frills here, just great honest food. I love the garlicky yucca, pulled pork, beans and rice, plantains and delicious Cuban coffee. The vibe is lively and upbeat. Julio Ortiz has done a great job of setting the tone. You can enjoy Happy Hour out on the patio Monday thru Thursday from 3:00PM – 6:00PM. The Cuban mojitos will take you straight to the island. Saturdays they have Latin music and dancing starting at 10PM. Open 7 days a week.
The PicNic Table is a place to keep at the top of your dining list. Whether you eat in or out, you will love the refreshing style of this relaxed, informal and super friendly spot. The menu at the PicNic Table never falls short with creativity. It's so much fun to pick my basket and all the things that I want to put in it. some local favorites are the Philly cheesesteak, the duck confit with bone marrow braised lentils and the beef kabobs. If that's not enough fun, the PicNic Table occasionally hosts fabulous winemaker dinners. Check out the website for the latest lineup.
Tipsy Cow has the BEST. BURGERS. EVER. The Tipsy Burger is a traditional burger to the power of ten. Once you taste this mouth-watering morsel, you will be spoiled forever. If you want something unique and equally as divine, try the Zeus Burger; with fresh Ground Lamb, Feta Cheese, Olive Tapenade, Red Onion, English Cucumber and Dill Yogurt. The menu is delectable and you will love everything about this place, including the Onion Rings.
The Barking Frog (located at the Willow Inn) is yet another shining example of culinary magnificence. Patrons from all over the greater Seattle area flock to this very popular and esteemed sanctuary. One of my favorite couples from Bainbridge migrate regularly, to feast on some of the best morsels ever created by human hands. Boasting honors to include, "Restaurant of the Year", "Most Innovative Wine List" and "Wine Grand Award" you will be pleased the minute you walk through the door. With impeccable service and a smile, servers dance throughput the dining room and cater to your every need. There is nothing on the menu that will disappoint. Open every day for Breakfast, Lunch and Dinner.
Nothing says tradition more than Caliente Kitchen & Bar. Everyone loves Mexican food; the flavors, the textures and the traditions all come together with perfect balance at this local favorite. This California girl knows her Mexican food and Caliente passes the test with flying colors. Defining the term, Food For the Soul, Caliente Kitchen & Bar soars. The Pork Carnitas and Shrimp Enchiladas are remarkable. Be sure to try the House Margarita as well.
Locals LOVE The Hop & Hound. They have a good selection of on tap brews and beers you can buy to go (growlers). Many of the on-tap selections I had never heard of before. Really cool inside balcony space and a spacious smoke tent area. Locals rave about the super dog-friendly space. Patrons are encouraged to bring their fur babies. The place crawls with locals (both four-legged and two). Really nice staff. Local food trucks provide the food and there is always a nice selection of tasty things to eat.
Mediterranean Kitchen is one of my favorite places in Woodinville. Found through another local friend from Seattle, I was over the moon to indulge in this great find. I spent a decade of my life in Istanbul, Turkey and can really appreciate the authentic Lebanese/ Mediterranean influence. If you have a Middle Eastern request, the chef is likely to oblige. Mediterranean Kitchen has an international vibe without the pomp or circumstance. Open for lunch Monday thru Saturday and Brunch on Sundays.
Hollywood Tavern is a much-loved local favorite. Boasting a fabulous historical setting, this mainstay brings community together through inventive craft cocktails, expressive tavern fare (comfort food) and a fun, informal atmosphere. A first for me are the signature Woodinville Whiskey Milkshakes. You can't take a wrong turn at Hollywood Tavern.
If you are looking for a unique dining experience, you might be ready for The Herbfarm. This is definitely not your typical place to eat. Coming from the Napa Valley, this is also not even close to being on the level of Thomas Keller's French Laundry. I only chose to mention the Herbfarm as it's a bit if an anomaly. The Herbfarm is a celebration of the foods and wines of the Pacific Northwest, set in a thematic nine-course dinner and wine pairing. While this establishment is not for me, many people do love it. The theme for June is titled June's Silver Spoon. In July, the feast will revolve around the Nine Songs of Summer. Make your reservations early, as there is just one seating per night. Be prepared for a six-hour culinary journey (too long for me). If you are lucky, you could even spend the night in one of the Herbfarm Suites. I sense they are almost as unique as the themed dining experience.
I hear that Teatro Zinzanni Dinner Circus offers quite the entertainment in Woodinville. Located at the former home of Redhook Brewery, they have been open since November 2018. I was very fortunate to participate in the show in San Francisco. I had a great time with my family and we went back twice. The show is professional, hilarious and engaging. The food is more than you would expect for a dinner show. James Beard Award-winning Chef Jason Wilson knows how to delight the senses. Reservations required.
Well that's all folks! I'm sure the above list will keep your palate busy for quite a while. Clearly, Woodinville Wine Country is no small guy in the culinary scene. Almost as eclectic as any urban setting, the choices in Woodinville are warmly welcomed by this self-proclaimed foodie and professional eater. By the way, if you would like to share some of your dining experiences in Woodinville, we would love to hear them. The more we all can hear, the better we can eat! After all, people who love to eat are always the best people (Julia Child)!
Subscribe to our Newsletter
Join our mailing list and be one of the first to know about upcoming local events.