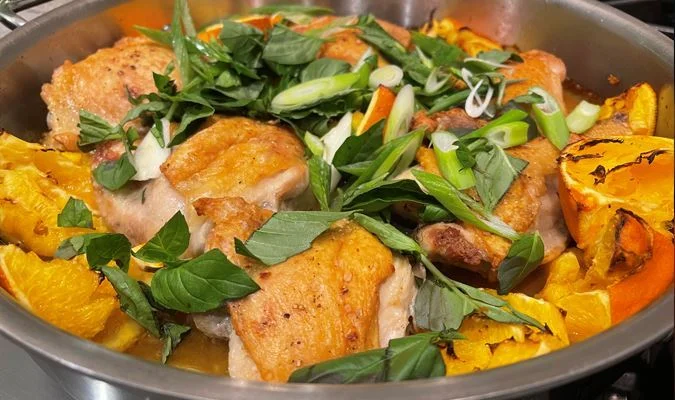 Tangerine Sticky Chicky
When the temperatures drop and the days grow shorter I like to serve up vibrant dishes with exotic flavors that lift the spirit and that don't expand your waistline. This delightful chicken dish checks all the boxes.
The blend of sweet and savory flavors and crispy chicken satisfy comfort food cravings. While the bright citrus aromas instantly boost your mood.
I like to serve this dish on top of a heaping spoonful of my Coconut Lime Caulirice for a filling meal that won't weight you down. Oh, did I mention this is also grain & gluten free? This is a wonderful dish to make for those who have sensitivities or if you simply want a lighter dish that doesn't skimp on the flavor and wow factor.
Prep time 15 minutes
Cook time 30 – 40 minutes
¼ c honey
1 lb Clementines, such as Cuties
3 tbs apple cider vinegar
1 ½ tbs coconut aminos (or tamari if tolerant)
2 – 3 tsp arrowroot powder
Salt & Pepper
1 tsp Chinese 5 Spice powder
6 free range bone-in chicken thighs
2 tbs coconut oil or olive oil
4 garlic cloves minced
1 ½ tbs fresh grated ginger
2 large green onion thinly sliced in long slivers
Handful of fresh Thai basil leaves (Italian basil is perfectly fine too)
Instructions
Pre-heat oven to 425 degrees

Cut Clementines in half and squeeze juice by hand to make about 1 c juice.You want to be gentle to maintain shape of the peels. Set peels aside, do not discard.

Using tip of spoon, scrape out remaining pulp from the Clemintine peels.Discard the pulp.In a small sauce pan bring 2 inches of water to boil, add peels, reduce heat, and simmer, covered until tender or about 4 minutes.Drain, cut peels in ½ and set aside.

** This will result in a very polished presentation and is supposed to remove any bitterness from the peels. However, I often skip this step and have not noticed much of a flavor difference, plus I really like the way the remaining pulp browns while roasting.

In a medium bowl, combine juice, honey, vinegar, coconut aminos and arrowroot powder.

Pat dry chicken thighs and season both sides with salt, pepper and sprinkle of Chinese 5 Spice powder.

Heat large oven proof skillet over medium-high heat until hot.Add oil, coating pan evenly.Add chicken skin side down, and brown until skin is crisp and deep golden brown, about 6 minutes.Flip chicken over and cook 3 minutes longer. Transfer chicken to a plate and set aside.

Drain all, but 1 tbs fat from skillet and reduce heat to medium.Add garlic and ginger. Cook stirring constantly until tender and fragrant.Add peels and sauce mixture. Cook stirring constantly until sauce bubbles and thickens, about 2 minutes.

Return chicken to pan, skin side up being careful to keep sauce from touching that beautiful crisp skin. Transfer skillet to oven and roast for 15 – 20 minutes. Until meat is no longer pink.

Remove from oven, sprinkle green onion and basil over the chicken and serve immediately.
Serving suggestion: Serve on top of Coconut Lime Caulirice
Wine Pairing: Edio Vineyards Albarino
Subscribe to our Newsletter
Join our mailing list and be one of the first to know about upcoming local events.