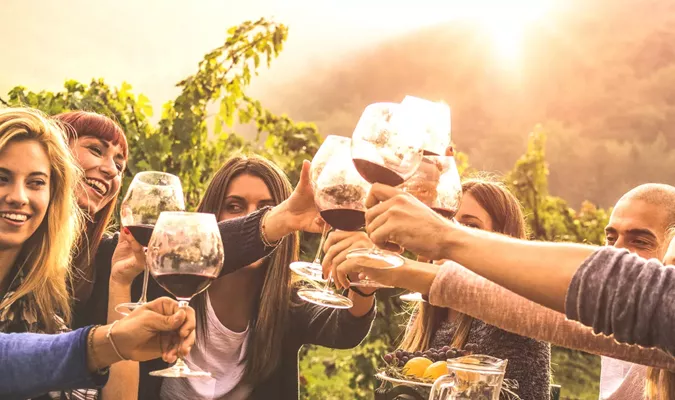 Taste of Harvest: Top Harvest Events
The 2023 harvest is underway and you can see all the exciting harvest-related activities by booking a getaway on CellarPass.
Hey there, wine aficionados! The season of ripe grapes, lush vineyards, and exquisite wine is upon us, and what better way to celebrate than by indulging in the upcoming harvest events in wine country? If you've been searching for the perfect excuse to immerse yourself in the world of wine, look no further. We've got the Top 6 harvest events to attend this season. Get ready to embark on a journey filled with flavors, aromas, and unforgettable experiences.
1. Fall Release Party at Saracina Vineyards
Mark your calendars because Saracina Vineyards is hosting their annual Fall Release Party that's bound to leave your taste buds dancing. Imagine strolling through rolling vineyards, bathed in the warm hues of autumn, as you sip on the finest wines. With live music serenading you in the background, this event promises a sensory delight like no other.
2. Big Crush 2023: The Ultimate Wine Extravaganza
If you're all about embracing the vibrant energy of the harvest season, then the Big Crush 2023 is your must-attend event. The name says it all – it's a massive celebration of wine, featuring barrel tastings, food pairings, and live music! Get ready to immerse yourself in the heart and soul of the harvest season.
3. Napa Valley Harvest Music Series: Dueling Pianos – series finale!
For a night of pure entertainment and fabulous wines, the Napa Valley Harvest Music Series is the place to be. Picture yourself under a starry sky, sipping exquisite Corley Family wines at the stunning Monticello Napa Valley while enjoying the electrifying tunes of dueling pianos. It's an evening that promises to be absolutely unforgettable.
4. Merryvale Winery Presents The Height of Luxury: Profile Collection Release Brunch in the Vineyards
Elevate your wine country experience the anticipated Profile Collection Release Brunch in the Vineyards. This event redefines luxury, offering you a chance to savor exceptional wines and delectable brunch fare amidst the picturesque vineyard landscape. It's the epitome of opulence.
5. Montagne Russe Fall 2023 Release Party: Unveiling the Season's Best
As the leaves change and the grapes reach their peak, join Montagne Russe for their Fall 2023 Release Party. It's a celebration of their newest Pinot Noirs, with tastings and of course, Kevin's famous Paella! Experience the magic of Montagne Russe.
6. 12th Annual Paso Robles Garagiste Festival
The Paso Robles Garagiste Festival is back for its 12th year, and it's better than ever before. This festival is all about celebrating small-batch, artisanal wines that you won't find anywhere else. Discover hidden gems and meet the passionate winemakers behind these exceptional creations. Find out why USA Today named it the Best Wine Festival in the country!
Harvest season in wine country is brimming with extraordinary events that promise to immerse you in the world of wine like never before. With a blend of wine tastings, music, and picturesque landscapes, these events offer the perfect escape from the everyday hustle and bustle. So, seize the opportunity to sip, savor, and celebrate – your wine country adventure awaits! Grab your tickets and get ready for an unforgettable experience.
We can't wait to clink glasses with you and celebrate the beauty of the harvest season!
Featured Tasting Rooms
More Exciting Harvest Events

Subscribe to our Newsletter
Join our mailing list and be one of the first to know about upcoming local events.