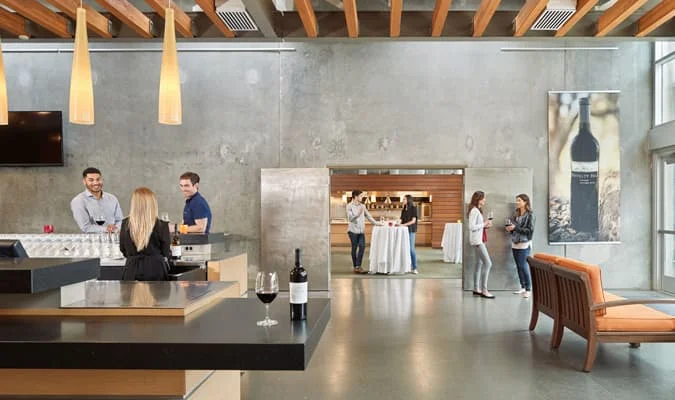 The Ultimate Woodinville Wine Country Weekend Getaway
Woodinville, Washington makes a perfect day trip and even better weekend getaway. Only 30 miles from Seattle, this wine-loving town is not to be missed.
It's not every day that I can drive just 30 miles outside of a major metropolitan area and discover a colorful outlier town, filled with wineries, restaurants, breweries, outdoor activities and comfortable paces to spend the night (or two). Woodinville is unlike any town I've ever visited. It's almost like all the cool people from Seattle decided to set up a new revival camp and we are all invited! In this beautiful River Valley, the small town vibe welcomes wanderers of all type to bask in her radiant glow.
The town sparkles and so do the people. Beaming with smiles, every human (and furry animal) I met seemed to be waiting for me and made me feel right at home. After a pleasant Uber ride from Seattle, I stopped in at the Woodinville Visitor's Center to get my bearings (and a map). The volunteer staff was helpful and very patient with all of my questions.
It was right after I studied the map of Woodinville Wineries that I knew my day trip was about to morph into a glorious and spontaneous weekend getaway! Although I didn't have enough cute outfits or a swimsuit, I figured I could buy anything I needed at the various shops sprinkled all over town. After all, some of the best experiences I've had in life have been unplanned. Woodinville was calling me and I intended to listen!
First things first, I needed to find a comfortable, centrally located and affordable place to stay. Being somewhat eager to find a place to drop my daypack and set up shop, I decided to make my choice from a list of 30 or so hotels and B&B's) as quickly as possible. Here are the three places I considered. Lets see if you can guess which one I chose.
The Willows Lodge came highly recommended by the Woodinville Visitors Center. Located near the famous Chateau Ste. Michele and listed at the top of most lists, this comfortable spot is a local favorite. Adjacent to the sprawling grounds is a top-notch restaurant called the Barking Frog. Willows Lodge opened in 2000, when there were only about 8 wineries in the area. This mainstay to Woodinville has seen it all and knows exactly what their guests need. Rates range from $269 - $679 depending on the season.
Auberge de Seattle, French Country Inn is a slightly more affordable option in a luscious country setting. The lovely French Provençal décor instantly transports guests to the French countryside. With only four rooms to let out, you will be fortunate to secure one, any day of the week. Most attractive are the hands-on French cooking classes and French cuisine offered to guests of the Inn. Breakfast is to die for. Rates start at $219/night.
Matthew's Winery Bed & Breakfast is the perfect place to stay if you want easy access to wine tasting. Not many people know that you can rent a room at the winery and stay on site. A friend of a friend gave me the tip and I was quick to give them a call and check availability. Lady Luck was definitely on my side (they only have two rooms) and my new home for the weekend was at the hip and clean Matthews Winery. My room was light and airy with modern décor. The house is beautiful and sits atop a hill with stunning views of the area. The rooms come with a commercial grade kitchen and fully stocked refrigerator for breakfast in the morning. I loved this refuge from city life and will go back again and again. Rates may vary depending on the season and if you are wine club members or industry.
Wineries:
The wineries are organized into technically 4 districts, but the Downtown District only has food and no wine, so it does not exist in my mind. The three districts with wineries include the Hollywood, Warehouse, and West Valley districts. Most of the wineries can be found in the Hollywood and Warehouse districts, and some wineries even have outposts in both areas. You can get a handy map of the wineries at the Woodinville Visitor's Center (which I highly recommend).
Per the Woodinville Visitors Center, The Woodinville Wine Express is offering transportation to and from Woodinville with pickup and drop-off stations including downtown Seattle and cruise ship piers 66 and 91. The shuttle runs from Friday through Sunday through Sept. 29.
The Cellar Hopper is the shuttle you'll want to catch as your designated driver to experience tasting rooms and points of interest throughout the winery districts. This hop-on, hop-off service shuttle runs on a continuous loop with 20 locations and also will operate from 11 a.m. to 6 p.m., Friday through Sunday through Sept. 29 (as stated on the Woodinville Visitor Center Website). While you are there getting a winery map, be sure to ask for details!
First on my must-taste list was Novelty Hill Januik Winery. I've been obsessed with Mike Januik's beautiful wines for a very long time. At long last, my time had come to visit the mother ship. The contemporary design of the winery and tasting room are clean and precise…just like his wines. I'm in love with the award winning single vineyard Januik Merlot. Yes, I said Merlot. It's high time that we all started paying more attention to this powerful underdog. Merlot is beautiful. However, there is a lot to choose from at Novelty Hill Januik Winery and its all spectacular.
Having recently read an article in The Seattle Times by Andy Perdue, I was determined to go to DeLille Cellars and pick up a bottle of 2014 Harrison Hill. This fine bottle of wine was going to make the perfect gift for my friend who turns 50 next year. I hung out and had small bites in the Maison DeLille Wine Lounge. The space is fun and there is often live music to boot. Sip on some of the best boutique wines in Woodinville at DeLille Celars. Happy Hour daily!
On the recommendation of a friend, I decided to pop in at Patterson Cellars (Warehouse District). I definitely arrived on the right day, as there was great music with Brian James and the Great Unknown Band, and fantastic food from Russell's on the back patio. The wines are fabulous and complex. The crowd hanging out was hip, young and full of life. An added bonus was when Love That Red Winery, Warr-King Wines and Eye of the Needle Winery opened their back doors and gave us full access to wine! The Warehouse District rocks.
Eat and Be Merry. In such a bountiful area, it's no surprise that there are great places to eat in Woodinville.
Having had a taste of what Russell's has to offer at Patterson Cellars, I decided to check it out. I am so glad that I did! Serving the neighborhood and Woodinville wine visitors with breakfast, lunch and dinner; Russell's has become the defacto late night hangout for winemakers and people in the wine industry. At the end of the day, you never know who you might find at Russell's Restaurant & Loft, just socializing or sharing a glass of wine.
The Commons is my favorite spot for breakfast, brunch or lunch (they serve dinner too). I love the French toast; it's possibly the best I have ever had. As you walk in to the open space, you feel a sense of community. The Commons buzzes like a beehive and is a wonderful concept. I wish more towns in California had spaces like The Commons. Stop by and you will surely see what I'm talking about. Full bar. Casual. Open 7 days a week.
I hear that Teatro Zinzanni Dinner Circus offers quite the entertainment in Woodinville. Located at the former home of Redhook Brewery, they have been open since November 2018. I was very fortunate to participate in the show in San Francisco. I had a great time with my family and we went back twice. The show is professional, hilarious and engaging. The food is more than you would expect for a dinner show. James Beard Award-winning Chef Jason Wilson knows how to delight the senses. Reservations required.
For a longer list of food options, check out my blog Locals' Top Restaurants in Woodinville
Woodinville Wine Country is a great place to go for the day, the weekend, or longer! I'm planning to return next month and check out the breweries, concerts, and the outdoor activities. Look for more on that soon.
Subscribe to our Newsletter
Join our mailing list and be one of the first to know about upcoming local events.