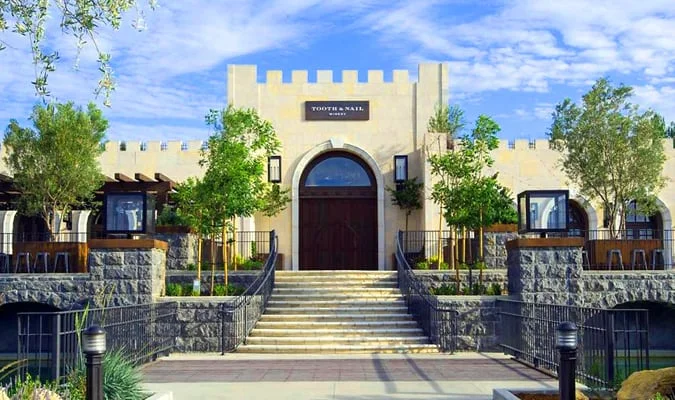 Top 10 Most Luxurious Wine Tastings in Paso Robles
Looking for the next wine country destination to add to your bucket list? Now is the right time to explore the rising star that is Paso Robles Wine Country. Find out the best Wineries to visit this summer.
Living in the majestic Napa Valley is a wonderful thing. I love it there and think its one of the most incredible places in the country. Having said that, no matter how beautiful the scenery is, its great to get away and see and experience something different. This month I have been on a few excursions to discover luxurious wine tastings in the newer California wine regions. I was incredibly impressed with the caliber of wineries and wines in Paso Robles, California. I couldn't be more thrilled to share my Top Ten most luxurious experiences to be had in Paso Robles. I'm sure that after reading through the list, you too, will want to book your trip as soon as you can!
For those that live in California, traveling to Paso Robles Wine Country is pretty easy since it's conveniently located between Los Angeles and San Francisco. Driving or flying to Paso Robles is super quick and easy since you have plenty of options. Heading south from San Francisco, I couldn't believe that it only took three hours to drive down on Highway 101. The drive is stunning by the way as it takes you through some of the most fertile parts of the U.S. known as the "salad bowl" because over 50% of the U.S. gets their produce from this region. For 40 – 50 miles you'll pass mile after mile of farms growing lettuce, tomatoes, artichokes and of course thousands of acres of vineyards! If you have plenty of time and want to enjoy a drive along the rugged California Coast, you can pick Highway 1 in Monterey and head south towards Cambia and then onto picturesque Morro Bay. This route will take a couple of hours extra, but the vistas and historical monuments along the way, make it worth it. And if you do, definitely plan on spending 3-4 hours at the infamous Hearst Castle for a tour of the property you will never forget.
Driving north from Los Angeles is an easy three hours on Interstate 5 or four hours on Highway 101. Just as those who enjoy travelling south on Highway 1, you'll enjoy the road less traveled as this road takes you on a scenic journey as you enjoy miles and miles of coastline and majestic beaches to sneak off to. So be sure to pack a picnic lunch and stop at one of the beaches along the way, or add a night and enjoy the wineries situated around Lompoc, Santa Ynez and Buellton. If you prefer to fly, you can land in San Luis Obispo and then drive about 40 minutes north to Paso Robles. There are regular direct flights from Seattle, Phoenix, San Francisco and Los Angeles.
10. Driving up the hill to Law Estates (on Peachy Hill) is one of the most awesome experiences I have had in Paso Robles. The views- amazing! The winery is inviting, unique and modern. Owners, Don and Susie Law spent years searching for the right site to seed their dream of producing top-notch Rhone and Priorat style wines. Their vision (and a lot of hard work and careful planning) manifested a breath-taking destination. The tasting room is a place you will never want to leave and the wines are ethereal and other world like. You can enjoy an Estate Tasting for $25 and feel completely satisfied. However, if you want the ultimate in indulgence, you will need to book the Winemaker's Palette Tasting. This experience is worth every penny. For around $125 per person you will enjoy a tour of the estate's vineyards and production facility, followed by the winemaker's hand-picked selection of vertical wines in the picturesque Owner's Library. Reservations are required. Closed on Wednesdays.
9. When I think luxury, I think DAOU. DAOU Vineyard and Winery is in a class all of its own. Arguably one of the top wineries in California, I would have to say that DAOU is my personal favorite. For those of you who are partial to Sonoma or Napa Valley wines, you will love DAOU Vineyard. Brothers, Daniel and Georges Daou, have gone to great lengths to produce world-class wines in a stunning, elegant and revitalizing mountain-top setting. Sparing no expense, the entire estate is elegantly appointed and oozes with exquisite detail and charm. I'm a foodie at heart so the Culinary Pairing Experience is my "go to" tasting. At $75 per person, it's a bit on the high side, but a great value. The experience was curated as a tribute to the Lebanese culinary heritage of the Daou Family. Great wine almost always tastes even better with great food. Open seven days a week. Reservations are required.
8. Stephen Asseo of L'Adventure Winery knows how to tap into your inner sanctum and provide a flawless experience, paired with delicate French-style wines. Because of the well-suited climate and soil, Paso Robles has become a mecca for winemakers who lean towards the old world winemaking methodology and progressive flair. The spirit of L'Aventure is most evident in Stephan's "Paso Blends", such as Optimus and Estate Cuvée. Both wines are Syrah, Cabernet Sauvignon and Petit Verdot blends. In these wines, as well as in their Rhône blend Côte à Côte, the blending of premium varietals increases the authenticity, complexity, and balance of the wines. In their adventurous spirit, it's no doubt that Paso Robles in producing wines that can compete with wines coming out of Napa Valley and Sonoma .
You may find as you are travelling to the Stephen's winery that the dirt and gravel road may intimidate most, but press on as you'll be rewarded by the newly-created swanky tasting room at L'Aventure Winery is the perfect place to indulge and treat your self to a delight of the senses. The private tour and tasting will guide you through the vineyards, production and the result (fantastic wines) enjoyed in Stephen's personal library room. Open seven days a week. Reservations are required.
7. Halter Ranch is an exceptional place to visit and relax. With a superb glass of chilled Grenaché in hand, enjoy the ski chalet-like architecture on comfy couches (indoor or outdoor) while you nibble on perfectly-cured locally-sourced charcuterie. To me, a luxury winetasting should be simple yet include all the necessary comforts to deliver the perfect wine pairing experience. At Halter Ranch, I felt like I was in my happy place. Together, the views, vibe, wine and the hospitality transported me to a perfect retreat from the rest of the world. I never wanted to leave!
The events at Halter Ranch are worth checking out. I plan on attending the Vineyard View Dinner on August 17th. The Central Coast Astronomy Center will be there with their telescopes to gaze at the celestial bodies and Chef Brian Collins (Ember Restaurant) has created an out-of-this-world menu paired with Halter Ranch' award-winning wines. Moving the needle further than most wineries, Halter Ranch regularly offers tastings that include an Excursion Tour in a restored Land Rover Defender 110 or a Vineyard Horseback Tour. So cool! Of course, you can also get the regular fare of cave or reserve tastings too. Open seven days a week. Reservations required for most experiences. https://www.halterranch.com/
6. Since 1979, Gary Eberle has been a pioneer in Paso Robles wine country, making magic happen at his beloved Eberle Winery. Suprrised by many wine critics, Eberle's wines received awards right out of the gate, so folks were pretty sure that he knew that he was the winemaker to follow. I guess sometimes in this crazy world there's is a handful of people who seem to be on a mission in life. In this case, Gary and his enlightened hospitality team define the term enlightened. Eberle, with its German roots, actually means 'small boar', which is the logo depicted on his bottles. The property is understated elegance, but is nothing short of quality in every aspect from staff, production, vibe and of course the wines! I say this because, everything about Eberle is humble, yet oh so refined. The events at Eberle are quite popular and quickly sell out, so don't delay. I tried to get tickets to the Legacy Dinner in the Caves this July and missed out- doh! So don't make my mistake, get your tickets the day they are announced. For the casual visitor, there is usually live music on Saturdays out on the deck during spring and summer seasons. Open seven days a week. Reservations are recommended during peak season. https://www.eberlewinery.com/
5. Ron Denner was a born winner and he certainly carved out a nice slice of heaven for everyone else to enjoy in Paso Robles wine country. Denner Vineyards, located out on the southwest side of Paso Robles, is a delight on every level. To start, the winery estate and vineyards are completely solar-powered and all aspects of farming are sustainable. Any water that is used on the property is filtered through an elaborate, high-tech filtration system that sources out of the nearby wetlands. The Denner team is top-notch and execute the philosophy of Ron Denner precisely how he intended; the wines are powerful and finessed. You can taste in one of two tasting rooms; Comus Vista (on the patio with breathtaking views of the landscape) or Comus Crush (view of production facility). Both options deliver an amazing tasting experience and the wines, while not inexpensive, are beyond brilliant. I love the 2012 Syrah Reserve, but there is much more to chose from. The wines are cleverly labeled such as Mother of Exiles, Ditch Digger and Dirt Worshipper. Open seven days a week. Reservations are required.

4. Situated well above the rooftops and surrounding trees, you will feel close to the heavens while at the incredible Adelaida Cellars. Located in the heart of the Adelaida District in Paso Robles wine country, Adelaida's historic property features views of their walnut ranch and estate vineyards. With daily offerings including elevated wine tastings and vineyard tours, guests can enjoy a wide range of experiences. The newest tasting experience (starting August 2019) is the Hilltop Tasting. Do not miss the opportunity to taste at an elevation of 2,320 feet while you enjoy local provisions and some of the best wines you will ever get a chance to taste. All of this is at your private table, with sweeping views, under a canopy of native Oak trees. I know, I know, it sounds too good to be true. Trust me, Adelaida Cellars will not disappoint. Open every day. Reservations are required.
3. Out on the west side of Paso Robles wine country on Vineyard Drive is Tablas Creek Vineyard, a world-fabulous French-influenced winery with great Rhône
and Bordeaux-style wines. The connection to the Perrin family and Chateau de Beaucastle provide that French provenance which gives their wines some legs. Robert Haas and the Perrins created a close partnership going back to the 1980's. Since then, everything about the union has risen to the top with accolades in almost every recognized category. Hass sadly passed away in 2018, but his son Jason has taken the helm and the fruit doesn't fall far from the tree. Sleek and stylish, Tablas Creek Vineyard offers a unique experience at 1200 feet with varied terroir and the moment you arrive on the property, you'll forget the cares of the world. Without an outdoor patio, you can sip through their portfolio of wines and enjoy casual conversation while you soak in the amazing vistas and learn about the rich history of the surrounding property. You can call that the ultimate wine country trifecta! Open seven days a week. Reservations are stongly recommended during peak travel season (June through mid-October). Outside food welcome.
2. Located further past Tablas Creek Vineyard, you'll want to travel onward to JUSTIN Vineyards and Winery. Founded back in 1981 on 160 acres, this property gets better and better with every visit. It's no wonder with the deep pockets of billionaires, Steve and Lynda Resnick (who also own Fiji Water and POM Wonderful). The Resnick's have consistently focused on building their luxury-beverage portfolio and generously give back to the communities they serve. A Paso Robles mainstay the winery, restaurant and lodging provide unlimited experiences to be royally pampered. Not only are the wines (like Justification and Isoceles) the pinnacle of palette pleasure, the Just- Inn is one of the best places to stay in Paso Robles. Recently remodeled, Just-Inn boasts every high-end amenity to satisfy your desire to fully enjoy a luxurious wine country weekend. And better yet, with your stay in the Inn, you will be offered a complimentary wine tasting. The wines are Bordeaux style and worth every penny. I strongly recommend you book the ultimate Private Cellar Experience ($125 per person) where you will taste a selection of their best wines that includes a perfectly-appointed locally-sourced selection of artisan cheese and charcuterie plate. Don't worry, there are several other experiences to choose from and are equally as satisfying as their hospitality team is dedicated to delivering the ultimately winetasting experience. Note- f you don't have time to venture out to their estate, they offer special selection of wines at their downtown Paso Robles tasting room. Open seven days a week. Reservations recommended.
1. This list of luxurious wine tastings in Paso Robles wine country would not be complete if I didn't include Rabble Wine Company and their unique Tooth & Nail estate In their own words, Rabble Wine Company "is a family of wines united by one purpose: to take you far beyond the status quo." Each of their brands reflects an individual distinct expression of the Rabble Wine Company world. They are: Rabble, Tooth & Nail, Amor Fati and Stasis. The labels and overall expression are creative and genius really. Well liked and regarded, Rabble Wine Company offers the complete package to all who visit. The theme at Rabble is medieval and the tasting room looks like a castle (with a moat and all) right out of the movies. This winery destination is anything but ordinary. Friday and Sunday afternoons, they have small bites and live music to enhance your visit and tasting experience. Service is spectacular and you will never forget the time well spent on the grounds. And better yet, Tooth & Nail is pet and child friendly. t's why they are #1 on my list. Open seven days a week. Reservations recommended.
Subscribe to our Newsletter
Join our mailing list and be one of the first to know about upcoming local events.