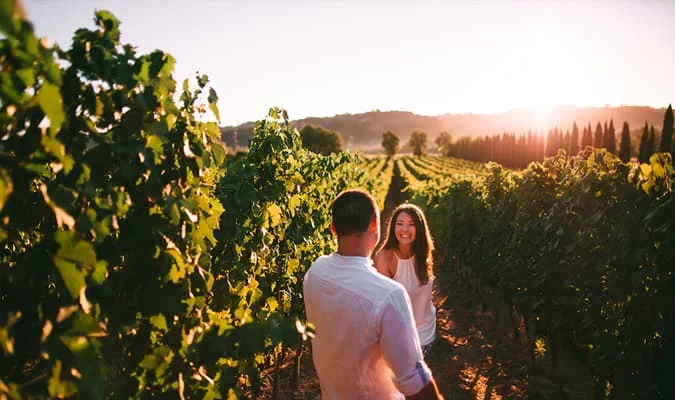 10 Reasons Why Lodi Wine Country Is the New-old Place Where You Want to Spend the Weekend
Shhhh… don't tell anyone. Lodi is the best-kept secret in Northern California. This little town is HUGE on Wine, Eats and Hospitality. Find out why you should make Lodi your new weekend haunt.
Easy Access. It's simple to get to Lodi Wine Country from just about anywhere in California. Whether you hop on the train from Oakland or Sacramento, drive or book a flight, you will find your way to this Central Valley oasis in no time at all.
For me, living in Napa Valley full time, I had my expectations of what wine country is. Little did I know that this was all about to change. I found the drive along Highway 12 to be breathtaking as I drove my winery truck from Saint Helena, California to Lodi Wine Country in just 90 minutes. Though I left home a little later than I wanted, by 1:30pm I was sitting down to eat lunch at Michael David Winery with my first glass of Lodi wine in my hand, not bad!
Known for producing wine for many others in the Lodi region, Michael David Winery has been around for over 150 years, which quickly made me realize that Lodi is one of the oldest wine regions in California. Michael David was the perfect place to appreciate how local Lodi is. Around me were people having conversations about how much they enjoy the staff and the great selection of wines- and at a great value.
Refreshingly Affordable. I'm not sure it's a good thing, but I've gotten used to spending $20 on a burger and $50-$75 on a wine tasting as that's become the norm for Napa and Sonoma. No wonder my savings account never seems to grow! In Lodi, I enjoyed larger portions for half the price- and wine tastings for $10, most don't charge if you buy a couple of wines. Wow, this is refreshing! Across the board, everything in Lodi was a great value- the quality, on par with anything 2-3X the price. I almost felt guilty that my bank account balance was able to breathe a sigh of a relief, while I grew my cellar for upcoming summer soirees. I'm going to blow my friends' minds away with some of our blind tastings coming up. If you love Zinfandel, then you're no stranger to Lodi's reputation for being the Zinfandel capital of the world.
Real people. It was a great feeling to be in a town where people still smile, look you in the eye and say "hello"! Living in densely populated areas, we tend to tune each other out more and forget what it feels like to be human. People in Lodi were genuinely interested, helpful and friendly. Everyone I met took the time to have conversation and share their personal stories, while listening to mine. On the flip side, if you are one of those quiet types of peeps, I have no doubt that folks in Lodi will be happy to pour you their wines and let you be. Time seemed to stand still in Lodi and I knew it would be sad when it was time to go back to my busy life at home.
Honest Food. Lodi is the unofficial watermelon capital of the country. That fact alone doesn't make the food amazing, but it is an indicator that vegetables, fruits and animals thrive in the area. After all this is California's Central Valley. Lodi is a robust farming community, full of diverse agricultural treasures. Everywhere you turn, you can find farm fresh eggs, family-owned fruit & vegetable stands, local olive oil, nuts, tomatoes, asparagus, berries, cherries, apples, apricots, local honey, baked pies & goods to name a few. Bonus: Since you are buying direct from the farmer in Lodi, the food hasn't travelled far, hasn't been processed and buying fresh fruit and vegetables won't break the piggybank. Along with honest food, comes an honest price tag. Look out for my upcoming blog on Best Farms to Visit in Lodi.
Local Beer & Wine. Turns out grapes also grow really well in Lodi Wine Country. As a result, Lodi is a hotspot for wine lovers. In fact, with its winemaking origins dating back to the 1800's, Lodi has a pretty good handle on how to care for the vines and produce excellent wine. Since 1965 Lodi vintners have been branding their local libations and the industry is growing at a fast and furious speed. Currently, there are over 80 wineries in Lodi for you to visit. The 551,000-acre AVA gained approval in 1986 around the same time many others in California were made official. Today, only 103,000 of those designated acres are planted with grapes. If you are dreaming of become a vintner and producing your own legacy, Lodi is the place to get started!
If you want to do some wine tasting, I've got a great list of properties for you to visit in Lodi Wine Country. And as always, if you plan on visiting more than a couple, I recommend you designate a driver, or hire a transportation service. Two of the great local resources you'll want to check out for a safe) way to get around, book the Sip Shuttle or hire a driver to drive your car through Destination Drivers. Their courteous, friendly and filled-with-local-knowledge drivers have partnered with some of the best wineries in town and will cater to your every need.

Michael David Winery (they also have a great seasonal beer called Freakshow, yes just like their wine label). Fantastic Café. Beautiful Gardens. Wide selection of wines. The labels are created by local artists and have hidden images. Attentive and intelligent staff. Great Pies. Fruit & Veggie stand. Cool Swag. If you have some kiddos along for the tour, they are going to love the kids corral where they can run around and burn off some energy. 150 years strong- tasting their wines you'll see why.

Peltier Winery & Vineyards is a cutting edge, innovative, sustainably farmed, certified green estate grown vineyard. They allow guests to bring in outside food and picnic while tasting. Tastings are $15 and worth every penny. Third generation owners, Rodney & Gayla Schatz are committed to the Lodi Wine Country community and are very involved with wine grape grower advocacy. If you are lucky, they'll take you on a tour of their worm farm. The wines should be 2-3X the price- I left with a case of wine to enjoy back home on bocce ball nights.

Harney Lane Winery has gorgeous grounds meant to enjoy with a glass of wine at your leisure. The 64-acre parcel is impressive and exudes quality. You can bring a picnic and sit under the shady trees sipping on a scrumptious glass of Lizzy Jane Old Vine Zinfandel. The Harney Family still lives on site and has been there for three generations. I recommend the Grape to Glass Tour.

Suggested by one of my local sommelier friends, McCay Cellars is a welcomed surprise. Being a true boutique winery, you won't ever find McCay wines in the grocery store because it's sold direct in the tasting room. The wines are complex, yet delicate in nature. My favorite was the Granache. I tend to lean towards wines with a higher acidity and lower alcohol content, so I was in my element with the French style Rhone wine blends. The owner and winemaker, Michael McCay was there when we visited, and we spent hours chatting about the area. I definitely learned a lot and plan to return and hang out with Michael more. He is a phenomenal resource and my new best friend in Lodi Wine Country.

Based on another local insider's tip, I made my way to Klinker Brick Winery. The wines here are award winning in almost every varietal. I have to say, Old Ghost is one of the best Old Vine Zinfandels I have ever had. Seriously. I've tasted a lot of Zinfandels all over and this one deserves the crown. The philosophy of winemaking at Klinker Brick is to capture the essence of the vines and make world-class wines. Sounds simple, but it's not. The team is passionate, committed and an inspiration to many other vintners in the region- and elsewhere.
Like all treks to wine country, you lose track of time and pick up the local's tips of wineries to lure me back:
Mettler Family Vineyards one of Lodi's oldest farming families, we take a lot of pride in farming our vineyards both organically and sustainably.

Fields Family Wines focuses on small lots, handcrafted and of the highest quality – it has to be, especially when your name is on the bottle.
Heritage Oak Winery is located on an isolated stretch of Woodbridge Road six miles east of Lodi, California on 106 acres of property that nestles up against the north bank of the Mokelumne River. The winery was built beneath a towering blue oak tree that dominates the landscape for miles around.
m2 Wines produces small lot, hand-crafted wines. You like great service, fabulous wines, and the occasional train rolling by. We like curious tasters with a thirst for knowledge and fabulous wines...and all dogs are welcome!
Ready to talk beer? Personally, I'm really interested in local craft beer. Wherever I go, I make a point to seek out Beer Festivals and off-the-beaten path breweries, in search of that magnificent find. Lodi brewmasters definitely get it. I found more places than I could imagine. If Craft Beer is your thing, Lodi will quench your thirst. Here is a short list of breweries I'm in love with. The same group owns Five Window and Idol Beer Works, but the spaces couldn't be any more different. Lodi Beer Company also has a pub style restaurant that has something for everyone.
Five Window Beer Co. http://www.fivewindow.com/
Idol Beer Works https://www.idolbeerworks.com/
Lodi Beer Company https://www.lodibeercompany.com/
Great Restaurants. It only makes sense that with so many fresh and seasonal, locally grown ingredients, the restaurant scene is colorful and eclectic. So far, I'm really impressed with Lodi, and duh, the culinary offerings in Lodi Wine Country sealed my big thumbs up for the region. We lunched at Michael David Café. The Shrimp & Avocado Sandwich on a house-made croissant was off the charts. It was fresh and full of flavor. My friend had the Tri-Tip Sandwich with French Fries and a Greek Salad and absolutely loved it. I tasted the Tri-Tip and it was perfectly cooked and dripping in flavor from the grill. The portions were generous which you just don't see anymore these days.
For cocktails and a light dinner, we checked out Towne House Restaurant at Wine & Roses Resort. What a treat it was to sit in the room just off the bar and listen to locals play the baby grand piano. Towne House Restaurant has a timeless feel. The decor is beautifully appointed and exceptionally comfortable. The bartender was very helpful and even managed to produce my signature cocktail to my delight. We ordered the Cheese & Charcuterie Board. It had many unexpected and welcomed surprises, like pistachios in the pate and house made chutney- bliss has definitely set in now! The local artisan cheeses were of perfect serving temperature were tastefully presented on the platter with care. We loved Towne House Restaurant at Wine & Roses so much, we thought about staying the night, but rooms are hard to come by at this popular resort. So be sure to book ahead!
Ghosts & History. Everything old seems to have a story to go with it. Lodi Wine Country is no different, with eerie activity dating back to 1896. In fact, it was Colonel H.G Shaw who reported perhaps the very first Close Encounter of the Third Kind. Colonel H.G. Shaw reported having seen a landed spacecraft near the Mokelumne River from which a trio of aliens emerged. You can read more about this (in his own words) in the November 19, 1896 edition of the Stockton Daily Mail.

I have read countless stories about paranormal sightings at the Hill House Museum in Lodi. There is actually a very scary series on Netflix called The Haunting of Hill House, inspired by the classic Shirley Jackson novel. Best to visit (or stay) at the Hill House Bed & Breakfast and hear the stories firsthand from the caretaker, Janice. Who knows, maybe you will soon have stories of your own and film your own ghost hunter television series!
Zombies? Lodi has an annual Zombie Walk (in its 10th consecutive year), just in time for Halloween. Perhaps the woman dressed in white, rumored to haunt East 8 mile Road (5.4 miles from Lodi) can be summoned with the proper local ghost hunter guide. This event is family friendly, so load up the kids and get spooked at the Lodi Zombie Walk this year!
Cool Vibe. The moment I got to Downtown Lodi, I felt the cool vibe. I got the sense that something big is in the process of happening here. In many ways, Downtown Lodi is in the middle of a renaissance. New businesses are popping up left and right. The area seems to be a magnet for creative, intelligent people of all ages. Lodi is one of the few places left in California where an average person can afford to follow their dreams and live their daily lives to the fullest. Honestly, Lodi reminds me of the way Napa or Sonoma used to be, before they became gentrified. No offense to Napa or Sonoma, as I'm a huge fan of growth. However, over development is a slippery slope. In Lodi, I felt inspired, like I could still change the world and apply my skills with a greater probability of success.
Be sure to check out the colorful Downtown Lodi Murals. In celebration of Lodi's 100th birthday, 100 Walldogs painted 11 murals depicting Lodi's history. You can get a map at the Downtown Lodi Visitor's Center (closed Mondays).
Parachutes & Airplanes. For the visitor seeking an adrenaline boost, check out the Lodi Parachute Center. In operation since 1964, the Parachute Center is one of the oldest and largest drop zones in the country. Rates are affordable and cater to all skill levels. If you are really serious, they even have an Accelerated Training Program. Open every day of the week.
Should you prefer not to hurdle yourself out of a perfectly-good airplane, you can enjoy the comfort of the cabin of a vintage (or modern) aircraft at the Lodi Airport. They have a program for every kind of enthusiast, to include Viewpoint Aerial Photography.
Celebrities Love Lodi. Will Smith, Ashton Kutcher and Mila Kunis have all been spotted in Lodi at the luxurious spa, at the plush Wine & Roses Resort. Apparently, they share a love for a grounding staycation in a place where they can get some much-needed R&R without any hype.
Obviously there is something magical about Lodi. Perhaps it's wonderful celebration of farm-fresh food, the local history an culture around the wine industry and the people that are committed to keeping Lodi a small-town community. Maybe it's the ghosts and aliens. For me, it is everything; especially the authentic living that seeps out of every nook and cranny. I am not a celebrity by any means, but I could appreciate the spirit of a town that brings me back to a genuine place in this nutty world.
Subscribe to our Newsletter
Join our mailing list and be one of the first to know about upcoming local events.