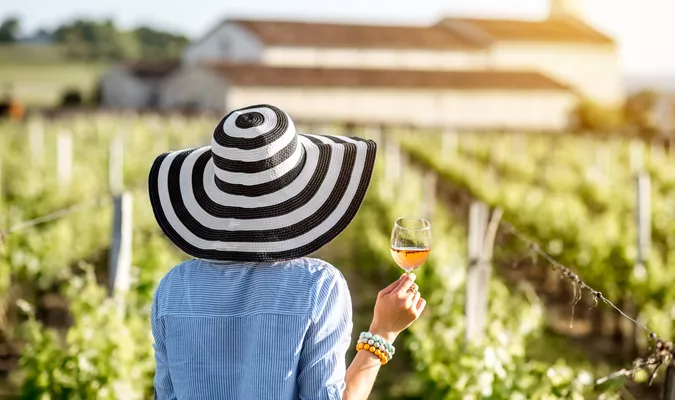 Top 5 Reasons to Book Your Late Summer Escape to Wine Country
Whether you're a seasoned oenophile or simply seeking a relaxing escape, this season promises an array of unforgettable experiences that will linger in your heart long after you've departed.
As the warm embrace of summer lingers, we invite you to embark on a journey of sensory delight in the heart of wine country. Late summer unveils a magical tapestry of experiences that will awaken your senses and leave you with cherished memories. Here are the top five reasons why this season is the perfect time to explore the captivating allure of wine country:
Vibrant Vineyard Landscapes: Late summer transforms the vineyards into a breathtaking display of nature's artistry. The lush greenery flourishes under the warmth of the season, creating an awe-inspiring backdrop for your wine-country escapade.
Warm Weather, Cool Vibes: Embrace the golden rays of late summer sunshine as you enjoy outdoor tastings against the backdrop of rolling hills and lush valleys. The mild climate provides the perfect ambiance for savoring exquisite wines and indulging in a gourmet picnic at a stunning winery estate.
Exclusive Events and Festivals: Late summer is a season of celebration in wine country. Immerse yourself in a variety of events and festivals that showcase the region's finest wines, artisanal foods, and live entertainment. From wine and food pairings to music-filled evenings, there's something for every palate. See our featured events below and get tickets to the best summer events.
Harvest-to-Table Culinary Delights: Experience farm-to-table dining like never before. Local chefs draw inspiration from the bountiful harvest to create culinary masterpieces that complement the wines of the region. Indulge in delectable dishes that are a true reflection of the season's flavors.
Spectacular Sunsets and Tranquil Evenings: Late summer evenings paint the sky with a palette of warm hues, setting the stage for breathtaking sunsets that are best enjoyed with a glass of your favorite wine in hand. As the day winds down, embrace the tranquility of the wine country, far away from the hustle and bustle.
Unique & Seasonal Experiences
Dutton Estate Winery's Dipped Caramel Gravenstein & Wine Experience
A Tapestry of Taste: Picture yourself nestled at the cozy Dutton Estate tasting room, surrounded by the essence of fall's embrace. In this very special tasting, the legendary Gravenstein apple takes center stage providing an experience that's as invigorating as a brisk autumn breeze. Every moment is an invitation to savor the present and to relish in the delights of the season.
Interactive Apple Delight: Plunge into the heart of harvest season by dipping your very own freshly picked Gravenstein apple into luxurious, velvety caramel. The act of crafting this delectable masterpiece with your own hands brings a sense of connection to the harvest season and enjoying life's simple pleasures, making every bite a celebration of nature's gifts.
Crisp Ciders & Exquisite Wines: Elevate your experience as you savor the captivating dance of flavors between your caramel-dipped apple and Dutton Estate's Hard Apple Cider—a harmonious union of orchard-fresh sweetness and tantalizing effervescence. But the indulgence doesn't end there. You'll also explore a collection of four meticulously curated wines will take your taste buds on an extraordinary journey, each sip revealing the complexities of the season, the terroir, and the artistry behind every bottle.
S'mores & Cabernet Tasting at Quixote Winery
Step into a world of wonder and indulgence with an experience custom-crafted for the modern aficionado who cherishes both the art of wine and the pursuit of refined experiences. Your senses will be treated to a symphony of flavors and textures as you partake in a table side s'mores experience unlike any other. Crafted with care and sourced locally, the chocolates and marshmallows are the epitome of decadence, perfectly paired with Quixote Estate Cabernet Sauvignon to create a medley of flavors that dance harmoniously on your palate.
The S'mores & Cabernet Tasting is more than just a feast for the senses—it's a journey through time and tradition. Their friendly and seasoned hosts are custodians of knowledge and passion, who will guide you through a Four-Year Vertical of Estate Grown Cabernet Sauvignon. You'll have the rare opportunity to explore the nuanced evolution of this exceptional wine as it matures gracefully with each passing year. The stories of each vintage come to life, enriching your appreciation for the craftsmanship and dedication poured into every vintage.
Prepare to be captivated by the enchanting allure of late summer in wine country. Whether you're a seasoned oenophile or simply seeking a relaxing escape, this season promises an array of unforgettable experiences that will linger in your heart long after you've departed.
Raise your glass to an extraordinary late summer adventure in wine country!
Upcoming Events
Subscribe to our Newsletter
Join our mailing list and be one of the first to know about upcoming local events.