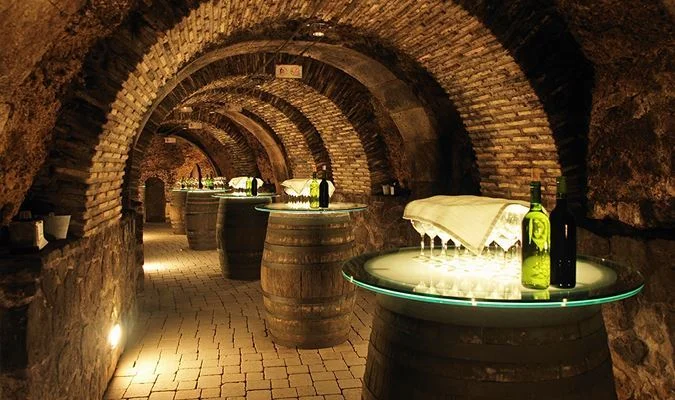 Ultimate Barrel Tasting and Cave Tours
Escape the summer heat with cool cave tours and barrel tastings ...
Naturally, summer is a wonderful time to visit wine country. The long warm days have the vines lush with green leafy canopy and heavy with grapes turning gold or purple through a process called verasion as they work their way to become the next vintage. Of course when the mercury rises that once dreamy outdoor patio tasting can quickly change from refreshing to excruciatingly uncomfortable as the sun blasts down. And don't even get us started about the challenges of keeping white wines crisp and cool in such conditions. So, what is one to do when the temps are high? Our smarty pants wine country experts always recommend booking a Barrel Tasting or Cave Tour for mid-day or late afternoon visits during the hot months. Why? Well, as if the enchanting lure of walking through an underground labyrinth of hand-carved caves filled with thousands of dusty bottles resting until they reach perfection wasn't enough, it's simple! Barrel rooms and wine caves are COOL.
These special spaces that are integral to the wine making process are kept at what is known as "Cellar Temperature" or about 55 degrees Fahrenheit. While most barrel rooms require refrigeration to stay cold, caves on the other hand naturally maintain their cool along with the proper amount of humidity to age bottled wine while also minimizing evaporation of wine still in the barrel.

No trip to wine country would be complete without experiencing the ambiance and the tantalizing oak aromas of a wine cave or barrel room. It would be like going to Paris without snapping a photo of the Eiffel tower or purchasing a bottle of Parisan perfume- you'd be missing out on the total destination experience, right?
The same goes for visiting wine country and never experiencing first-hand the ultimate in unique experiences- the barrel tasting. Barrel tastings are where you truly get to be one of the first to sample wines, long before they go into a bottle, or served at some of the best restaurants around the globe.
Our team of seasoned wine country experts have curated a collection of cave tours or barrel tastings to make your trip to wine country complete.
Book your favorite summer winery destinations on CellarPass and share them with us on Facebook.
Barrel Tastings and Cave Tours
Upcoming Events
Want to see your events featured in our newsletters?
Subscribe to our Newsletter
Join our mailing list and be one of the first to know about upcoming local events.