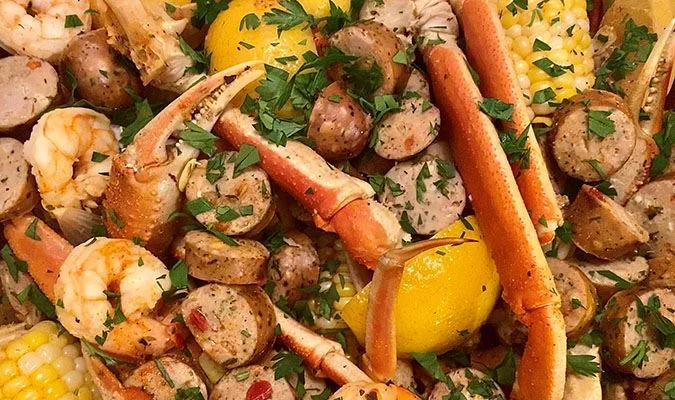 Vineyard Vixen's Spicy Garlic Roast Dungeness Crab
Butter basting and red chili flakes make for a sensational crab dinner...
Ingredients
3 – 4 Dungeness Crabs Boiled & Cleaned
1 lb Large prawns, shells on
1 – 2 pk Andouille Sausage, such as Aidell's
2 Jumbo Artichokes (or 3 – 4 small ones), cleaned & trimmed
1 lb Small red potatoes
4 Ears of corn, cut in half
¼ c Lemon zest from 2 large lemons (use Meyer if desired)
4 Meyer Lemons cut in ½'s
8 Cloves of garlic (if small, use more), pressed or finely grated. I like using a Microplane grater for jobs like this.
1 Tbs

Red Pepper Flakes
3 Tbs Zataran's Crab Boil Seasoning
½ bunch Flat leaf Italian parsley, finely chopped about a ¼ c
1/4 c Olive Oil
8 Tbs Butter Plus, a whole lot more butter, melted for dipping.
Smoked Sea Salt
Instructions
Pre-heat oven to 400 degrees
Fill large stock pot with water, add artichokes and bring to a boil. Add salt, pepper, garlic and 1 tablespoon crab boil seasoning to water. Reduce heat to low boil for about 15 minutes. Add potatoes and corn. Return to boil and cook for 10 minutes, or until artichokes and potatoes are tender. Remove artichokes from water placing upside down in a colander or bowl to drain excess water. Set aside & keep warm. Remove sausage from water and set on paper towel line plate to blot off excess water.
In large oven proof skillet or roasting pan heat olive oil & butter over medium heat until hot, but not smoking. Add garlic, lemon, red pepper. Stir and cook until fragrant. Add parsley and boil seasoning. Add crab and coat with butter mixture, basting often. Add meyer lemons, coating in garlic butter. Cook for about 5 minutes.
Transfer skillet to pre-heated oven and cook for additional 8-10 minutes, basting a few times. Remove from oven and add prawns and Andouille, being sure to coat with garlic butter. Return to oven for about 5 more minutes or until prawns are pink & opaque.
Transfer to large platter and pour garlic butter to bowl or several small ramekins for dipping.
Serve with crusty sourdough bread, dig in & enjoy!
Modification:
If you do not have a large enough skillet, use a smaller one to make the garlic butter mixture and place crab on a baking sheet, pour garlic butter mixture over the crab coating evenly.
Roast for 12 – 15 minutes, basting frequently.
Add prawns and Andouille, coating with garlic butter. Return to oven, roast 5 minutes or until prawns are pink & opaque.
Level Up!
For extra flair, grill the artichokes & Meyer lemons. Grilling imparts that delicious smokey char that transforms this meal from yummy to mind blowing delicious. After cooking the artichokes, cut in half lengthwise and toss in a little olive oil with Meyer lemon ½'s. Place artichokes and lemons flat side down on hot grill and cook for 2 – 3 minutes or until slightly charred. Flip over and cook 2 – 3 minutes. Remove from grill and sprinkle with smoked sea salt.
Vineyard Vixen Tip
Whip up a spicy aioli using mayonnaise, garlic, parsley and maybe a little Cajun seasoning to serve with artichoke.
Subscribe to our Newsletter
Join our mailing list and be one of the first to know about upcoming local events.