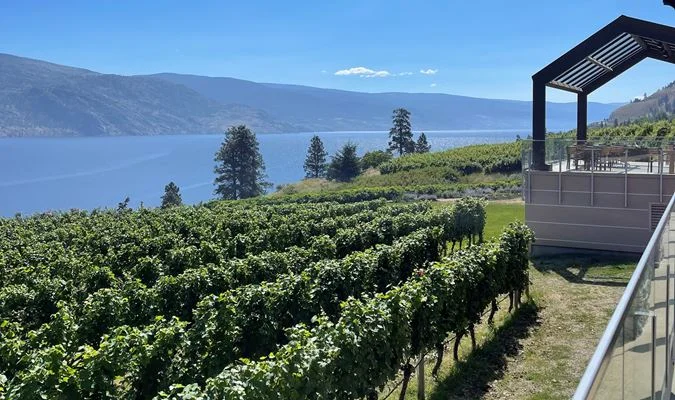 Visiting Canada's Famed Okanagan Valley for the Ultimate Girls Getaway
Call the girls, book your flights and spend the ultimate girls getaway in the pcituresque Okanagan wine country
Visiting Canada's Famed Okanagan Valley for the Ultimate Girls Getaway
Located in southern British Columbia, the Okanagan Valley is one of the warmest regions in all of Canada. If you have never been to the Okanagan wine country, you need to put it right to the top of your bucket list. And with the current US to Canadian dollar exchange rate being around USD$1 to CAN$1.25, everything is 25 - 30% off!
Upon landing, it's not like most wine countries. It's kind of reminds me of being in Sebastopol, California (Sonoma County) as the area is abound in fruit orchards and vineyards. It's feast for the senses- the smell of the blossoms in the spring is hypnotic.
Surrounded by serene lakes, most famously Okanagan Lake, home of Ogopogo, you will find that it is lightly populated, but has all the necessities for the ultimate wine country weekend; easy roads to navigate and world-class accommodations and restaurants. The Okanagan wine country offers plenty of variety when to comes to tasting rooms and wineries. The vistas of vineyards with lake views reminds me of Europe or the Finger Lakes, which truly sets this region apart. Dramatic sunsets over the lakes and mountains along with an endless array of outdoor activities provide you plenty of things to do than just wine tasting.
While many tasting rooms operate seasonally late Spring – Fall and harvest season being much earlier and shorter compared to other regions like Napa Valley, the Okanagan wine country is a year-round recreational delight. In the summer there are an abundance of sandy beaches dotted along the lakes, water sports galore, mountain biking, golf and tons of hiking trails including some with majestic waterfalls and fascinating rock formations.
In the winter, the landscape is transformed to a magical winter wonderland perfect for Nordic skiing, a snowshoe adventure, dog-sled trips, frozen waterfall hikes and more. Most notably is the lakefront ice-skating rink at Stuart Park in Kelowna where you can take in the twinkling city lights against a stunning back drop of snow-drenched peaks.
Getting to Okanagan Wine Country
Getting there is easy, just be sure to remember your passport! The primary cities in the region are Kelowna, Penticton, Vernon and Osoyoos. My flight into Kelowna International Airport (YLW) was a breeze from Seattle- about a 90-minute flight- barely enough time to enjoy a cocktail. I'd recommend booking with Alaska Airlines as they don't charge a baggage fee for the first case of wine you check on your return flight. Oh and that reminds me, you must declare your wine purchases with customs on your return trip the import fee is just pennies per bottle and Canadian wineries cannot ship to you, so it's totally worth stocking up.
Checkout our girls; weekend hot spots for Okanagan wine country!
Drink Like a Local
Tinhorn Creek Vineyards
Tinhorn Creek offers an unrivalled visitor experience. Sample exquisite estate-grown wines at the tasting bar and soak up wine country at the award-winning Miradoro Restaurant with its panoramic views of the valley below. I would recommend tasting their 2014 The Creek red blend.
Black Hills Estate
Located in the southern portion of the Okanagan Valley, Black Hills Estate provides a serene tasting experience. Here you will find incredibly well-balanced reds. This part of the region is truly desert being one of the hottest, driest and sunniest places in Canada. All of the wines on their portfolio winetasting knocked our group's socks off- try the Syrah for sure.
Joie Farm
Located in the hillside town of Naramata, British Columbia is an exceptionally cheerful tasting room named Joie Farm. Upon arrival, the bright red modern barn and big green Joie Farm sign make it hard not to smile. Visions of my childhood flashed before me- good feelings indeed! Take a few more steps and inside you will be greeted by cheerful wine educators happy to share the winery's story and guide you through their portfolio of delicious wines. My favorite was the PTG red wine blend.
Bench 1775
Come for the views, stay for the wine. Take in the sweeping views of Lake Okanagan and bright red patio chairs that beckon for you sit, sip and enjoy the vistas. Our favorite "porch pounder" is the 2017 Bench 1775 Chill white wine blend.
Fitzpatrick Family Vineyards
It is difficult to decide what I loved more, the kitschy humor, stunning views or the bubbly. No matter, this is a can't be missed destination. This is a white wine lovers paradise one of our favorites is the Unwinder made from 100% Ehrenfelser an obscure varietal that is absolutely worth the trek to procure. We couldn't resist leaving without a case of this packed in our Wine Check.
Mission Hill Family Estate
The crowning gem of the region, Mission Hill Family Estate provides stately architecture, breathtaking views of the lake and world class wines. The onsite Terrace Restaurant is highly rated and recommended by locals. There are variety of tasting options to select from including Sommelier lead tastings, Estate tours and an enticing Garden Lunch Experience.
Eat Like a Local
Oak + Cru Kelowna
Happy Hour Menu & Craft Cocktails (everything is delicious). A lively and bustling bar & restaurant located in the lobby of the Delta Grand Okanagan. The bartenders serve up enticing craft cocktails made from the freshest ingredients. I fell in love with the Cherry Bourbon Sour which is as delicious as it sounds and almost too pretty to drink. It's a tad time intensive and not on the main menu anymore, but ask nicely and they just might whip one up for you. Then there is the food! All dishes are made using mostly local ingredients and showcase regional flavors. Everything on the happy hour menu is delicious. Our favorites were the grilled Padrones with the aioli dipping sauce, Lamb Meatballs and Beef Tartare. Do you like tartare? I do and frankly it is one of my top reasons to visit Canada since it frequents many menus.
Bohemian Café Kelowna
A wonderfully fun place to dine, the Bohemian uses the finest seasonal ingredients and make their own in-house sausages, breads, jams. Did I mention they also serve up the best eggs benedict in town? The Bohemian is the top choice of locals for breakfast.
The Grape Leaf Naramata
A fun, family-run bistro using the freshest of local ingredients preparing the most flavorful meals. Hours vary and this small family operations tends to close for the summer. While challenging in the summer, this is a not to miss destination Fall – Spring, just call first.
Bliss Bakery & Bistro Peachland
Rich and delicious coffee. If you're a cold brew fanatic, then this is your daily first-stop before heading out for a day of wine tasting. You'll be rocketing to the moon with their nitro cold brew. Wonderful menu selection for both breakfast & lunch as well as exceptionally temping baked goods. We picked up breakfast to go for our return flight- yum!
Things to Do
You know, besides visiting the wineries and restaurants...
Head for the Beaches
While the wineries are a definite draw to the region, it is the large sparkling blue Lake Okanagan that keeps visitors coming again and again.
Going for a hike, Eh?
Carrot Mountain Bluffs
This hiking trail has it all: great selfie spot with a waterfall, gorgeous views and a killer uphill ascent to get the heart pumping.
Moderate to intense workout
1.5 – 3 hours round trip

Wear sturdy hiking shoes with great grip
Convenience! Just 10 minutes from downtown Kelowna
Kangaroo Creek Farm
Just as the name indicates this is a farm that is home to Kangaroo, Wallaby and many other cute and exotic animals. This a unique experience that is far from ordinary. Located north of Kelowna in Lake Country they are open 7 days a week year-round from 10:00am – 3:00pm.
Where to Stay
Delta Hotels by Marriott Grand Okanagan Resort Kelowna
A perfectly-situated waterfront destination on Lake Okanagan complete with a private boat lagoon (you can park your boat practically in front of your hotel room) is where we stay every time. This luxury resort offers guest rooms as well as large condominium suites with full kitchenettes perfect for a group of friends or families. Enjoy a brisk walk along the boardwalk through the wetland preserve or into downtown Kelowna. You just may be treated to a sighting of beavers keeping busy tending their dam. In the evening take in the sunset views from the deck of the onsite restaurant, Oak + Cru and imbibe with one of their signature craft cocktails.
Summerland Waterfront Resort & Spa Summerland
Another fabulous option for groups or families, this waterfront resort is located just 15 minutes north of Penticton and 45 minutes south of Kelowna nestled right in the middle of wine country. Room options range from studios to 2-bedroom suites and all include full kitchens and fireplaces.
Naramata Heritage Inn & Spa
Over 100 years old, this iconic seasonal resort was originally built in 1908 by John Moore Robinson the founding father of the fruit industry in the region. The resort rests on the shores of Lake Okanagan in the charming town of Naramata home to local artisans, orchards, vineyards, boutique shops, and tree lined streets that were made for leisurely strolls.
Subscribe to our Newsletter
Join our mailing list and be one of the first to know about upcoming local events.