CellarPass Passport Platform
Eliminate the headaches of managing passport programs
The CellarPass Passport Platform is truly revolionary. We studied passport programs for years, large and small to design a solution that solves many of the complex and time-consuming tasks related to the four different groups that interact with your event.
Event organizers are going to save dozens of hours a week managing the event, ticket buyers are going to love our seamless check out, ticket holders will finally have a passport registered in their own name and the participating businesses will see major value in sponsoring your event year after year.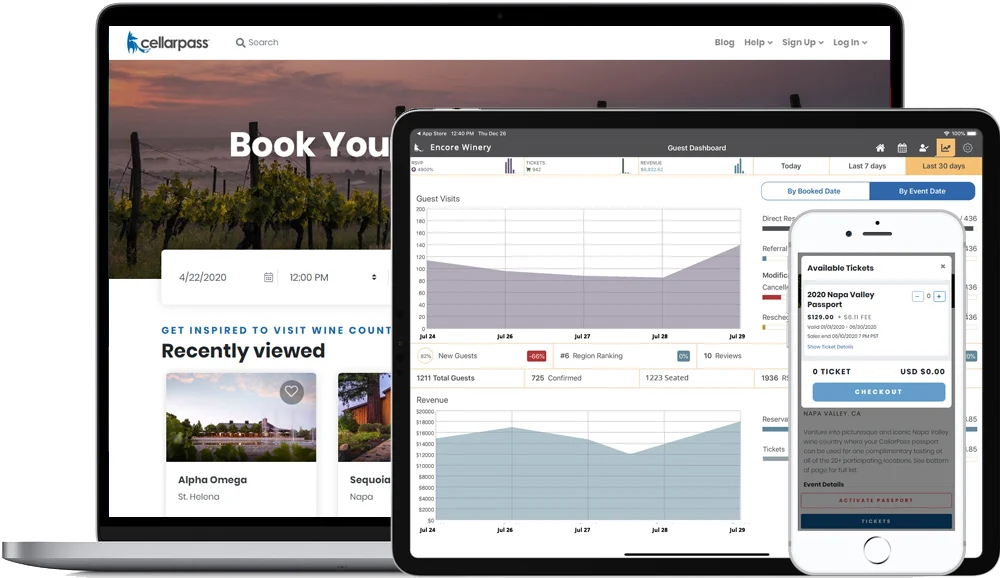 The Event Organizer
As the Event Organizer, you get access to a leading, comprehensive ticketing platform that is designed specifically to handle passport events without breaking a sweat. Manage and promote multiple ticket levels, multiple check-in locations, unique promotion schedules, manage multiple access and promo codes and build customizable templates that allow you to provide your guests a seamless transaction process no matter the device.
Dedicated to Your Success
Our team becomes an extension of yours as our Live Chat operators recommend your events to our online audience and help answer quick questions from guests. Our highly-skilled technical support teams are available to consult on optimizing your event, leading to growth in passport sales.
Ticket Buyers & Ticket Holders
Since passport programs are typically large and have many moving parts, CellarPass broke from the traditional ticket checkout process. The standard checkout method is available, allowing you to create custom questions and ticketholder registration fields as part of the transaction, but by enabling our post capture mode, ticket buyers select their tickets and complete the process first, then register their guest's tickets as a secondary step.
Why? Because many people buy packs of 10 passports and may not have all the answers to your questions or know the names of their guests, so why have them guess and give you inaccurate info?
Our revolutionalary post capture feature allows the ticket buyer to purchase tickets quickly then immediately send invitations to their guests or log in later as their group gets finalized.
Participating Locations
Each participating business in your passport program gets a free CellarPass listing that provides them valuable marketing and guest management tools.
They get to use Guest Link app to quickly check-in guests via barcode on their ticket or passport, view real-time traffic reports and more. A major value add for event organizers to provide to participating businesses is the fact that as passports are checked in, the guest's contact details are automatically mapped to their CellarPass account which can be exported into other CRM and contact management systems.
Never before has a solution provided real-time access to follow up with guests and push them to covert passport holders to buyers. Just think, no more hand-slicing ticket sales reports in Excel for days sorting out which participating business gets who's contact information.
Schedule Demo