CellarPassTV with Acumen Wines & Phillip Ashley Chocolates
San Francisco,CA
Join us for CellarPass TV, broadcasting Thursday from 6PM - 7PM Pacific. In this episode, we'll get exclusive interview with Sales & Marketing Director of Acumen Wines, Diana Schweiger, special guest Phillip Ashley Rix, and Somm Christopher Sawyer
Event Details
Join us for CellarPass TV featuring Acumen Wines
Want to order these stunning Acumen wines to sip along with us during the show? Scroll down to view purchase links.
Diana Schweiger, Acumen Wines
Diana grew up in a home where wine was embraced as part of the fabric of family life. This connection only deepened when her family planted their first grapes on Spring Mountain in 1981, establishing Schweiger Vineyards. As the daughter of vintners, the sister of a winemaker, and a wine country native, Diana Schweiger brings a rare and unique skill set to Acumen—expertise that has been honed over the course of more than 25 years in the wine industry. In addition to her extensive industry experience, Diana has served as a wine competition judge and spokesperson for Napa Valley Vintners.
Phillip Ashely Rix of Phillip Ashley Chocolates,
Phillip Ashley Rix is one of the world's preeminent chefs and designers of luxury chocolate. He is an award-winning chocolatier, founding Memphis, TN-based, Phillip Ashley Chocolates in 2012 . The brand has an international following and is retained by high-profile clients, top corporations and major events to offer premium gifts. A true Ambassador of Taste, he's curated dining experiences at the James Beard House in New York City, as well as created tens of thousands of chocolates for Hollywood's elite at the EMMYS®, GRAMMYS® and OSCARS®. In 2014, FORBES Magazine named Phillip Ashley the "Real Life Willy Wonka". In February 2020, he competed as a finalist on Food Network's Chopped Sweets. Phillip Ashley has hosted over 200 virtual chocolate tastings for audiences of up to 100+ since March 2020.
Christopher Sawyer, Award-winning Sommelier
Christopher Sawyer
is an internationally-renowned sommelier, wine educator, journalist, consultant, critic and public speaker: He travels the world following trends in wine and participating as a VIP judge in the world's top wine competitions, and has been featured in a wide range of national media, including USAToday, MSN, NBC, ABC, CBS, Redbook, The Hollywood Reporter, Maxim, National Geographic Traveler, CNN and Esquire. You can learn more about Chris' world travels as an award-winning Sommelier on his
website
.
Featured Wines
This delectable episode of CellarPassTV featuring a two-vintage vertical of our renowned Acumen PEAK Edcora Cabernet Sauvignon (including two 100-point vintages!).
In addition to savoring this sought-after vertical, we'll be unveiling the new Edcora Wine Molasses Dark Chocolate Bon Bons, which are infused with our 2015 Edcora Cabernet.
That's right, it's a 100-point bon bon! To help you experience this extraordinary tasting, we have created a Three-Vintage Vertical Tasting Pack, with exclusive event pricing. As an added treat (and we do mean treat!), the first 25 people to order our Edcora Tasting Pack will also receive a complimentary box of six Edcora Bon Bons shipped directly from Phillip Ashley Chocolates.

Order the 2-bottle Edcora Tasting Pack by January 21st you'll receive two 100 pts wines for $200, plus special pricing of $35 for 2-day air, offering additional savings of $35!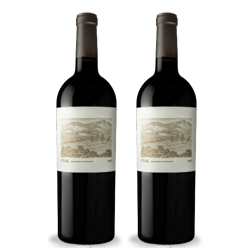 PURCHASE
2015 + 2016 Acumen PEAK Edcora Vineyard Cabernet Sauvignon - 100 pts
The 2015 vintage opens with a bouquet of violets, dark espresso, sweet hay, and the eucalyptus trees that dot the hillsides around the Estate. On the palate, we find aromas and flavors of black cherries, bramble berries, Mission figs, Campari, mint chocolate, oranges, and mountain blueberries. The firm structure and mouth-coating tannins display the warm, sun-drenched exposure of the vineyard and combine with a rich freshness and aromas of Valrhona cocoa powder, tobacco, saddle leather, and basalt that continue to evolve through the long, and well-framed finish.

In 2016, Edcora Vineyard produced a monumental expression of mountain-grown Cabernet Sauvignon that seamlessly balances opulence and elegance, while showcasing the depth and refinement that mark the best of Atlas Peak. Aromatically, this wine is intense and complex, with layers of dark berries, ripe plum, clove, wild sage, tobacco leaf, earthy minerality and bittersweet chocolate. The voluptuous dark berry notes are echoed on the palate, where they are framed by rich, supple tannins that draw the wine to a luxurious berry and spice finish.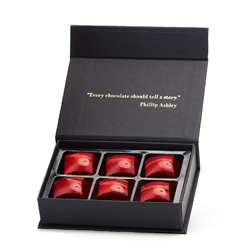 PURCHASE
Phillip Ashley Chocolates Edcora Molasses Bon Bons
Upgrade your tasting kit with a six pack of decadent hand-crafted bon bons made from Acumen's Edcora Cabernet Sauvignon.These chocolates are so good, you'll want to order an extra pack or two. Hint: These make a wonderful Valentine gift for your sweetie.