CellarPassTV with Diana Schweiger of Acumen Wines & Chili Davis
San Francisco,CA
Join us for CellarPass TV, broadcasting Monday & Thursday from 6PM - 7PM Pacific. In this episode, we'll get exclusive interview with Sales & Marketing Director of Acumen Wines, Diana Schweiger, winemaker, Phillip Titus and Somm Christopher Sawyer
Event Details
Join us for CellarPass TV, broadcasting Monday & Thursday from 6PM - 7PM Pacific. In this episode, we'll get exclusive interview with Sales & Marketing Director of Acumen Wines, Diana Schweiger, Phillip Titus, current batting coach for New York Mets, Chili Davis and leading Somm Christopher Sawyer.
Want to order these stunning Acumen wines to sip along with us during the show? Scroll down to view purchase links.
Diana Schweiger, Acumen Wines
Diana grew up in a home where wine was embraced as part of the fabric of family life. This connection only deepened when her family planted their first grapes on Spring Mountain in 1981, establishing Schweiger Vineyards. As the daughter of vintners, the sister of a winemaker, and a wine country native, Diana Schweiger brings a rare and unique skill set to Acumen—expertise that has been honed over the course of more than 25 years in the wine industry. In addition to her extensive industry experience, Diana has served as a wine competition judge and spokesperson for Napa Valley Vintners.

Phillip Titus, Winemaker
Raised in the Napa Valley, Phillip discovered his interest in viticulture when he began working alongside his father and brothers in his family's St. Helena vineyard at the age of 12—an interest that was further kindled around the dinner table, where his father would often pour wines from Europe and California.
Chili Davis, New York Mets Batting Coach
Charles Theodore "Chili" Davis, is a Jamaican-American former professional baseball player and current coach. He played as an outfielder and designated hitter in Major League Baseball from 1981 to 1999 for the San Francisco Giants (1981–87), California Angels (1988–90, 1993–96), Minnesota Twins (1991–92), Kansas City Royals (1997) and the New York Yankees (1998–99). He is currently the hitting coach for the New York Mets. Davis was a switch-hitter and threw right-handed. He is the first ballplayer born in Jamaica to appear in a major league game.
Christopher Sawyer, Award-winning Sommelier
Christopher Sawyer
is an internationally-renowned sommelier, wine educator, journalist, consultant, critic and public speaker: He travels the world following trends in wine and participating as a VIP judge in the world's top wine competitions, and has been featured in a wide range of national media, including USAToday, MSN, NBC, ABC, CBS, Redbook, The Hollywood Reporter, Maxim, National Geographic Traveler, CNN and Esquire. You can learn more about Chris' world travels as an award-winning Sommelier on his
website
.
Featured Wines
Purchase our featured wines and have them shipped to your door in time for our broadcast and toast along with us! View Special Offer
2017 PEAK Sauvignon Blanc
The 2017 Sauvignon Blanc Peak unfurls to reveal fragrant lime blossoms and honeysuckle scents over a core of fresh grapefruit, lemon curd and crushed rocks plus a waft of baker's yeast. Medium to full-bodied, it bursts in the mouth with loads of citrus and mineral layers and a crisp, refreshing line with a very long, chalky finish. 2018 –2025.
93+ Points: An outstanding wine of exceptional complexity and character. In short, these are terrific wines. -Wine Advocate
Purchase
2015 PEAK Attelas Cabernet Sauvignon
The 2015 vintage opens with a bouquet of ripe raspberries,potpourri, fresh asphalt and the wet rocks and bay trees that dot the hillsides around the Estate. On the palate we find aromas and flavors of vanilla incense, French roast coffee,sweet bell peppers,and mountain fruits like pomegranates and red cherries.
The elegant structure and ripe tannins display the dusty, slightly cooler nature of the vineyard and combine with a lively freshness and aromas of black tea, cherry-stones, and roasted beets that continue to evolve through the long, elegant finish.
Purchase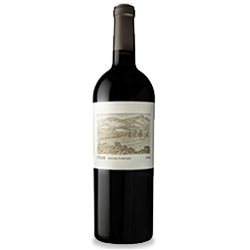 2015 PEAK Edcora Cabernet Sauvignon
The 2015 vintage opens with a bouquet of violets, dark espresso, sweet hay, and the eucalyptus trees that dot the hillsides around the Estate. On the palate, we find aromas and flavors of black cherries, bramble berries, Mission figs, Campari, mint chocolate, oranges, and mountain blueberries.
The firm structure and mouth-coating tannins display the warm, sun-drenched exposure of the vineyard and combine with a rich freshness and aromas of Valrhona cocoa powder, tobacco, saddle leather, and basalt that continue to evolve through the long, and well-framed finish.
Purchase