CellarPassTV with Diana Schweiger of Acumen Wines & NY Mets Chili Davis
San Francisco,CA
Join us for CellarPass TV, broadcasting Thursday from 6PM - 7PM Pacific. In this episode, we'll get exclusive interview with Sales & Marketing Director of Acumen Wines, Diana Schweiger, special guest Chili Davis and Somm Christopher Sawyer
Event Details
Join us for CellarPass TV featuring Acumen Wines with special guest, New York Mets batting coach, Chili Davis!
In this episode, we're going to help you level-up your grilling game this spring! We'll be dishing it up with legendary Chili Davis talking about amazing wines, favorite grilling seasonings and taking you through a unique sensory experience with grilling spices and Acumen wines.
Diana Schweiger, Acumen Wines
Diana grew up in a home where wine was embraced as part of the fabric of family life. This connection only deepened when her family planted their first grapes on Spring Mountain in 1981, establishing Schweiger Vineyards. As the daughter of vintners, the sister of a winemaker, and a wine country native, Diana Schweiger brings a rare and unique skill set to Acumen—expertise that has been honed over the course of more than 25 years in the wine industry. In addition to her extensive industry experience, Diana has served as a wine competition judge and spokesperson for Napa Valley Vintners.
Chili Davis, New York Mets Batting Coach
Charles Theodore "Chili" Davis, is a Jamaican-American former professional baseball player and current coach. He played as an outfielder and designated hitter in Major League Baseball from 1981 to 1999 for the San Francisco Giants (1981–87), California Angels (1988–90, 1993–96), Minnesota Twins (1991–92), Kansas City Royals (1997) and the New York Yankees (1998–99). He is currently the hitting coach for the New York Mets. Davis was a switch-hitter and threw right-handed. He is the first ballplayer born in Jamaica to appear in a major league game.
Christopher Sawyer, Award-winning Sommelier
Christopher Sawyer
is an internationally-renowned sommelier, wine educator, journalist, consultant, critic and public speaker: He travels the world following trends in wine and participating as a VIP judge in the world's top wine competitions, and has been featured in a wide range of national media, including USAToday, MSN, NBC, ABC, CBS, Redbook, The Hollywood Reporter, Maxim, National Geographic Traveler, CNN and Esquire. You can learn more about Chris' world travels as an award-winning Sommelier on his
website
.
Featured Wines

For Spring training with Chili Davis, Acumen has put together a delicious duo of Chili's favorite wines.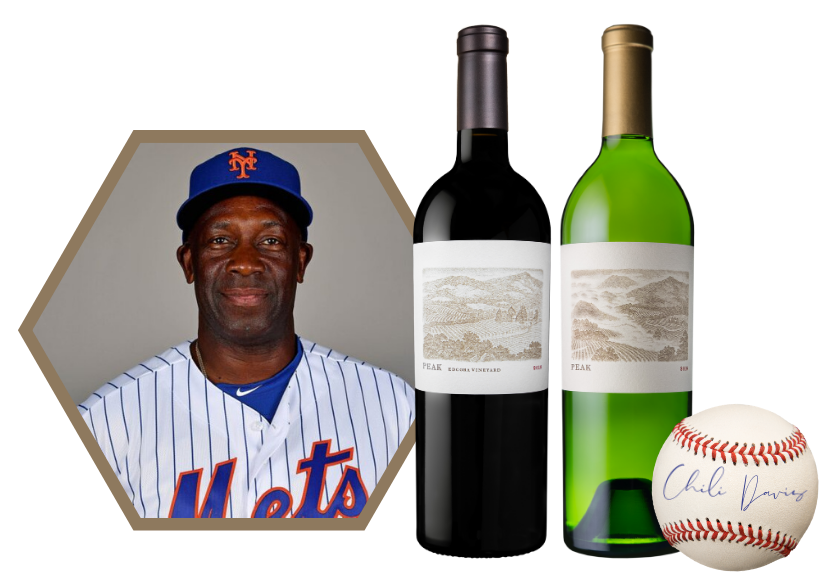 PURCHASE
2017 PEAK Sauvignon Blanc + 2016 Edcora Cabernet Sauvignon (100pts)
For Opening Day with Chili Davis, we've put together a delicious duo of wines, leading off with the 2017 PEAK Sauvignon Blanc and finishing with the 100 point stunner, the 2016 Edcora Cabernet Sauvignon.