CellarPassTV with Guests Joy Sterling, Christopher Sawyer and Dan Rosenberg
San Francisco,CA
Join us for CellarPass TV, broadcasting Monday & Thursday from 6PM - 7PM Pacific. In this episode, we'll get exclusive interview with Joy Sterling, CEO Iron Horse Vineyards, leading Sommelier Christopher Sawyer and comedian, Dan Rosenberg.
Event Details
We've got an amazing line up guests this week. We'll kick things off appropriately with some sparkling wines and a Pinot Noir led by CEO & vintner, Joy Sterling of Iron Horse Vineyards. Joining our panel. To keep the conversation lively and off-the wall, we'll also be speaking with Sommelier to the stars and leaders from around the globe, Christopher Sawyer and stand-up comedian Dan Rosenberg.
Want to order these delightful and show stopping Iron Horse Vineyards wines to sip along with us during the show? Scroll down to view purchase links.
Joy Sterling, Iron Horse Vineyards
Joy Sterling represents the second generation at Iron Horse. She is the CEO of the winery, a member of the California State Food & Agriculture Board, appointed by Governor Jerry Brown, and Chair of the California Democratic Party Rural Caucus. There is a strong French influence in Joy's life.
Christopher Sawyer, Award-winning Sommelier
Christopher Sawyer
is an internationally-renowned sommelier, wine educator, journalist, consultant, critic and public speaker: He travels the world following trends in wine and participating as a VIP judge in the world's top wine competitions, and has been featured in a wide range of national media, including USAToday, MSN, NBC, ABC, CBS, Redbook, The Hollywood Reporter, Maxim, National Geographic Traveler, CNN and Esquire. You can learn more about Chris' world travels as an award-winning Sommelier on his
website
.
Dan Rosenberg, Stand-up Comedian
And to bring some alternative and fresh perspective to the round table, we're pleased to introduce you to stand-up comic, writer and writer, Dan Rosenberg. Dan has been performing stand-up for over 25 years and has been a regular at The World Famous Laugh Factory in Hollywood as well as the Hollywood Improv Comedy Club. He has performed in clubs, casinos, and festivals from Washington to Florida and California to Maine, with many stops in between. Dan currently has a comedy special on Amazon Prime.
Featured Wines
Purchase our featured wines and have them shipped to your door in time for our broadcast and toast along with us!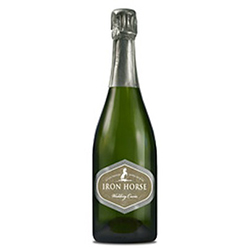 2014 Iron Horse Wedding Cuvee
This is Iron Horse's most romantic bubbly. We describe the 2014 Wedding Cuvée as dangerously easy to drink. Pretty pink in color and capped off with a pure mousse, this fruit forward, elegantly dry bubbly, displays ultra tiny bubbles and an exceedingly long finish.
Purchase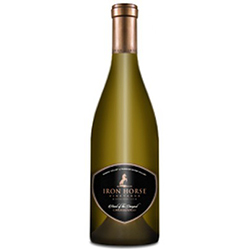 2016 Heart of the Vineyard Chardonnay
Playing with the 2016 vintage we tasted a trial or lab blend of the most delicious three barrels of Rued Clone Chardonnay with the 10 best barrels of Hyde Old Wente and fell in love.
It comes from what our winemaker calls the "heart of the vineyard" - a particular area on the eastern side of the estate that he is particularly attached to, which overlaps a few different "blocks" and amazingly, when outlined in a drone photograph, is heart-shaped.
Purchase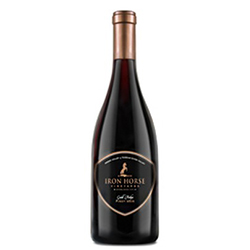 2017 Gold Ridge Pinot Noir
The Gold Ridge is three clones of Pinot Noir were selected from four excellent sites on the estate to create this complex and elegant blend. The unifying factor is our highly prized Gold Ridge soil, among the most coveted, especially for Pinot Noir.
Purchase