CellarPassTV with Special Guest Eileen Boeger of Boeger Winery
San Francisco,CA
Join us for CellarPass TV, broadcasting Thursday from 6PM - 7PM Pacific. In this episode, we'll joined by Eileen Boeger of Boeger Winery and Somm Christopher Sawyer
Event Details
Join us for CellarPass TV featuring special guest, Eileen Boeger of Boeger Winery located in California's El Dorado Hills.
Want to order wines to sip along with us during the show? Scroll down to view purchase links.
Boeger Winery
The Boeger Winery estate was homesteaded during the gold rush by the Fossati-Lombardo family. Though the family initially tried their luck in the gold fields they quickly learned, as many others did, that there was more fortune to be made from selling goods and services to the miners than in the mining itself. The estate was turned into a fruit and nut farm as well as a winery and distillery. The family made wine from Mission grapes and an early clone of Zinfandel, a small block of which still remain and produce fruit to this day.

Christopher Sawyer, Award-winning Sommelier
An internationally-renowned sommelier, wine educator, journalist, consultant, critic and public speaker: He travels the world following trends in wine and participating as a VIP judge in the world's top wine competitions, and has been featured in a wide range of national media, including USAToday, MSN, NBC, ABC, CBS, Redbook, The Hollywood Reporter, Maxim, National Geographic Traveler, CNN and Esquire. You can learn more about Chris' world travels as an award-winning Sommelier on his
website
.
Featured Wines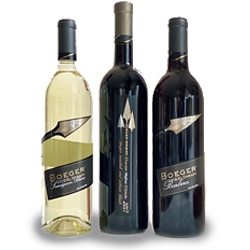 PURCHASE
Boeger Trio Tasting Pack
Sip these three wines along with us! Join winemaker Justin Boeger and Eileen Boeger for a delightful evening of wine tasting Thursday February 25th from 6PM - 7PM Pacific on CellarPass TV.

Relax at home with a virtual tasting guided by Sarah Elliman of CellarPass TV and sommelier Christopher Sawyer. This online wine tasting is our way of bringing the Boeger's warm hospitality, fine wines and Christopher's expertise from our table to yours.

Take a tour of these Boeger Wines...
Barbera 2018 - The perfect representation of an El Dorado County Barbera.

Migliore 2017- Migliore, which means "The Best" in Italian, stands true to its name.

Sauvignon Blanc 2019 - The aromatics and acidity of Sauvignon Blanc are balanced by the magical touch of Sémillon.