CellarPassTV with Special Guest Garrett Busch of Trinitas Cellars
San Francisco,CA
Join us for CellarPass TV, broadcasting Thursday from 6PM - 7PM Pacific. In this episode, we'll be joined by special guest Garrett Busch, proprietor of Trinitas Cellars.
Event Details
Join us for CellarPass TV featuring special guest, Garrett Busch proprietor of Trinitas Cellars located in the beautiful Napa Valley.
Want to order wines to sip along with us during the show? Scroll down to view purchase links.
Trinitas Cellars
Trinitas Cellars was born in 2002 from the guiding belief of the Busch Family that with family, faith, and perseverance, anything is possible. These values have illuminated their path to, and successes within, world-class resort hospitality. An industry where success is measured by the happiness and memories you inspire in others. With Trinitas Cellars, the second generation of the family hopes to inspire the same in wine enthusiasts.
Our goal is to craft wine that's so compellingly delicious, that the joy it brings creates a window in time where worries are melted away, virtues are celebrated, and life is savored.
Christopher Sawyer, Award-winning Sommelier
An internationally-renowned sommelier, wine educator, journalist, consultant, critic and public speaker: He travels the world following trends in wine and participating as a VIP judge in the world's top wine competitions, and has been featured in a wide range of national media, including USAToday, MSN, NBC, ABC, CBS, Redbook, The Hollywood Reporter, Maxim, National Geographic Traveler, CNN and Esquire. You can learn more about Chris' world travels as an award-winning Sommelier on his website.
Garrett Busch, Proprietor of Trinitas Cellars
Garrett earned a BBA in Management Entrepreneurship and a master's in finance and Investments from the University of Notre Dame in 2009 and 2010 respectively. After graduating, Garrett was appointed as the Director of Operations for his family's winery, Trinitas Cellars. In 2012, he was promoted to CEO and continues to serve in this role. In 2018 Garrett took on the role of VP of Capital Markets for Pacific Hospitality Group, a company that owns and operates hotels throughout the United States, including The Meritage Collection, an exclusive collection of lifestyle hotels located in Napa, La Jolla, Kauai and Huntington Beach.
Garrett and his team handle all hotel acquisitions and ground up development, as well as, all debt financing and equity sourcing for projects.
Featured Wines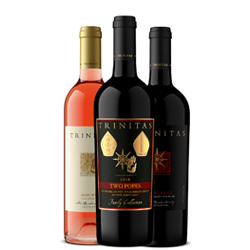 PURCHASE
Trinitas Cellars 3-Pack
Hold onto your hats, because we have a divine new release that will completely wow you and your family this Easter! Introducing the first-ever Trinitas Two Popes. With less than 80 cases available, this is our lowest production wine and is sure to go fast. Click here to learn all about the wine's unique blend and papal homage.
Sip these three wines along with us! Join for a delightful evening of wine tasting Thursday March 18th from 6PM - 7PM Pacific on CellarPass TV.

Relax at home with a virtual tasting guided by Sarah Elliman of CellarPass TV and sommelier Christopher Sawyer. This online wine tasting is our way of bringing Trinitas' warm hospitality, fine wines and Christopher's expertise from our table to yours.

Take a tour of these spectacular Trinitas Cellars wines.

2018 Rosé - Cranberry, salted watermelon rind, and strawberry blossom make up the lovely bouquet of our 2018 Rose. The full-bodied palate treats you to lively red berry fruit and rose petals.
2018 Two Popes, Red Blend - Our inaugural release of Two Popes opens with powerful aromas of chocolate, nutmeg, ripe plum and sarsaparilla. The palate follow suit, with rich and concentrated flavors of ripe plum, blueberry, dark chocolate, vanilla, mocha, and pepper, that trail off into a very persistent finish marked by blackberry and graham cracker. Everything is lifted by fresh acidity and ripe tannins, that give the wine a charming and approachable spirit.
2015 Meritage - The Meritage simmers from the glass with a harmonious bouquet of mulberry, black cherry, clove, and toasted graham cracker. The mouthwatering palate fans out for almost a minute with a kaleidoscope of rich blackberry, plum, blueberry, and raspberry that is lifted by refreshing acidity. The ripe berry medley trails off into a savory finish of tobacco and black licorice. This is a shining example of the range of flavors that can be achieved in a blend. It checks all the boxes, and everyone will find it hard to resist.e.