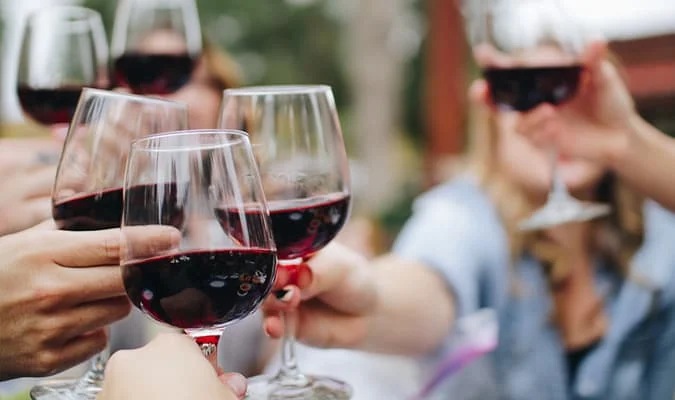 Local's Guide Where to Eat, Drink, Stay & Play in Virginia Wine Country
Be prepared to be wow'd as Virginia Wine Country is quickly becoming a new wine country mecca for wine snobs, foodies and those that want to be pampered. We share with you the best places to stay, eat and drink while in Virginia Wine Country.
I won't lie to you, I've had Virginia Wine Country on my bucket list for longer than I'd like to admit. And recently my wish came true while visiting my in-laws in Chevy Chase, MD. My trip to Virginia Wine Country is on! And to make it a memorable wine country adventure, I enlisted some of my dearest friends, for the ultimate girls getaway weekend in Virginia Wine Country and check out its epicenter, Loudon County.
Stepping into wine country on the East Coast for the first time, you realize that there's so much history surrounding you; after all this is where much of the early American wine culture originated thanks to Thomas Jefferson. From buildings dating back to the 1700's, to the rolling hills and sprawling country estates of Virginia Wine Country, the energy of the early settlers was calling my name. I couldn't be more excited to visit one of the oldest, most beautiful and most-visited winery regions in the nation and to top that, share it with my group of girlfriends.
What makes this region so attractive is that you can land at Dulles International Airport (IAD) and be deep into Virginia wine country in less than 45 minutes. And if you land at Reagan International, it's only an hour-long drive from D.C. down the infamous I-95 beltway to Middleburg, in Virginia's bucolic wine country. Either airport you arrive, if you've never travelled about the East Coast, be prepared to pay plenty of tolls because they seem to be everywhere on the major roads, something this Californian only relates to when you cross major bridges.
Much like other wine regions in the U.S., you'll find that there's a couple of bigger towns that serve the region to stay in, while other small towns offer some limited accommodation options. You'll want to book your hotel in advance to get the best selection. While this is still considered Northern Virginia Wine Country, it's vital that you stop and stay in Middleburg or Fredericksburg, Virginia. Both towns offer easy access to the 40+ wineries scattered about in Loudon County. What's also great about this area is that there's plenty of options no matter how small or extravagant your budget is.
For those that desire a 5-star resort experience, book reservations for the Salamander Resort & Spa, a stately inn set on 340 idyllic acres in the foothills of the Blue Ridge Mountains. You'll need to book well ahead during high season (late June to mid-August). While you could easily spend the whole weekend strolling the resorts' impeccably-manicured grounds (or testing your culinary skills at the on-site cooking studio), don't lose track as to why you came to this area as there are plenty of historical sites, fantastic eateries and more than 250 local wineries to explore.
If you want to save some money, you can stay in Leesburg, Virginia or Frederick, Maryland as many of the big hotel chains have properties in these towns. If you have the opportunity to visit in September or October, you'll absolutely love the fall colors as the Fall season completely transforms the region. The wineries and tasting rooms will be less busy, allowing you to feel like you own the place. Plus the hotel rates will drop.
You cannot leave the area without booking reservations and having dinner at Dutch's Daughter in Frederick, Maryland- total hidden gem and wow, the food is amazing. Named after the owner's father who got the name while serving in the Army, the restaurant looks and feels like many of the iconic country estates! For dinner, I loved the French Onion soup, Prime Rib & Broiled Lobster Tail, but there's something about $1.00 Mimosa's and Blood Mary's for brunch that could make me visit this place during my visit to the area. Advanced reservations are a must!
You know you're in the country at Greenhill Winery & Vineyards, where horse-drawn carriage rides and picnic lunches pepper tastings of Burgundian-style chardonnays and crisp Rieslings. Perhaps this is where Thomas Jefferson fostered his love for nature. I could have sworn I heard the hills whispering words of wisdom from our founding fathers. Then again, maybe it's just that I am suddenly so relaxed and removed from my busy life in the city that I feel rejuvenated and inspired to sit back, have a chilled glass of wine in hand and watch the day go by. Heck, I don't even know where my phone is anymore. Either way, Greenhill Winery & Vineyards offers a welcomed pastoral respite and evocative wine. With plenty of different types of tasting experiences, you'll see why I made this #1. Why this is at the top of my list of recommended tasting rooms in Virginia.
If you are up for a drive on the road less travelled (we're talking gravel roads, so leave the Lamborghini at home), then point your Google directions towards Stone Tower Winery in Leesburg, Virginia. Situated on over 200+ acres on top of Hogback Mountain, what's great about Stone Tower Winery is that it has two separate venues in case you are traveling with the kiddos or your pooch. Well-behaved kids and leashed dogs are welcomed in the Harvest Barn, while the 21+ crowd gets to hang at the Tower View Tasting Room which makes you feel like you are in a warm and comfortable ski chalet with quite the majestic view of Virginia Wine Country below. You'll find yourself wanting to stay most of the day here after enjoying the Signature Estate Experience.
What sets Bluemont Vineyard apart from the others is how small the property feels- and the different types of special events they host. From Yoga in the Vineyard, to fun-filled wine tasting & craft-making projects to their annual fireworks-watching extravaganza, you'll have plenty of events you'll want to fill your calendar with. Sitting just above the Great Country Farms, Bluemont Vineyard is also one of the few viewpoints where you can see some of the Washington, D.C historical monuments from their hillside deck. So be sure to raise a glass (or two) to the founding fathers as you sit back and soak in the sun, the amazing vistas and rustic ambiance.

You are probably starving by now, so before or after your visit to Bluemont Vineyard, be sure to stop by what will feel like a huge step back in time, the Bluemont General Store. From farm-fresh produce, made-to-order sandwiches and all the cool things you find in a country general store, be sure to stop by and say hello. There's picnic tables to enjoy a country lunch or to cool off with an ice cream cone for the kiddos.
If you are looking for a stunning hidden gem in Middleburg, then be sure to make reservations for Boxwood Estate. Proprietor John Kent Cooke, former owner and president of the NFL Washington Redskins, is an admirer and collector of French wines. It is no wonder that Mr. Cooke is producing some of the best wine in the area. His completely sustainable 26.5 acres of Cabernet Sauvignon, Merlot, Cabernet Franc and Chardonnay, have drawn together an All-Star team who are committed to making premium red & white wines in the Bordeaux tradition, but with their own, distinct Virginia expression. I had a case of Boxwood Rosé shipped home for sipping by the pool. My girlfriends will absolutely love it!
What sets 868 Estate Vineyards in Purceville, Virginia apart from the others on the Loudon County Wine Trail is that it has its own white tablecloth Grandale Restaurant that delivers farm-fresh, local gourmet food right at the winery. So if you care to linger a little longer after your Premiere Wine Tasting, then head on over. I had the hamburger with Applewood-smoked bacon and white cheddar- delicious! If you are traveling with a large group and just want to sit back and relax in Virginia Wine Country, 868 Estate Vineyards is your ultimate destination with their rolling hills, vineyards you can take a hike in and so much more. You can make reservations in the summer time for their picnic tables, purchase a few bottles and instant soiree with the girls!
Nearly across the country road from 868 Estate Vineyards, you'll discover Breaux Vineyards. Known as one of the longest-running, family-owned wineries in Virginia Wine Country. Situated on a 400-acre estate on Short Hill Mountain, the property produces 13 different varietals with Nebbiolo being their signature wine. You'll enjoy sipping your glass of wine out on their veranda, overlooking all the vineyards and surrounding hillsides.
Aspen Dale Winery offers a more rustic experience, with paddock homes to goats and miniature horses. I think my friend (who is a yoga instructor when she's not practicing law) was checking out the goats for one of her classes. For $10 you can enjoy six wines, each accompanied by a small bite. The value here is refreshing. In Sonoma & Napa Valley, tasting fees are 3X-4X the price. I'm pleased we stopped in and will return again. I hear there are occasional live, folk music concerts held in the barn.
For dinner, head to the historic Red Fox Inn & Tavern, where oak tables, stone fireplaces, and beamed ceilings set the backdrop for hearty American classics like crispy half-duck with sautéed asparagus or bourbon-glazed salmon. The Red Fox has been a mainstay for the community since 1728. I wasn't surprised when I learned that the oldest fox hunting club in America, the Piedmont Hunt, is based in Middleburg. The Red Fox is stately, established and the perfect choice after a day of wine tasting and strolling through vineyards. Were it not for my Virginian friends, I am doubtful I would have stumbled upon such a gem.
We got up early the next day, procured an on-the-go breakfast from Market Salamander and began the scenic two-hour drive towards Charlottesville, Virginia. Much like Loudoun County Wine Trail, the roads are lined with vineyards, horse farms and pastoral estates. There are so many things to see along the way that it's best not to rush. It isn't every day you find yourself on the hollowed ground of our founding fathers and civil war heroes.
En route to Charlottesville (in Central Virginia Wine Country), be sure to swing by the Manassas National Battlefield Park, the site of both Battles of Bull Run. On this stretch you will see signs for Highways named after James Madison and James Monroe as well as the Mosby Heritage Area. This area is named for John Mosby, a confederate guerrilla who harassed Union troops. I'm learning that the Civil War is still a big deal in Virginia. You can even get tickets to attend Civil War reenactment ceremonies and civil war-themed summer festivals.
Next up, on Route 20, close to Montpelier is Barboursville Vineyards whose eponymous vineyards and winery specialize in European varietals. Here you can sip on world class wines and have an Italian feast at the ever popular Palladio Restaurant. We loved the Carpaccio, Sweet Pea & Ricotta Ravioli and Tiramisu in Due Modi. While Palladio has a full bar, I opted for rehydrating, cold ice water. If you can still walk after lunch, go checkout the nearby ruins of the Barbour Mansion. If the quarter mile walk sounds daunting, there is a parking lot up at the mansion.
https://www.atlasobscura.com/places/barboursville
Just before entering Charlottesville, you'll want to make another stop at Monticello, the private home of Thomas Jefferson. Jefferson's brilliance is reflected in his iconic country mansion, which he designed. Many of his inventions are on display at Monticello and the gardens are worth exploring. If you want to turn your two-day weekend into three days of bliss, maybe you can book a room at the Inn at Monticello. You will certainly get a feel for the times in this manor house dating back to the 1800's. Should you decide to stay, dine at the quaint, historic Ivy Inn. I didn't get a chance to stay on this trip, but I heard from plenty of locals that the Spring Carrot Soup, Rag Mountain Trout and Strawberry-Rhubarb Crisp are incredible.
Charlottesville, Virginia oozes with history and charm. Home to the University of Virginia and nearly 50,000 people, it holds a special place in the heart of Virginia. I love the way the streets buzz with people of all ages and walks of life (students, families, intellectuals, artists, foodies, wine geeks and high-society drop outs). Over the years, Charlottesville has developed and become one of the leading places to visit in the area, with 8 breweries, 30+wineries, incredible eateries and epic trailheads to the Blue Ridge Mountains and Shenandoah Valley. Upon arrival, I couldn't help but marvel at the greenery and vintage buildings.
Many people visit Charlottesville specifically for the Monticello Wine Trail. Inspired by Thomas Jefferson's vision of grape growing and winemaking, 35 wineries have come together to provide entertainment and creative wine tasting experiences. Locals are a huge part of the economy in Virginia and you will find unique and authentic things to do at every turn. You may want to check out the Taste of Monticello Wine Trail Festival held annually the first week of May.
There are plenty of choices of where to stay in Charlottesville. The trick is finding the right place to suit your needs. With all the competition, room rates tend to be reasonable. A friend of my in-laws insisted that we stay at the prestigious Oakhurst Inn (and paid for it because he is a professor at UOV), so off we went. Worth noting (because the others in my group mentioned them) are Keswick Hall at Monticello, The Clifton Inn and the Boar's Head Resort. Any one of these luxurious estates would be a great choice to add as one of your overnight destinations.
It's a lot of work to absorb so much history and circumstance. After the exciting drive and checking in to our swanky digs, I was definitely ready for some local beer and cider. A few of my friends wanted to go wine tasting, so we split up and planned to meet later to compare notes and have dinner at the exotic Sultan Kebab Authentic Turkish Restaurant.
I'm sure you have heard of the Blue Ridge Mountains, but have you ever heard about the Brew Ridge Trail? Thought not. Music for my thirsty ears, I decided to set off on a well-trodden path to explore craft brew. The only snafu is that The Brew Ridge Trail is mostly in Nelson County, about a 45-minute drive from Charlottesville. I will have to save that expedition for next time. Not to worry, there are 8 fantastic breweries right here in Charlottesville. I am about to blaze a Brew Ridge Trail of my own!
Draft Taproom. I stopped by the digital; self serve taproom, more out of curiosity than anything else. The busy space has over 60 draft beers and ciders, which you can purchase by the ounce. In many ways this is a beer lovers dream come true. I must be old school because, while I liked the energy in the room, I enjoy the banter of the bartender as he (or she) pours my beer for me. This system is genius and ensures that not one ounce of beer is sampled without payment. Not so sure I like that either. Great place to hang out with friends. Open 7 days a week.
Beer Advocate listed Reason Beer as one of the best new breweries in the country. For that reason, I had to check it out. Hands down, Reason Beer is the best brewery in Charlottesville. Brew master, Mark Fulton and his team have crafted some of the most flavorful and perfectly balanced craft beers. There are many reasons to drink Reason Beer.
No frills, just locals at Champion Brewing Company. I tried the sampler and loved everything I tasted. They have some creative options (like the Spring Ale that is brewed wit lavender and coriander) and everything is done really well. The laid back atmosphere, outdoor seating, friendly bartenders, good music and food trucks always make it a great place to hang.
My wine centric friends texted and let me know that they were having a blast at King Family Vineyards. This family owned winery, located 15 minutes from Charlottesville (in Crozet) is a stop not to be missed. In fact, if you only go to one winery, go to King Family Vineyards. The winery specializes in the production of ultra-premium wines that showcase the remarkable quality and terroir of the Monticello AVA. Beginning with carefully selected estate grapes, winemaker Matthieu Finot creates wines inspired by the old world, but are uniquely expressive of Virginia.
Next stop on our wine country adventure around Charlottesville was to swing by AOL founder, Steve Case's minimalist oasis, Early Mountain Vineyards. They said they would be attending the Solstice Sundown event, before meeting me for dinner. Local band, the Significant Others, was performing on the back lawn. I could imagine them sipping on a refreshing glass of early Mountain Rosé while swaying to the beats. Not a bad way to welcome summer nights in Charlottesville.
The next day, we hit Pippin Hill Farm and Vineyard as well as Veritas, before heading back to DC. Don't worry; we have a designated driver to ensure we arrive home safely.
Pippin Hill Farm and Vineyard sits on a six-acre, southern facing, hillside parcel. The land is blessed with ideal soils and climate suited for their limited production, including Sauvignon Blanc, Petit Verdot and Viognier grapes. Pippin Hill's vineyard and surrounding gardens are part of Bundoran Farms, a sustainable agricultural community that honors the rural countryside. The vineyard master, Christopher Hill, is the most experienced and respected viticulture expert in the region. Pippin Hill has great wines (the signature Sauvignon Blanc rival Napa and Sonoma) and very friendly staff.
Our last stop of the day was Veritas. Here we enjoyed a delightful lunch on the patio and then moved inside to the tasting room for wine. Smooth, complex wines, intelligent, wine savvy staff and good food options. I loved the Fig and Brie sandwich and plan to recreate this tasty nibble back home in California. Lots of groups, young clientele with a gastro feel. Wonderful décor.
Towards the end of our exciting and much needed, weekend getaway, I learned about Cville Hop On Tours. Apparently, this is a company that will take you around to restaurants, breweries and wineries with ease. The tour guides are friendly and funny. Sometimes its' fun to be in a group with strangers, as one never knows whom one will meet. Next time I am in Charlottesville, I will certainly give Cville Hop On Tours a try.
Waking up to see the foothills of the majestic Blue Ridge Mountains and touring about the Virginia Wine Country should be on your bucket let, too! With sweeping views and fresh country air, I am a fan of Virginia Wine Country. Sensing that one visit is surely not enough, I will need to return and explore all the other things to do and see in the area very soon. In fact, I'm planning a trip for the fall so I can see the colorful foliage and be part of harvest. I hope you enjoy these Virginia wine country regions just as much as I do!
Subscribe to our Newsletter
Join our mailing list and be one of the first to know about upcoming local events.